The state of the local music scene
Curious to take a behind-the-scenes peek at the local music scene, we bring together a diverse group of musicians to find out what makes them tick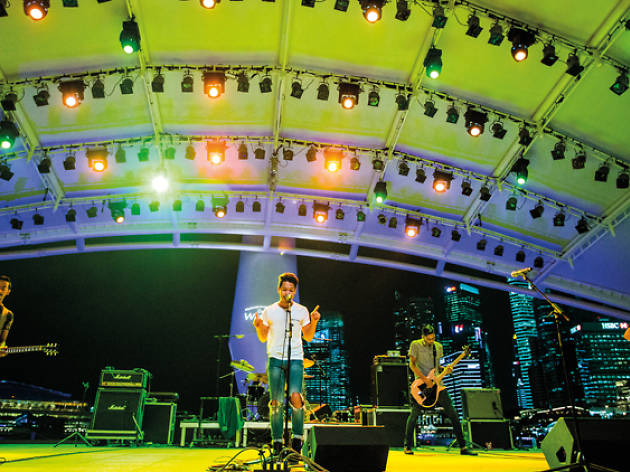 The scene is dead. Long live the scene. Decades after rock 'n' roll was outlawed, jukeboxes in bars silenced and long manes on men discouraged, Singapore can crank it up to 11 once more. We've seen battalions of bands go from dabbling in their bedrooms to tearing up stages – and they're only getting louder.
But what's it like being a musician in this city? And how does it compare to the scenes elsewhere? We invited a dozen indie bands, DJs, music entrepreneurs and classical musicians to our office and put them on the spot – read on to hear them roar.
The new school

Clarence Chan, founder of Bandwagon (CC, pictured above): There's definitely a rise in the scene, in terms of artists and talent. And digital media has a big role to play. Look at Gentle Bones – he's big because of his first few videos. 'Until We Die' has to date a few hundred thousand plays. I remember it was on YouTube that I found out about him, and now he's signed by Universal [Music Singapore].
At Bandwagon, we aggregate gigs, and we've found that year after year, there's about a 28 percent increase in the number of gigs. You see more pubs starting to embrace local bands. Even Beer Market, which was traditionally a cover music venue, started to have Original Sundays. Then you have Timbre Originals and Hood Bar.
But the beauty of it is that bands are starting to take ownership in organising their own shows. JAWN, the singer-songwriter, organised everything for his album launch, from the decor to the way the CDs were distributed. It's in the care and the details. That has really blossomed in the music scene – people taking ownership of their gigs. They curate the line-up, do their own posters, and market it on their own, through Facebook or word-of-mouth.

Tow Huiwen, cellist of Vox (TH, pictured above): It's also a lot easier to do now. The receptivity in Singapore has exponentially increased over the last couple of years. There are so many platforms to express yourself and be known. The responsibility is as much on the musicians as it is on the organisers.
Grayson Seah, guitarist of Stopgap (GS): But over-saturation is a bit of a problem.
Adin Kindermann, vocalist of Stopgap (AK): Nah, the music takes care of itself. If something;s good, you share it, and that's how you get noticed.
GS: It changes from 'how do you get your music out' to 'how do you stand out'.
AK: If you wanna make money, you need to be extremely creative in the way you do things and put yourself out there. Otherwise no one's gonna notice. Like many local bands, we're very DIY. There's no other way to do it with a 20-year-old's money.
CC: It helps to be yourself. At Bandwagon, we get a lot of records. And the ones I remember are unconventional. This is what pushes the envelope and gets bands to level up each other. It's only a positive thing for the scene.

AK: It's how you 'trick' people into listening to your music. For Sphaeras [local instrumental rock band], their EP came in a booklet with no CD, just a download code. It blew my mind. If it's not typical, that gets me excited.
Making it a living
CC: I started Bandwagon because of action and calling. I've always had a love for business and I love to take risks. So I came into Bandwagon wanting to merge both music and business. I started as a keyboardist, and I actually went to Berklee [College of Music]. But that's where I realised many people younger than me were totally thrashing me. I decided I had to do something I'm better at. So I came back and started this.

Joshua Pillai, head of entertainment at CÉ LA VI (JP, pictured above): I took the DJ route. My first gig was as a 13- or 14-year- old. My dad had an entertainment company, and like every good DJ, when the other DJ doesn't show up, that's your one chance [laughs]. You'd probably screw up, but you go back home knowing this is what you wanna do.

The biggest joy is when I get into the DJ console. Whether it's one person or thousands I'm playing to, I still give that same energy. I started off in the underground scene, playing house, drum 'n' bass, and funk and soul. My whole life, everybody called me an underground DJ. It only changed recently when I joined CÉ LA VI. I kind of liked that attraction to the underground scene. The fact that I wasn't known but known.
GS: I guess the underground crowd implies that they really seek you out, so you know the people are the ones there for you.
JP: But yeah, there are times where you play to no one. Even today, when I play to a dancefloor, some people show me the middle finger, and people ask me to play Indian songs. Recently, someone came up to me and asked me to play a tune off his iPhone. He said it 'suited the vibe'. The abuse you get – it's tough.
I still think there's a bit of a stigma here, lah. Once it's recognised as a 'real' job, and there's a full-time, a scale, a salary, and gigs are paid properly, then you'll see progress in the scene.
'When I play to a dancefloor, some people show me the middle finger.'
Tow Huiwen (second from right) and Vox
TH: I don't think it's about local versus international. People don't like local music because maybe sometimes it's just not as good. The divide is good music versus bad music, or how well-known or obscure you are. The world is so globalised and connected, it's so easy to do collaborations. I don't think physical boundaries matter anymore. The uncertainty of being a musician is not unique to Singapore.

In my band, three of us are part-time musicians and one's in it full-time. I really enjoy playing music, but do I want the pain and the uncertainty? You need to be out there and pimp yourself out. It's even harder when you don't have a like-minded community around you.
CC: Yeah, we could do with more capable people in the industry. There are a lot of new bands, but the business that's built around it is still lacking. There are only a handful of full-time managers in Singapore. To really get out there, musicians need to focus on their craft. But they need someone to push through deals and shows for them. People still don't see it as a viable [career] option – that's a problem.
Adin Kindermann (second from left), Eldad Leong (centre) and Grayson Seah (right) of Stopgap

Eldad Leong, drummer of Stopgap: Some musicians may not have the mental strength to take the rejections. Sometimes, walking away is easier. That's what a lot of people do: they say, this is not for me, and they turn around and get a 9-to-5 job.
CC: And we shouldn't force people to support local just because it's local, but because it's good music. I believe that good music will always rise to the top. If you're persistent in honing your craft and getting the word out about your music, you'll make progress.
TH: Yeah, I don't think it's about local versus international. People don't like local music because maybe sometimes it's just not as good. The divide is good music versus bad music. The world is so globalised and connected, it's so easy to do collaborations. I don't think physical boundaries matter anymore.
Indie vs mainstream
DJ Nez (NZ, pictured above): I started off playing drum 'n' bass, a very non-mainstream genre. When I diversify into genres that are more accessible, it's a matter of having a balance. We can educate and entertain at the same time, but we also have to step out of our comfort zone and reach out to people who have zero knowledge of whatever sub-genre of music we're trying to promote.
Generally, if you believe in a certain form of underground culture, you'll always run into the trap of hating Top 40s music. But, at the same time, if not for that Top 40s music, it may not trickle into whatever you're trying to do. So you have to take everything and put it in perspective, to see how you can play your cards right.




ShiGGa Shay (SS, pictured above): I like what you said about education. A lot of things I do are not so much for the money, but more to educate the commercial crowd.
Yuji Kumagai, vocalist of Cashew Chemists (YK): We're all creating things. That's the nature of our craft. But I don't know how far we can go to educate the crowd if they don't want to be educated.
Peter Huang, vocalist of MICappella (PH, pictured above): There's a balance between being an entertainer and being an artist. As an artist, I do what I like. I do what communicates with my loyal fans. Entertaining is the part that attracts new people.
But I believe all musicians have no problem knowing what they want. People on that end sometimes see people on the other side, in the entertainment scene, as sell-outs. But there's plenty of overlap for you to stay productive and be artistically entertaining.
Whither thou, live music venues?


Cheryl Ong (right) and SA
Photo: Rebecca Toh

CO: We're still facing the same problem: the lack of venues. You always see the same people around for all sorts of gigs. For both my bands, we're looking to get a manager. The problem is, there are very few people who are willing. Financially, it doesn't work out. We're self-funded bands, so the money isn't enough to pay a full-time manager.

NZ: The cost of living here is too steep. Just do the maths. Of course there's funding from the government and stuff. But you really have to be a Top 40s dude to know you can sell on iTunes, or you do it the DIY way.
Look at Home Club. There was a whole generation of kids who went there for indie rock bands or techno or drum 'n' bass. But once that was gone, everyone was lost. At the same time, it could be a good thing, lah. Now that we're on our own and we have no platform, how do we create our own?
YK: Learn from the legacy.
CO: The constant discussion among my bandmates and I is: Singapore being such a cosmopolitan country, we have so many types of music, but we don't have a 'live house' [a venue dedicated to live gigs]. Compared to our counterparts in South- East Asia, everywhere else has a particular place that's dedicated to having music every day.

Nabeel Harith (right) and Vessel
Nabeel Harith, guitarist of Vessel (NH):
Like a mecca of sorts.
CO: Now when you go to most events, they segregate between singer-songwriters, hardcore bands...

NH: Now it's either: do a show with someone else or organise your own.
CO: Most bands in Singapore do everything ourselves. For The Observatory, we are full- timers. So we set targets for ourselves. We have to record how many albums and do
how many shows in a year. Whenever we go on tour, we do all the bookings ourselves, including tour management, which really drives us crazy. It requires a lot of work that people don't see, unless they've done it themselves.
'If you let people bully you into a corner, then you're gonna be stuck there.'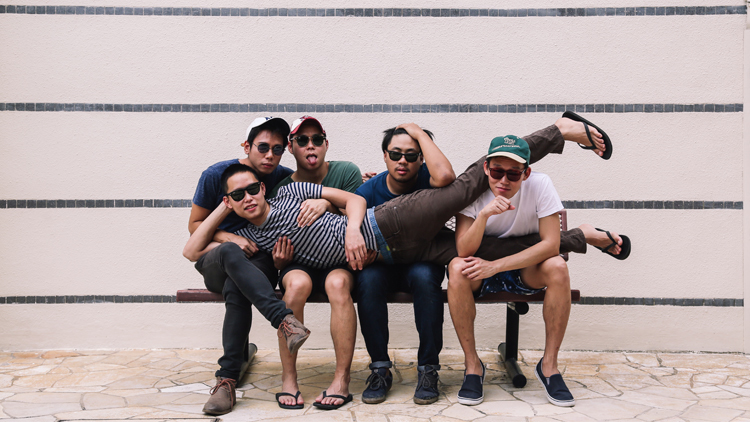 Yuji Kumagai (second from left) and Cashew Chemists

NZ: There are promoters who are willing to set up a show for an international act, but they're not willing to put that same money into it for the locals. We need that.
CO: Okay, I'm being frank about this. It's great that major festivals coming to Singapore include local acts. The sad part is that we're always given an early time slot, we're not given ample time for a sound-check, and we're not given the equipment we specified for. They'll always tell you it's good exposure. Of course it is – but what's the deal? It's frustrating.
YK: But I suppose the big bands probably started out that way, right?
NZ: But those bands, in their own countries, have the right infrastructure. We don't.
DJ Rah

RA: How can we change that, though?
NH: We're not in a favourable position to say: give it to me – or else. I think a local band being put up against bands of that calibre, the organisers feel like they're doing you a favour.
NZ: If you let people bully you into a corner, then you're gonna be stuck there. The best way to tackle this is to pre-empt yourself way in advance. But if you come to a point where you have to settle it on your own, then where is the value of your performance?
It takes a lot of planning. But that's the manager's job. Then we come back to the same problem [laughs]. The bottom line is, we have to figure this out on our own.
Roll credits (the musicians of our discussion)
Bandwagon (Clarence Chan)
The local start-up has its eyes fixed on the music pie. It's a directory of gigs on the island, and organises a few themselves, too.

Cashew Chemists
Their sophomore EP came out a few months back, and the rock outfit organised a cool little campaign to get fans involved by hiding copies of the album around the island.

CÉ LA VI (Joshua Pillai)
A glamorous rooftop club lounge perched on the 57th floor of Marina Bay Sands, CÉ LA VI throws weekly parties spotlighting local and international DJs, curated by DJ Joshua P.

DJ Nez
Also known as DJ Senja, he plays alt tunes like drum 'n' bass, reggae, hip hop and jazz. Find him at his Refuge residency on the weekend or track events he promotes at Revision Music.

DJ Rah
Signed to electronic music label Darker than Wax, she works alongside her significant other, Nez, to shout out cool gigs at Revision Music.

MICappella
An a cappella troupe known for belting out a mix of pop, rock and dance tunes in English and Mandarin.

SA
Ethnic instruments like the guzheng and dizi feature in this instrumental electronic group's music.

ShiGGa Shay
He's the leader of the hip hop pack, Grizzle Grind Crew, and is known for his sharp verses about local culture, smarting with colloquialisms.

Stopgap
The alt-rock quintet just dropped their debut LP, Totems, and DIY-ed everything, from recording and producing to organising their launch show.

The Observatory
A tour de force of the local scene, this experimental outfit have been around for over a decade, and has careened from downtempo to art rock to noise music.

Vessel
Recently releasing their debut EP late last year, the indie rock five-piece have played at festivals like Ignite and Baybeats.

Vox
Roll over, Beethoven, 'cos Vox tunes their string instruments – violins, a viola and a cello – to the sweet sounds of rock 'n' roll.