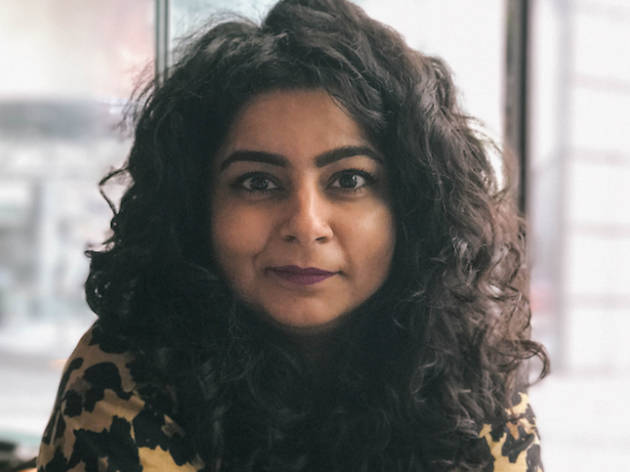 52 Weeks of #ExcitingSG: Week 7 with Pooja Nansi
Posted: Sunday April 1 2018, 8:56pm
Welcome to Time Out Singapore's 52 Weeks of #ExcitingSG – our commitment to showing you the best of what's going on in the city this week. Every Monday, a guest writer who's "in" with the scene shares a recommendation on what to see, eat, do or buy in the city. This week, we chat with Singaporean performance poet Pooja Nansi who is taking the stage with her brand new play Thick Beats for Good Girls, which runs from now till April 22.
What gets you excited about Singapore?
Maggi Mee Goreng, the potential we possess to be one of the most diverse cities in the world and our efficiency (although this one is sometimes a double-edged sword).

Where do you go to get inspiration in Singapore?

BooksActually is the best independent bookstore we have and a literary institution. I go there when I want to discover new Singaporean voices. But I also love eavesdropping on conversations on buses and in hawker centres. I'm also inspired whenever I am dancing to old school hip-hop, but I won't tell you where my favourite parties are because I think you need to be initiated.

What's it like to be a minority and woman in the local literary scene?

Being a minority sometimes means you get unfairly tasked with holding the mantle for an entire community. That's because minority voices are still under represented in the English literary scene. I can as much speak for the entire Indian community with all our differences and diversities as a Chinese poet can be expected to represent every Chinese individual in Singapore. And yet, so often you get labelled as "the voice of" which does not allow for true representation and is problematic.

Being a woman in the literary scene means having to constantly justify why writing about the personal is as important and political as writing about national monuments. It means that when you do write about national monuments, you can expect critique that your work does not display enough emotion or feeling as a woman's work should. I do wonder why nobody asks men what it's like to be a man in any given landscape. It's telling of the fact that we still persist in seeing women as outside of the status quo.

Can you recommend three of your favourite local authors/playwrights/poets?

Playwright Joel Tan, whose writing is that rare stunning mix of gut-wrenching emotion and dagger sharp intellect. Poet Cyril Wong, who is my confessional fairy godmother. Poet Tania De Rozario, whose body of work makes me jealous that I didn't write it.

What are you most excited for this week?

This week I am excited about my husband flying into town. I am also thrilled about going into theatre for Thick Beats for Good Girls, written and performed by myself and Australian playwright Jessica Bellamy. Thick Beats looks at what it means to be a woman in the 21st century, navigating all aspects of her identity through the lens of a deep love for hip-hop. It's hilarious, poignant and smart, and runs from 5-22 April at the Drama Centre Black Box. I think you should all come watch it and stay afterwards to say hi! (Editor's note: join Time Out Singapore's contest and win yourself a pair of tickets to Thick Beats!!)
For more upcoming cool happenings, check out Time Out Singapore's 52 Weeks of #ExcitingSG challenge. Don't forget to show us how you're living your best Singapore life via the hashtag #ExcitingSG – we might just throw some free passes and VIP tickets to exciting festivals, gigs and events your way!
Share the story