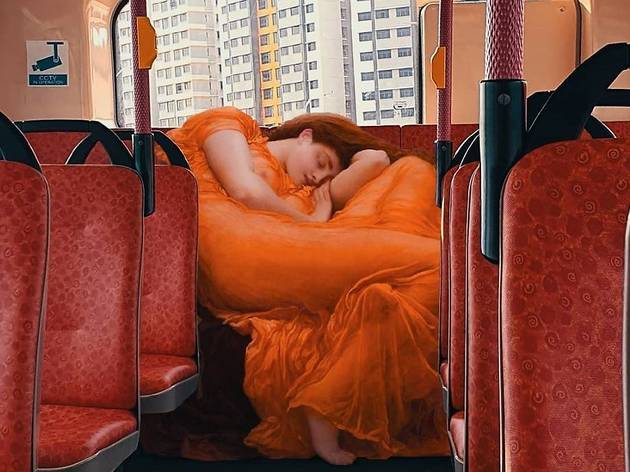 Meet the artist who reimagines classical figures into modern-day Singapore
Posted: Monday March 30 2020, 3:55pm
Cities all over the world have reported the surprising sight of various animals – including swans, dolphins, and monkeys – reappearing in places that have been overrun by tourism lately. And if there's a silver lining to the escalating situation in Singapore, it's that the lack of crowds in Jewel has led to the rare sighting of Saint Sebastian taking a shower in the world's tallest indoor waterfall. Wait, what?
Brilliantly hilarious photos of classical paintings reimagined as part of modern-day Singapore have been popping up on our Instagram feeds lately – from Saint Sebastian's holy purification underneath the iconic Jewel waterfall to Queen Charlotte braving the crowded MRT with a mask on. Never have figures from classical paintings been more relatable.
The artist behind it, Hafiiz Karim, also goes by the moniker of The Next Most Famous Artist. By day, he is a Digital Art Director in an advertising agency, where he mastered his photoshop and animation skills. But the series, titled Visitors of Singapore, has always been on his to-do list.
"Ever since I was studying Art History in Lasalle, I've wondered how these figures would be like if I met them. Recontextualising historical art paintings in a modern context is definitely not new, but I wanted to give my own take on how these figures could be presented in a local setting," says the artist. "I wanted to have fun with the contrast between the western/classical appearance of the characters and the local/modern setting of Singapore. By contrasting the scenarios that we commonly experience in Singapore with the oddities of these figures, I wanted to embrace the uniqueness of our culture."
If anything, we can all use a good laugh – and Hafiiz's images are a breath of fresh air in a virtual space otherwise populated by saddening news from all around the world.
"When I create my artworks, I focus on making something which helps me to feel better and removes me from my everyday experience. When we scroll through social media, it can be very demoralising to only see negative and painful content, especially now when we are constantly bombarded by negative news surrounding the virus," he says. "I wanted to bring some light-hearted humour to people's feeds through my work and I hope that when they see my work, it adds some joy, laughter and positive thoughts to their day before they carry on with their lives."
Share the story