Annam Vietnamese Restaurant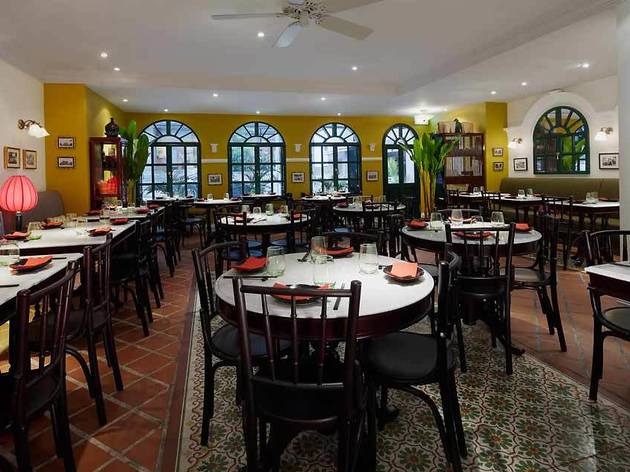 Time Out says
We'll come to the phở bo later. After all, the spotlight at this Spanish-tiled, Chinese-furnished sibling of Les Amis is not on the street dishes of the Land of the Dragon People, but the more refined: crisp, taro-wrapped prawns, a fluffy pancake stuffed with prawns and beansprouts, marinated grilled beef wrapped in betel leaves and the like. Spring rolls and phở bo are, of course, still on the menu. It makes sense – why leave out the entry-level dishes, especially when chef Nguyen Quoc Nam does them superbly well?
Time Out review:
'Is this Vietnamese or Chinese?' we asked, forking apart the house special – the tender, caramel-sauced, claypot-simmered dish thit kho trung kieu Annam (pork, egg and coconut, $35). Were it not for the menu riddled with Vietnamese names and fish sauce, it would have been easy to mistake the dishes for those of an upscale zhi char restaurant set in the plantation days. The white ceiling is lower than we imagined the façade's three green arched windows to hold, although a fan still hangs among the mustard-yellow walls, adorned by black-and-white and sepia pictures in frames. The interior design is something of an artifice – the space is chilled by strong airconditioning, a reminder we're sitting in a wedge in the side of Shaw Towers, aligned with its sister establishments – Les Amis, Shabu Shabu Gen, La Strada and Bistro du Vin. It's a chi chi stretch, and Annam fits right in.

Named after the protectorate of France that Vietnam once was (pre-1945), this tile-floored space is exactly what you'd expect a Les Amis Group venture to be. With its coffeeshop-like white-marble-topped tables, matron-approved standalone cabinets underneath portrait-height house mirrors, blue hand-painted porcelain and dark metal cutlery, it's polished for a nouveau riche clientele that arrives, at least in part, to be seen. It's a smart pitch: Annam straddles the uprightness of the restaurant group's French-born standards and the more unpretentious offerings of our region's cuisine.

While the first offers its loyal clientele more variety, the latter draws in fresh customers. Take the nem cuon Hue (Hue spring rolls, $18) – a variation of the oftfound fresh rice rolls that piques the nostrils with halves of opalescent, pickled freshwater prawns, rolls of beansprouts adorned with strips of pork and sweet potato in tough rice paper. The tartness hit us square in the nose and on the tip of the tongue – non-fish sauce lovers should definitely avoid. The goi buoi cua (pomelo, Sri Lankan crab meat and water chestnuts, $28) fared more pleasantly – a tanned-looking salad with manicured strips of coconut, delicately handled plump sacs of bitter pomelo, roasted chopped nuts, fried scallions and perfect cubes of water chestnut. The shellfish shone, despite the pomelo's testy, bitter notes.

The greater draw came with Annam's unintentional imitations of homely South-East Asian favourites. The thit kho trung kiew Annam, simmered to render the thick layer of fats into soft cotton, looked and smelt like local dish kong bak (pork belly in dark soy sauce), but tasted sweet instead of salty, served with dainty, fresh-boiled eggs. The tender and moist ga nuong la chanh (chargrilled chicken with a delicate kaffir lime-leaf salt and seasoning, $35) was redolent of the Indonesian ayam bakar (barbecued chicken brushed with sweet sauce), darkened on the grill with a skin that, though evenly seasoned, lacked that pervasive crispness.

The most familiar-tasting dish was the pho bo (beef noodle soup, $28). A lunch-only item, the soup is sweet and clear, and holds within it at least four cuts of beef (brisket, loin, tongue, tripe and paste made into beef balls). It's a straightforward dish, and we were pleased the noodles didn't rise in clumps. Sadly, the bun rieu cua (crab noodle soup, $28) disappointed by comparison.

Ultimately this is Les Amis, and no matter how close to home Annam aims, you'd still need a jacket of some sort.  Despite the Vietnamese beer offerings (Saigon Special, 333, Dai Viet, Huda and Hanoi, all $12), this isn't the place for drinking sessions. And do set aside plenty of time for the strong, black ca phe sua nong (coffee with condensed milk, $6), which takes about three to five minutes to finish dripping. It's a shame Annam also digs deeply into the pocket. Celine Asril


See our list of Hot Tables
Find a restaurant and book online
Details
Address:
#02-11 Shaw Centre
1 Scotts Road
Singapore
228208

Contact:
Opening hours:
Noon-2pm, 6-9.30pm
Do you own this business?
Users say