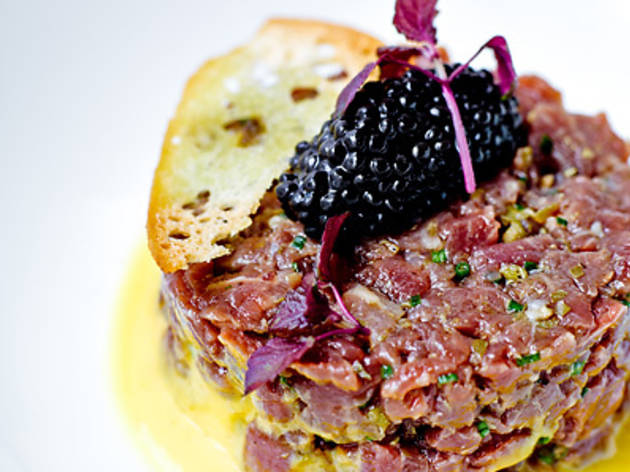 With more pedigreed chefs creating brand offshoots going down the casual route with breezy settings and solid food, chef Lino Sauro's new Gattopardo swims against the tide with his restaurant's recent move. Now set at Tras Street, Sauro joins a growing fraternity of classic European chefs on the stretch (such as Frederic Colin of Brasserie Gavroches and Alexander Lozachmeur at Fleur de Sel); and his new 'Ristorante di Mare' veers away from the family-style pizzas and grill that featured at his former location at Hotel Fort Canning, focussing instead on seafood with a heavy fine-dining slant.

The new look is austere and the stuffiness is thick. Taking over the corner unit (spanning two shophouses) that was once occupied by Talent Café, a palette of chocolate browns, expansive wooden wine cabinets, velvet on elegant long-backed chairs and mood lighting dominate the aesthetic throughout. If you're a group of less than four springing for a meal at the restaurant, ask for the seats by the counter on the ground floor – it's much less echoey than the dining spaces upstairs, and features views of Sauro commandeering his brigade, as well as a small refrigerated eco-system of sustainably-fished sea life, waiting to be made into the Sicilian and Mediterranean meals served here.

A starter of cannolicchi ($29) – Scottish bamboo clams drenched in a parsley and garlic pesto, with small chunks of spicy pork – introduced the region's cuisine well. Big on flavour and brininess from the sea, it came with a hint of chilli spice that was to become a common feature throughout the meal. The trio of live Norwegian scallops complemented with a bedding of puréed chickpeas and broccoli rabe, the capesante e ceci ($34) was a similarly bold opener to the meal. A good number of options – almost all feature brand name seafood, like Alaskan king crabs or Tasmanian Petuna ocean trout – are available to pick from, though for their portion sizes, they're incredibly pricey, peaking at $38 for an appetiser portion of crab capellini. For sipping, Gattopardo offers a couple of good-value wines by the bottle at $60 and at least eight white and red house pours, but expect to shell out anywhere upwards of $100 for a bottle in its extensive list of Italian vintages.

Mains chip away at the wallet even more, with a simple noodle dish of fresh sardines starting at $30, and a one-kilogram côte de boeuf for two at $188. The bowl of beef broth and bone-marrow enriched risone pasta studded with braised octopus ($34) was a feat of good cooking, but harder to swallow was the price and eventual cloying note of butter in the rigatoni with small bites of spicy live blue lobster ($55). The rustic plating and simplicity of these mains ultimately make the prices difficult to justify. Our tip: Make time for a nice weekday lunch here instead. Though a little less focussed on creatures of the sea, the threecourse menus ($36), which change weekly, nevertheless present a good opportunity to savour the cooking chops, punchy cuisine and quality proteins in a finer setting than the chef's casual Morsi & Sorsi at China Square nearby. You may not quite get to take in full doses of Gattopardo's newfound glamour, but your wallet will thank you for making the necessary sacrifice. Natasha Hong
Venue name:
Gattopardo
Contact:
Address:
35/36 Tras Street
Singapore


Opening hours:
Mon- Frio noon-2.30pm, 6.30-10.30pm, Sat 6.30-10.30pm
Do you own this business?