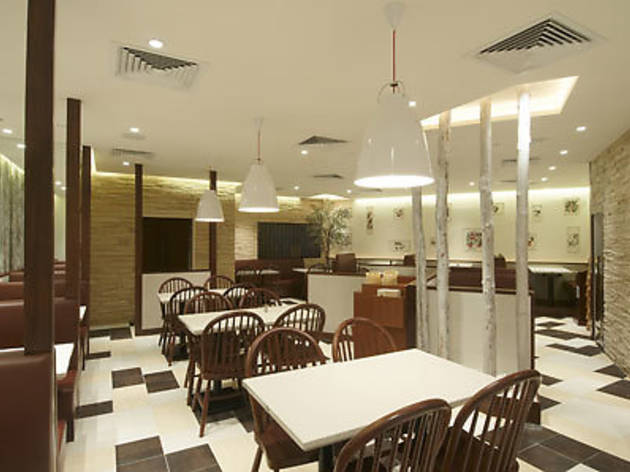 Time Out says
Mentaiko is the salt and chilli-spiked roe of Alaskan pollock. For quite some time now, these caviar-like clumps of orange-coloured pearls have been fuelling a wafu (Japanese-style) pasta fever in Singapore among Japanese restaurants such as En Japanese Dining Bar and Momoya. But before dismissing the new guys in town as just jumping on a gimmicky fusion-dish train, remember that Kabe no Ana opened its Tokyo flagship back in 1953, and makes its seniority clear when coining itself as 'the original Japanese spaghetti house'.
The restaurant's name translates to 'hole in the wall', although 'mall' would make more sense. The first outlet to open in Singapore is tucked away in a corner of Shokutsu 10 – a Japanese indoor food street at the newly opened nex mall in Serangoon.
Save for the tree trunks that adorn the restaurant entrance, the interior is as formulaic as any Japanese chain can be. But the curiously creative, wafu pasta-inflected menu is clearly in a league of its own.
While waiting for the pastas to arrive, we checked out the tomato salad with chopped onions and asparagus in a tangy vinaigrette dressing. It was a refreshing palate opener that hovered between the Japanese/Western flavour borders.

Our favourite main was the signature carbonara, an intensely savoury bacon- and pollock roe-flecked spaghetti crowned with a perfectly poached egg, which broke with a gentle prod to enrich the oodles of al dente pasta entangled below. We also found comfort in the addictively pungent natto (fermented soy beans)-streaked tarako ika natto spaghetti with roe, squid and seaweed.
The restaurant's take on seafood pasta sans the mentaiko, Ojisan Idol, was equally noteworthy. Here, heaps of freshly cooked seafood were tossed with spaghetti in a delightfully intoxicating white-wine and butter-garlic sauce, and crowned with a riot of radish sprouts and seaweed. Not every dish hit the taste target that had been set, though: the overly rich salmon spinach pasta tossed with a home-made white-cream sauce smacked of a dish that tries too hard.
The best time to experience Kabe no Ana is at lunch, where $8.90 will buy you a generous plate from the lunch promotion menu (only applicable from Mondays to Fridays). Top up $2 and they'll throw in a choice of ice cream. Tip: skip the vanilla and matcha flavours, and go with the delightfully refreshing mango or lime sorbet, a tangy finale to a creamy meal.
Kabe no Ana is not a place for narrow-minded pasta traditionalists, but for those keen to twirl in new flavours, it is well worth the visit – there's always something to be said for being the first. Eve C
See Time Out Singapore's Hot Tables
Find a restaurant and book online
Details
Address:
nex #B1-80
23 Serangoon Central
Singapore
556083

Contact:
Opening hours:
Daily 11am-10pm
Do you own this business?
Users say