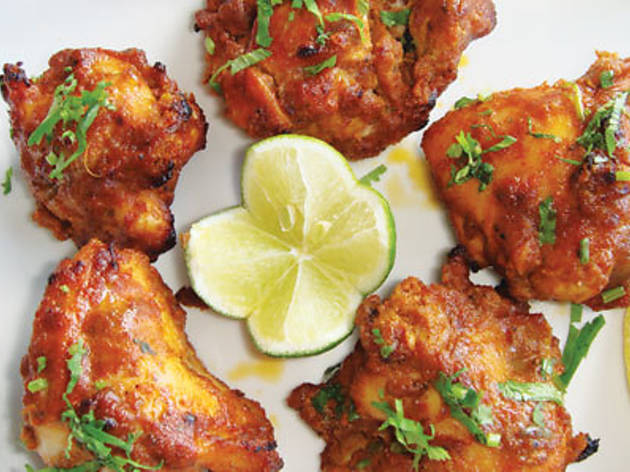 Time Out says
LP Hartley once wrote that the past is a foreign country: 'They do things differently there.' The same could very well be said for those of us who live in the west part of this island, and who suddenly find ourselves in the East Coast. The landscape is oddly unfamiliar, the weather a little cooler and everything feels larger. Even the air seems to tremble with a holiday mood. It's enough to make anyone seriously think about moving out there, especially when the whole area seems to be packed with more eateries per square feet than any other part of this already food-obsessed red dot. And especially when one of these eateries includes Kinara along Upper East Coast Road.

Looks-wise, the restaurant (it means 'river bank' in Punjabi) recreates the hokey studied theme-park setting that ethnic joints still feel obliged to trot out – which is to say, acres of faded timber, earth-toned walls, sequined pillows and a piped sound-track ripped from the current Bollywood Greatest Hits CD, just so diners feel like they're eating authentically.

This is all unnecessary – if not a little patronising – since Kinara's kitchen is more than capable of standing on its own merits. The menu is a large, earthy swab of northern Indian cuisine with a sprinkling of dishes from the south; in particular, the sea-washed city of Kerala. Pity, though, that the menu descriptions are so Delphic, often giving non-Indian diners no clue as to what exactly it is that they're ordering.

The Subz Jhalfrezi, for instance, is described as 'a favourite with vegetable lovers. With good reason', while we are urged to 'enjoy' the Parsi Green Machli Curry 'the way the Parsis do'. Just how is never explained. Luckily, the staff are both friendly and knowledgeable, answering every question succinctly with a shy smile. And even if you're reasonably au fait with Indian cuisine, it pays to let them steer you around the menu.

This way, we discovered that a jaljeera – lightly dusted with cumin, a little chilli and mint – is a great drink for helping the digestion of a cracking-good, if heavy, meal. Or that it's possible for a Keralan fish curry to taste so warm and lightly flavoured, even when it's soaking in what appears to be an entire tin of pure coconut cream.

The cooking is complex but not showy, with every dish an example of the fabulous chemistry of spices, herbs and aromatic vegetables Indian cuisine is famed for. Plan your meal around a carb-based dish like a stack of dark-hued naan, flecked with mint, or a biryani. Our Jhinga Biryani – 'The recipe is closely guarded by our chef!' – was a mound of saffron-tinged basmati, embedded with fat prawns that were on the mushy side.

Among the succession of intensively spiced dishes, the most memorable were appetisers such as the Mila Jula Pakoras, a pile of unidentifiable mahogany blobs that turned out to be creamy mashed vegetables deep fried in a heavy tempura-like batter; and a cloudy-white raitha of lightly sour yoghurt cut through with cucumber shreds and onions. Among the many excellent mains, the Lucknowi Burra kebab stood out for its meaty, finger-lickin'-good lamb chops, marinated and cooked in a thick crimson gravy of tomatoes and ginger, while the Ajwaini Machli Tikka – thick fish cubes, spiced and lashed with lemon that are then plunged into a hot tandoor oven – charmed its way to second and third helpings. And then into a doggy-bag where, two days later, we discovered how much more the flavours had mellowed and intensified.

The dessert section of the menu is disappointingly small. Which may actually be a good thing, since it can be difficult to tolerate the diabetic jolt of Indian sweets, especially after a heavy meal. The one dessert we have tried, the pistachio kulfi ('No introduction needed here' proclaims the menu, but if you needed one, think of a semi-freddo) disappointed for its barely there pistachio and overly crystalline texture. A better option is to just munch on the selection of mouth fresheners – among them candied pearls, aniseed and cloves – that's presented to the table at the end of each meal.
Details
Address:
164 Upper East Coast Rd
Singapore
455265

Contact:
Opening hours:
Sun-Thu 11.30am-2.30pm, 6-10.30pm, Fri & Sat 11.30am-2.30pm, 6-11pm
Do you own this business?
Best selling Time Out Offers