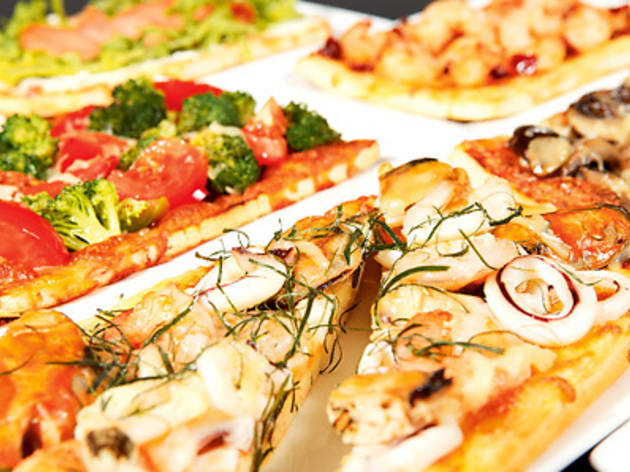 As long as you're looking, you won't miss this street-level fast-food outlet soon to be a halal pizza bar (licence pending at time of going to press) at alternative hub PoMo Mall; the luminescent cab-yellow sign above its glass walls, incubator display and takeaway counter scream 'pizza' and 'milkshakes'. As if that weren't already a curious combination, the life-size stencils of Bob Marley, Che Guevara, Obama, Elvis, Gandhi and a very skinny Marilyn Monroe on the surfaces of the cramped 36-seater have been Photoshopped to do 'Slice salutes' – half-Vulcan salutes with 90-degree thumb extensions – a gesture the pizzeria hopes will catch on as its doughy name is propagated.
Touting eat-in or takeaway rectangular 18 x 13cm pizzas with an array of fresh toppings, this Subway dizygote from the folks behind Zsofi Tapas Bar in Little India is run for students and office types frequenting the area. The 30 quickbake offerings in easy, slip-in, microwave-safe packaging (no plates, not even for eat-ins) make meals swift both at and from Slice. The 20 thick milkshake choices, however, will stop you in your decisive tracks.
Have no illusions: this by-the-slice offering cannot be coined Italian nor New York in any manner aside from concept – the base is a 1cm-thick, doughy, bread-like sheet reminiscent of frozen pizzas. The generally fresh toppings are what potentiate these slices: the mildly tart Tom Yum ($8) is covered with a mound of big and plump squid rings, soft – not rubbery – shrimps, and mussels. The Vicious Vegan ($5) is a warm blanket of still-crunchy onions, tomatoes and strips of capsicum overlaid with plenty of mozzarella. Both options are steamy, light-but-filling combinations.
Customisation is not allowed – unless you're asking for more or less cheese – or else we would have taken the beef off The Butcher (beef, peperoni, sausages and bacon, $8), which left a steely aftertaste in our mouths. We dispelled that blue flavour with the fabulously thick, texture-heavy Dirty Dunkin' milkshake (a Snickers bar, a Kit Kat and Oreo cookies topped with out-of-the-can whipped cream, $8). Similar niceties could not be said for the sticky, overly sweet Yummy Gummy milkshake (pulverised gummy bears, vanilla ice cream, mint syrup and whipped cream, $6).
The bar's sell lies not in its pizzas' shape (rectangular) or sponge-bread bases, but its large variety of fresh toppings. While not exactly heaps healthier than, say, a Pizza Hut order, its combinations – at least the ones we tried – did not leave us sluggish. The thick milkshakes more than satisfy a guilty craving, too. A satisfactory meal for a movie night in. Celine Asril
Pizzas $5-$10; milkshakes $6 & $8.
See Time Out Singapore's Hot Tables
Find a restaurant and book online
Venue name:
Slices the Pizza Reform
Contact:
Address:
#01-05 PoMo
1 Selegie Road
Singapore
188306

Opening hours:
Sun-Thu 10am-10pm, Fri & Sat 10am-midnight
Do you own this business?