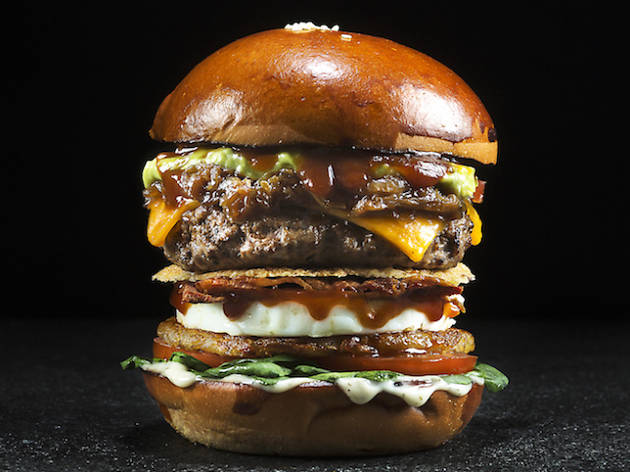 1/3
2/3
3/3
Time Out says
Burgers might be slightly off-trend of late, but at this joint, longtime restaurateur Michel Lu makes a legitimate case for the versatile and gratifying qualities of a good stack of burger and bun.
Wildfire Kitchen + Bar takes over the slightly ulu spot off Bukit Timah Road left behind by the closure of eggy brunch spot Hatched. The small dining room and front counter are suitably steakhouse-y, with raw brick walls setting the tone for the wood-accented walls and furniture. A deck at the back, shared with Wine Company and its whiny jazz-pop soundtrack, plays the alfresco option.
For a restaurant serving fancy burgers, the setting is disarmingly casual. It could be the neighbourhood-y crowd that racks up in relaxed linens, or the quick service-like ordering system where you pay for your meal before picking it up after your buzzer goes off. But Lu makes up for saving on staffing with reasonably priced burgers ($16-$26 with fries included, thank you very much), each packed with its own careful balance of patty, veggie, sauce and crunchy add-ins.
Full-blooded Australian wagyu from Blackmore and aged Angus meat from Rangers Valley are fed through the grinder for two specialty options ($26). And while we're quite against the idea of filling the humble burger with expensive cows handled with kid gloves, Wildfire's juicy takes are certainly opinion-changing and worth the upgrade. Like the other regular gourmet burgers on offer here, each jaw-stretching bite crunches through buttery, glossy, made-for-Wildfire bun before descending on tender meat fired in a charcoal-fuelled INKA grill.
In the more embellished, better-value options ($16-$23), mix-in ingredients add to rather than detract from the satisfaction of the grain-fed pucks: the Umami ($17) includes a heap of mushrooms, a Parmesan crisp and mysterious 'umami dust', while guac, chunky stew and sour cream star in the Chilli Con Carne ($19). Equally satisfying is the French Onion ($18) burger, which pairs with a mess of beer-caramelised and battered onion rings.
A separate category on the menu is dedicated to steaks of different stripes and cuts ($26-$36), offering meat purists a pared-down way to enjoy the beef Wildfire's worked hard to source. That Lu also offers craft beer ($11-$16) by the bottle and on draft just shows how beautifully the concept works. There's a good selection of sweet Japanese and punchy American ales from the likes of Hitachino Nest and Rogue to wash down each bite.
Wildfire's Evans Lodge location is a little out of the way, and it isn't exactly the best idea to be pigging out on burgers while looking on at the fit basketballers and runners sweating it out across the road at the Ministry of Education's Co-Curricular Activities Branch. Yet, you should. Making the pilgrimage for a good burger every now and then is more than forgivable. In the case of Wildfire, it's utterly soul-satisfying.
Details
Address:
26 Evans Rd
Singapore
259367

Contact:
Opening hours:
Daily 11am-10.30pm
Do you own this business?
Rating Breakdown
5 star:

0

4 star:

0

3 star:

0

2 star:

0

1 star:

1
I just ate at Wildfire Kitchen + Bar and thought it was the absolute worst brunch I have ever had.
My boyfriend and I decided to try the restaurant after its amazing delicious and very busy neighbour Assembly had no tables available. Upon ordering the Eggs Benedict I was told the kitchen was out of poached eggs, to which I replied, are you out of eggs completely? No, just the poached kind. What does that mean exactly, you have no pot of boiling water? You have no vinegar or salt in which to poach the eggs? Or is your chef just too lazy to poach an egg? Whatever the case was with the missing poached eggs, I went with the Corned Beef Hash and was excited enough to try that. I pictured a scrumptious serving of firm and crisp corned beef fried with onion and potato topped with an egg, much like the amazing and delicious version served at Sacha and Sons. Sadly what I was served was a scoop of room temperature cafeteria like mush or what I assume was just hamburger filling mixed with some potato bits and fried for a moment or so. This scoop of meat was served beside my so called sunny side up eggs which were dreadfully undercooked, the entire top was clear liquidy boogery white. I asked to have them cooked a little longer to which the server said "that would be over-easy". Guys I can't stress enough that sunny-side up eggs is not slang for undercooked eggs, it just means they are fried on one side until cooked, you can cover the eggs with the lid of a pot to help get this right if needed. I did not eat the over-easy eggs they brought me back, nor did I eat the meat pile on my plate. Luckily my boyfriend had ordered the same thing and let me know how absolutely horrible it was beforehand.
In a nutshell, if one cannot cook an egg, or has never tried corned beef hash, one should not put those items on a menu.
Maybe the burgers at Wildfire Kitchen + Bar are great, I will never know. I can only tell you to avoid eating brunch there at any cost. Please go anywhere else. The LoKal, Assembly, and Forty Hands are my personal favorites.