10 crab dishes to indulge in during Ah Hoi's Kitchen Festival of Crab
From the ever popular chilli crab to the lesser-known, but just as delicious, kam heong crab, let Ah Hoi's Kitchen satisfy all your crab cravings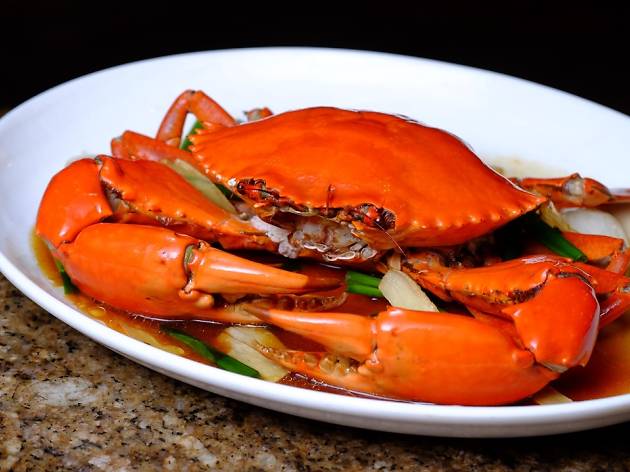 Sri Lankan crab season is upon us, and Ah Hoi's Kitchen is celebrating by cooking these meaty crustaceans in ten styles during its Festival of Crab. Diners can select their crabs from the 'live' display tank, then get the chefs to fry, steam or braise it in any style they'd like.
The restaurant has been serving crabs for over 20 years, but at its new home at Hotel Jen Tanglin, you can expect a more refined approach to zi char classics. Let head chef Tan Loo Hoo and his team dazzle you with this wide variety of mouth-watering crab dishes (from $75/kg).
Singapore chilli crab
Voted the number one local dish by Time Out Singapore readers, chilli crab has been and always will be a perennial favourite. Ah Hoi's version has a thick and fragrant sauce made from sambal that's been painstakingly prepared for hours by the kitchen team. Pair the dish with fluffy deep fried mantou to dunk in the addictive sauce.
Sarawakian black pepper crab
Excite your taste buds with a kick of Sarawakian pepper. Unlike Singapore-style black pepper crab that's usually on the dry side, this luscious, sweet and spicy sauce goes swimmingly well with the juicy crabs.
Claypot crab bee hoon
Swap out rice for silky vermicelli noodles that have been slow-cooked with crab in a rich and milky broth. Taste the natural sweetness of the crab with each mouthful of the bee hoon soup.
Creamy white pepper crab
If black pepper is too spicy for you, opt for the milder creamy white pepper crab instead. It still packs some heat, but the thick cream sauce helps mellow out the spice, making it one that even the kids will enjoy.
Salted egg and crispy yam crab
Can't get enough of salted egg yolk? Then you'll love Ah Hoi's salted egg and crispy yam crab. The rich salted egg yolk sauce provides a nice contrast to the crab's sweet flesh, we guarantee you'll be licking your fingers clean.
Butter and garlic crab
This simply prepared dish lets the natural sweetness of the juicy crabs shine. Fried in a wok over high heat, the crabs are doused with butter and garlic for a nutty and savoury aroma.
Stir-fried ginger and onion crab
For something a little less sinful, try the stir-fried ginger and onion crab, instead. The crabs are first steamed before it's tossed in the wok with a touch of ginger and onion for a mild zing to the palate.
Glass noodles and Chinese wine crab
The springy glass noodles thoroughly absorb the umami-rich juices of the crab and Chinese wine. Each bite is an enticing mix of sweet and savoury, and the light noodles won't leave you feeling overly stuffed.
Indonesia claypot curry crab
One of our favourites has to be the moreish Indonesia claypot curry crab. Cooked with over 20 spices, the curry perfumes the air even before the claypot hits the table. The taste doesn't disappoint, either. The rich curry is piquant and creamy – you'll be mopping it up with bread or rice.
Kam heong crab
This popular Malaysian sauce is fast becoming a new favourite on our shores, too. The Kam Heong crab is a combination of Malay, Chinese and Indian flavours, mixing together ingredients like dried shrimps, curry leaves and chilli to form a crab dish that will have you hooked.
Ah Hoi's Kitchen Festival of Crab Promotion is available 'til July 31. Daily noon-2.30pm, 6.30-10pm