10 things you didn't know about your favourite local dishes
Uncover a few facts about these local dishes that will up your foodie cred. Photography by Tammy Chew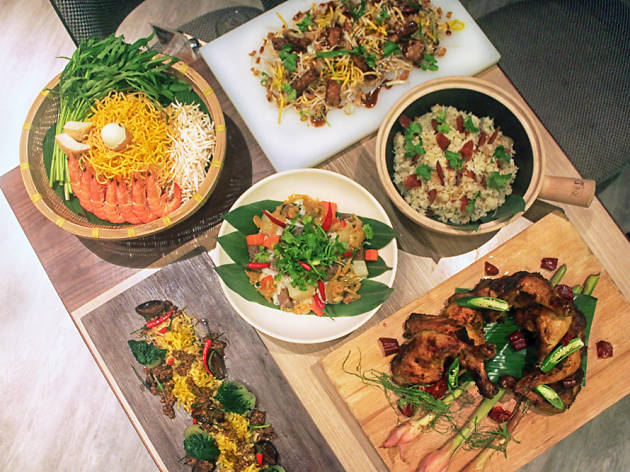 You might have lived in Singapore all your life, but we bet you've never known these facts about your fave local dishes. Learn more in this behind-the-scenes look with J65 @ Hotel Jen Tanglin at the return of its Local Delights menu.
Kong bak pau
The main highlight of this classic Hokkien dish is its melt-in-the-mouth dong po rou (braised pork belly), which harks from the Song Dynasty. The great Chinese poet, Su Dong Po, after whom the dish is named, apparently loved it so much that he was moved to indulge in a spot of food writing to honour the warming meat stew.
Penang Hokkien mee
The Penang Hokkien mee gets its signature orange broth from the shells of shrimps that are fried or roasted then simmered to extract a rich, heavenly flavour. Coating bean sprouts, fresh prawns, water spinach, and yellow noodles, each mouthful is satisfyingly rich.
Ayam percik
Ayam percik hails from the northern state of Kelantan in Malaysia, where its Bahasa Melayu name (it roughly translates to 'chicken splashed with spices') evokes delectable memories of chicken basted in a rich coconut-infused gravy.
Bak chor mee
Unlike chicken rice, laksa or mee siam, with its contested roots, bak chor mee is uniquely Singaporean. The city's oldest bak chor mee stall can be found in a coffee shop on Hill Street – it first started serving the vinegar-tinged dry noodle dish with minced meat in 1932.
Woodlands Bazaar special lamb shank with nasi briyani
An Indian Malay dish with many variations, nasi briyani has Persian roots and was originally spelt 'biryani'. The additional limb of lamb shank in the J65 version, sauced thick with a brown curry, gives it a one-up on its Middle Eastern forebears.
Hakka beef noodles
Beef noodles are pretty much a staple to the different cultures in our region, but the Hakka-style dish stands out because it serves its slim egg noodles dry and separate from a clear soup.
Claypot pork rice
Rice cooked in a thick claypot that's a must-have from the Guangdong Province in China. Back in post-war Singapore, the first store serving the dish, Lian He Roast Meat, took more than 30 minutes to slow cook a bowl, so the stall owners would make the wait easier for customers to bear with an extra serving of dim sum.
Lor mee
Brought here by our Hokkien forefathers from Xiamen, lor mee has evolved into a Singaporean dish that's surprisingly light in calories. This is because most hawker stalls serving it thicken the herbal, clear stock with corn starch instead of flour.
Ayam pongteh
In Peranakan parlance, 'pongteh' translates to 'meat tea', calling to mind how diners traditionally washed down mouthfuls with tea. When the Nyonyas make it at home, a pot is usually cooked in big batches overnight as the flavours continue to thicken over time.
Duck mee sua
Popular in Penang, duck mee sua is like health food in a bowl, as it uses Chinese herbs like dong quai (angelica sinensi), goji berries and milk vetch root to give it a distinctly herbal taste and aroma.
Enjoy these South-East Asian favourites every day of the week at J65 at Hotel Tanglin's Local Delights special. Lunch and dinner now focus on regional flavours conjured by executive chef Frederick Kho, who turns to his family recipe books to bring a selection of his signature home-style recipes to the popular buffet.
For more information, check this out. Reserve a table at www.hoteljen.com/bookJ65
Hotel Jen Tanglin's all-day dining spot has a distinctly South-East Asian point of view. Styled like a modern market, J65 serves nett-priced breakfasts, lunches and dinners every day of the week.
Read more