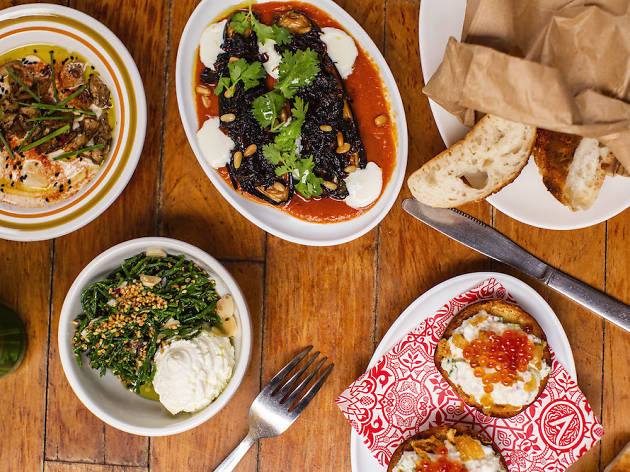 1/2
Photograph: Artichoke
2/2
Photo by: Artichoke
Time Out says
Nine years on Artichoke is #stillnotdead – real feat in Singapore's take-no-prisoners food and beverage scene. After all this time, you probably have heard of the restaurant's proprietor: Bjorn Shen, the cheeky, zany, opinionated chef who has poured his heart into this homey space with mismatched furniture and a breezy outdoor space littered with picnic benches.
Artichoke prides itself on serving the least authentic Middle Eastern food in town – a concept we can enthusiastically get behind because it's still fricking delicious. Start yourself off with a series of meze, best scooped up with warm triangles of toasted Turkish bread. We adore the beetroot borani ($12), roasted beetroot blended with cream cheese and served with a three-nut dukkah. You also won't go wrong with the hummus and Iraqi spiced mushrooms ($14) and the crunchy sea asparagus ($12) served with a side of Greek yoghurt.
For mains, steak and potatoes get an Artichoke makeover. Order the smoked black angus rump cap ($45), which comes with two sauces: zhug, a spicy Middle Eastern parsley and cilantro pesto, as well as toum, a Lebanese garlic sauce. Pair the glistening hunk of beef with a side of housemade hashbrown ($14), a hefty deep-fried potato cake that's topped with sour cream and za'atar.
Still have some unfinished bread on your plate? Good. Artichoke's green harissa prawns ($38) have stayed on the menu since day one, and for good reason. Large tiger prawns are grilled on both sides, imparting a subtle smokiness but the secret is in the sauce. Rocket, mint, parsley, coriander, spring onion and green chillies are blended together and combined with cream in a pan to create a vibrant dip that you want to mop up with leftover bread or bottle up and bring home.
-----
Original review by Celine Asril on Jan 23 2011
Eggs are cracked onto tender, fall-apart chunks of fresh lamb and barely tart tomato stew made with lamb marrow stock. Served on the pan in which it was baked, the mixture can be scooped and soaked up by the accompanying boats of pide. A dollop of home-made labneh (strained yoghurt) quells the fresh, piping heat of this Tunisian dish known as Eggs Shakshouka ($20). The forces of the universe, it seemed, were in the right places. And by that I mean all around us.
Artichoke Café + Bar sits on the edge of the Bugis district, within the protective bounds of historical Sculpture Square. The eatery takes up one of the inner former chapel buildings, so despite being situated merely a few feet away from bustling Waterloo Street and Middle Road, the patio and slope-roofed L-shaped structure is almost immune to the throngs and the street traffic's dust.
The Bar is what greets you at the entrance. Its counter is a thick slab of light wood that sits atop a white-bricked wall, leading into, curiously, a Nordic-inspired, hipster-ised space with streamlined, stainless steel lampshades. A chalkboard, and artist-rendered walls of menus and delicate motifs, form the backdrop. This all smacks of Swedish halal café Fika, except the food here is comforting Moorish-Middle Eastern, with playful touches. And there was nothing halal about the dish we were about to have.
This was Hashbrowns and Pigs ($20) – hashbrown discs, onions, country sausage and bacon (thick, smoked, double-fatty cubes) ladled with smouldering, slightly peppery, cider-laced (Pipsqueak apple) gravy and melted red-cheddar cheese. There was no denying it: this is an upgraded, upsized… poutine. It's an unhealthy, but extremely satisfying mound of myocardial infarction that hit home for this honorary Canadian – we slurped up every last bit of this artery clogger, complemented by the fluffy, evenly broiled Turkish bread that was studded with black sesame seeds.
Not everything was as porky as this offering, however: the tender, twice-cooked lamb ribs may have been evenly spiced with chermoula, lemon jam and tahini yoghurt, but their low temperature left us, uhm, slightly cold. Part of the lamb was also not cleaned well – at one point, we pulled a sheet of membrane out. To finish off, the date pudding ($14) sat on the mushy side, with plating that resembled – pardon the visualisation – dog food. You'd be much better off going for the larger-than-life serving of moist apple cake ($12), draped generously with crumbly walnuts and a gentle, medium-thick vanilla mascarpone sauce.
All that was needed to end this meal was a cleansing cup of fresh mint tea, and perhaps a couple more petals of the smooth, slightly tart marinated artichokes (premium imported flowers, flavoured in-house with za'atar spices – dried herbs, sesame and salt). Unfortunately, it's only Gryphon teabags they serve here.
Details
Address:
Sculpture Square
161 Middle Rd
Singapore
188978

Contact:
Opening hours:
Tue-Fri 5pm-9.45pm; Sat & Sun 11.30am-2.45pm, 5pm-9.45pm
Do you own this business?
Best selling Time Out Offers