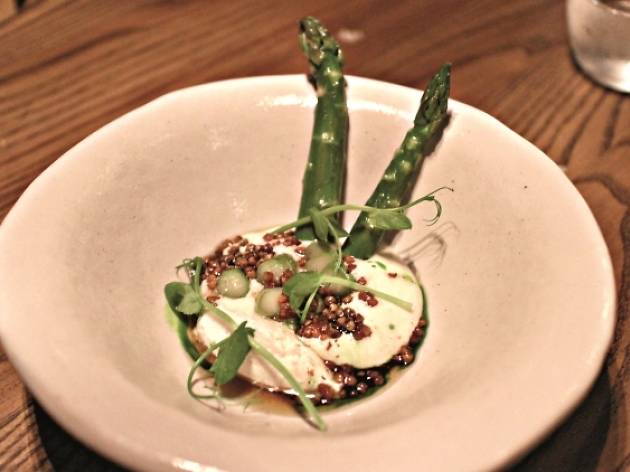 1/2
Asparagus with buckwheat and ricotta
2/2
Scallops with house-cured duck ham
Exciting tasting menus, changed monthly
So another restaurant opens on Keong Saik – what's new? Well, here's what's up: Andrew Walsh isn't just another wannabe restaurateur parachuting in to cash in on the hip neighbourhood, having headed the kitchen teams at the Unlisted Collection's Esquina and The Study. And he's partnered bar owner Joel Fraser, who has been an area stalwart with his Cufflink Club bar on the Jiak Chuan side street.
This is Cure, an ambitious restaurant in the same dressed-down bistronomy slant of recent openings like Sorrel. Ageing meat isn't really what it does – though a house-cured duck ham features with scallops hot and cold at our meal – when you realise that it derives its name from curare, Latin for 'to take care of', which it does very well, at least on the dining front.
Set menu permutations dominate lunch and dinner. Two ($35), three ($45) and five ($65) courses are offered in the day, with a lighter four ($95) on Monday to Thursday nights, and bigger five- ($118) and six-course ($135) meals on Fridays and Saturdays. Meals start with three snacks charged at an optional steal of $1 that is directed to Cure's own Hospitality Against Hunger initiative that works with Food Bank Singapore to feed the less fortunate. The other dishes are also refreshed monthly, based on seasonally available ingredients, and reveals a Walsh just bursting with flavour ideas.
Now that he's calling the shots at his own indie effort, Walsh tactfully gives diners something familiar to latch onto, then piques appetites with an acidic snap or an unconventional ingredient pairing that really works. A house-pickled cabbage whets the palate with sourdough slices in the bread course, and Dempsey-foraged oxalis puckers tongues with a textural bowl of asparagus with buckwheat and ricotta curdled in the restaurant's narrow kitchen.
The team cleverly freezes fennel in granita shards to colour a deconstructed strawberry shortcake with tinges of refreshing anise. For a session that only claims to offer four courses, we're fed beyond sated with seven plate changes, including a stellar one of quail, juicy, breaded rolls of quail and ricotta kiev, garlic milk and leek ash.
The monthly menu changes can have its caveats, though – we see this in the early days of service. There's extra pressure on the staff to remember each plate's elements, and we find ourselves subject to a pointed finger read-a-long of the menu from the perky servers.
Also, we get that the very established Fraser's created aperitifs like the Negroni Sinfonia ($22) and curaçao, cherry, vermouth and cherry Nil Satis Nisi Optumum ($23, Latin for 'nothing but the best is good enough'). But pouring pre-made cocktails pulled out of a refrigerator and charging $22 at the front bar feels pretty unjustified to us.
Fix those things, and Cure gets its five stars, easy. It's the type of place you'd want to save up for and eat at every month, just to see what new flavour turns Walsh manages to put together. We're sure it'll be a real treat.
Venue name:
Cure
Contact:
Address:
21 Keong Saik Rd
Singapore
089128

Opening hours:
Mon-Wed, Sat & Sun 6pm-late; Thu & Fri noon-late, 6pm-late
Do you own this business?