Hawker spotlight: Jia Xiang
A love for cooking has kept the stoves of this mee siam stall warm for the past 50 years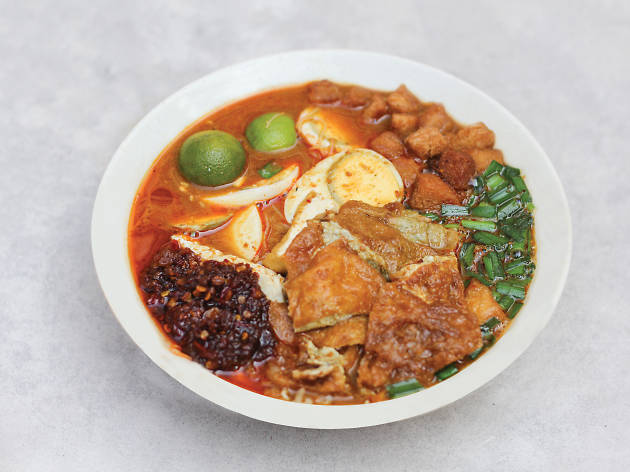 It's 3pm at Redhill Food Centre and the lunchtime crowd has finally abated. At long last, Chen Mei Ying, the 64-year-old who runs Jia Xiang, can take a break. She's been on her feet since 11am, serving bowls of her famed mee siam ($3) to customers that have travelled from as far as Bedok and Whampoa.
But sipping on coffee is not on Mei Ying's agenda – even in her downtime, Chen chooses to busy herself behind the stove. The tireless lady uses the respite from preparing orders to get right back to cooking. "I'm making shallot oil for my soups and noodles," she says while peeling a handful of purple shallots.
"I love to cook," she adds.
It's no surprise then that Mei Ying insists on preparing everything by hand. From the broth right down to sambal, she makes each bowl precisely the way her mother taught her. The mee siam comes crowned with a generous sprinkle of fried omelette, a hard-boiled egg, bean sprouts, fried flour puffs – crispier than the usual tofu puff, but equally adept at soaking up the gravy – and a dollop of homemade hae bee hiam sambal. It's a bowl you won't find anywhere else, and the reason why her customers come back again and again. Her other signature dish, lontong sayur lodeh ($3), a humble vegetable curry that fills you up with soft cabbage and rice cakes, also has its fans.
Mei Ying grew up in the kitchen. Her father had passed away when she was six, and her mother became a hawker to support her family of four. To make ends meet, Chen dropped out of school to help. "I liked to study, but I didn't have the chance," she shares. While her peers were learning algebra and geography, she was busy studying the art of cooking instead: frying bee hoon, balancing the gravy, and chopping up each garnish.
Fast forward to today, Mei Ying has been keeping the stoves at Jia Xiang warm for over 50 years. But being a seasoned cook doesn't make it any easier. "It's tough being a hawker," she says. "I have no time, and my children do not want to take over." She tried passing down the recipe to her two sons, but the long working hours and demanding working conditions put them off after a year.
"I think it's a pity," she says.
The enterprising hawker has one hope for the younger generation: that more of them start learning time-honoured recipes from the older generation before it's too late.
But even without potential successors and the gruelling working conditions, Mei Ying has no plans to retire just yet. "I'd rather work till I cannot do it anymore," she says.
"That is when I will stop."
3 questions with Chen Mei Ying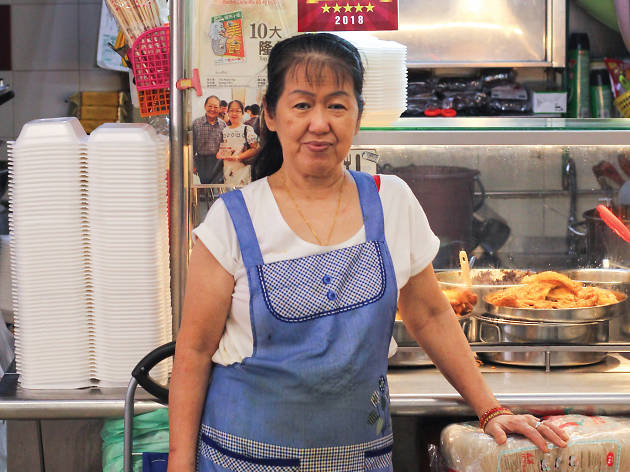 1. What makes a good bowl of mee siam?
It must have a good balance of sour, sweet, and spice.
2. How has the hawker scene changed over the years?
The recipes and dishes of the older generation are slowly disappearing. You cannot find the same traditional, nostalgic flavours that we used to have anymore. I hope to see more young people learning these recipes.
3. Have you ever thought of selling anything else?
I only sell mee siam and lontong. Just making these two dishes is enough to keep me busy. There are a lot of steps involved.
Go there now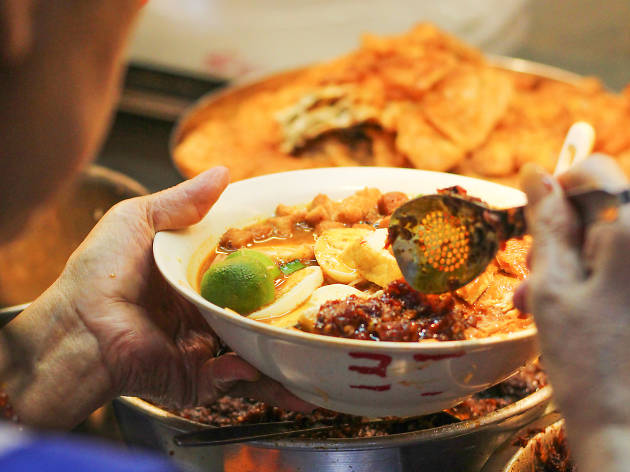 A mee siam worth travelling across the island for.