Hawker spotlight: Lad & Dad
Skipping your grad trip to work with your dad might sound sad but this lad is glad for it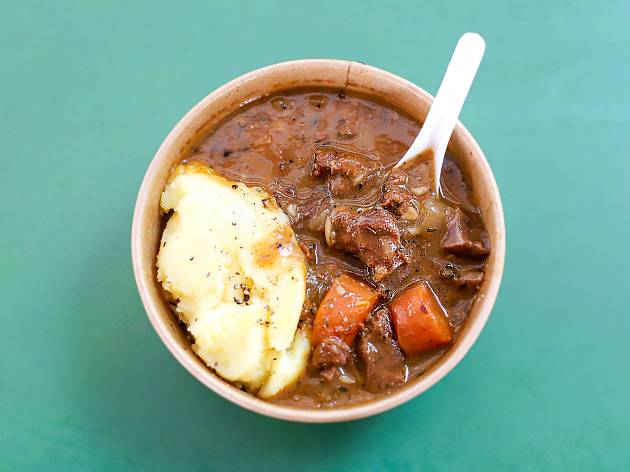 Getting western food from a food court or hawker centre often ends in disappointment – watery pasta, generic black pepper sauce and gunky baked beans from a can. If you're lucky, you might find a stall that does a mean chicken chop, but more often than not, it's usually frozen food tossed in the deep fryer.
Enter father-and-son team Keith and Desmond Koh who run Lad & Dad in Maxwell Road Food Centre. The 'lad' equation of the duo, Keith, is familiar with pub grub from its country of origin – the United Kingdom. The fresh graduate has no intention of donning a suit and tie to join the corporate ranks – much to his father's dismay – instead, Keith slogs it out to pursue his dream of making Lad & Dad a success. He even skipped his graduation (and grad trip) and used the savings to start his first venture. But the story didn't begin there.
Keith's first foray into British cuisine was working part-time in a hotel restaurant and bar in the UK. In his free time, he took up short culinary courses, where his classmates would be British housewives and grandmothers. He then started bouncing ideas off people in his class who shared their own tips on cooking British dishes. As he compiled his favourites, he began shaping the menu for Lad & Dad.
"All our recipes are made from scratch. We don't want the food to be bland since Singaporeans like bolder flavours so we included steps and ingredients to increase the umami of our dishes," Keith says. Some of Lad & Dad's most popular dishes include fish and chips and beef stew, with the former selling out before 1pm on most days.
Using Atlantic haddock, the battered-up fish is fried till it is a nice golden brown. For $10, it is served with a generous amount of crisp chips, tartare sauce and a dollop of mushy peas. Keith is especially proud of the beef stew ($10) and still gets enthusiastic when orders (and compliments) come in for it. Slow-cooked for eight hours, the chunks of shin meat are tender while the thick gravy of beef, potatoes and carrots complemented by buttery mash is full of depth and flavour.
Other dishes on its menu include bangers and mash, bacon and chip butty, English breakfast and Yorkshire pudding.
Sandwiched between a Taiwanese dumpling and noodle stall and a dessert shop, Lad & Dad stands out, not just for its cheeky name but for the novelty of consuming a (delicious) slice of British cuisine in a hawker setting. While the stall with its European signboard may seem like an odd fit in Maxwell, the demand proves that it belongs, and business seems smooth sailing. "As of now, dad is in charge of preparation and logistics as we have expanded," he says. "I run the stall at Maxwell with a friend who is also our chef and we have a second outlet in Bukit Batok within a microbrewery." British grub and beer? Surely, you tempt us.
3 questions with Keith Koh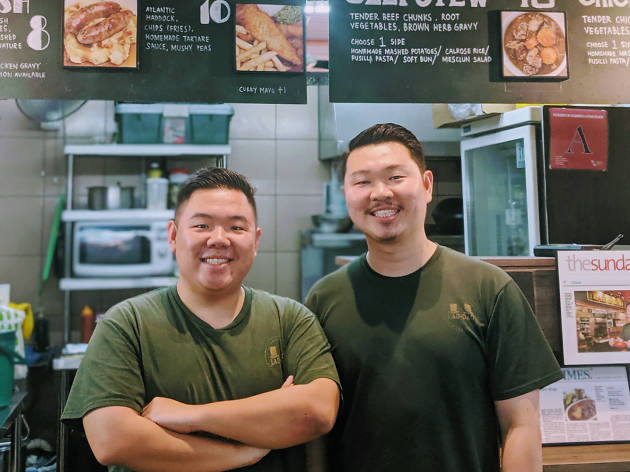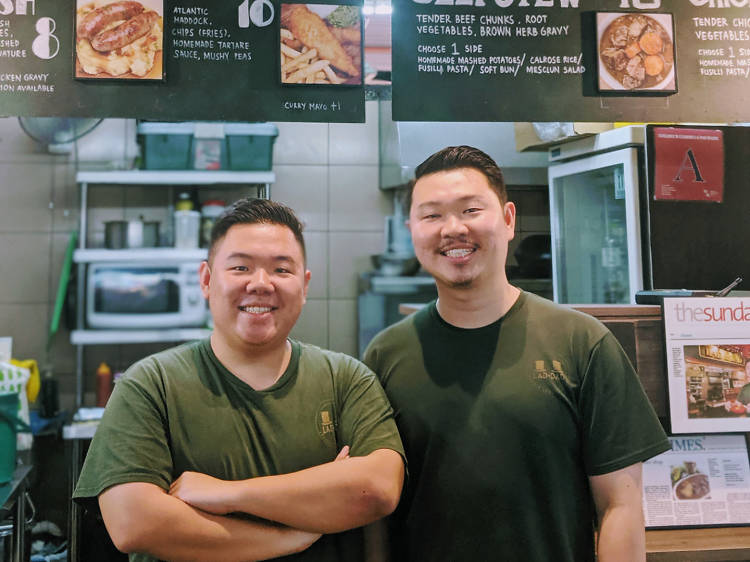 1.What is your go-to hawker food?
Mixed vegetable rice. I can eat it every day as there are so many dishes to choose from. Also because I'm greedy and I get to choose many different sides for one meal. I usually choose up to five dishes on one plate of rice. Other than that, probably chicken rice.
2.What's your favourite dish on the menu?
The beef stew. We made a name for ourselves with this dish and it takes a lot of effort and time to prepare.
3. Do you think the hawker heritage is something worth preserving?
Yes, definitely. But there's still a lot of work to be done – like more grants for innovation and technology, manpower assistance, upgrading courses and proper communication with the authorities.
Go there now
Lad & Dad serves up British pub grub at its humble outpost in Maxwell Food Centre, and demand has been strong since it opened its doors in 2015. Popular dishes include fish and chips, beef strew, and bacon & chip butty. The latter is slightly different from its traditional form, served with a hash brown instead of chips, and the concotion is topped with grilled mozzarella cheese to up that delish factor.