It's not every day you find proper Latin American food in restaurants, let alone in a hawker centre. But the folks behind Tee Kitchen are out to change that – with hearty plates of Colombian chicken. The decision to open up a hawker stall didn't come on a whim, instead, it took a little simmering to come to fruition.
It all began when an old family friend from Colombia introduced the recipe to the husband and wife duo many years ago. Then they started cooking it for potlucks and gatherings where the exotic dish received many positive responses from everyone who tried it, including their own children. And when the epiphany to start something of their own struck, Colombian chicken was the first thing that came to mind. The second was making it approachable for anyone and everyone to try. That was when the idea of starting a hawker stall came along.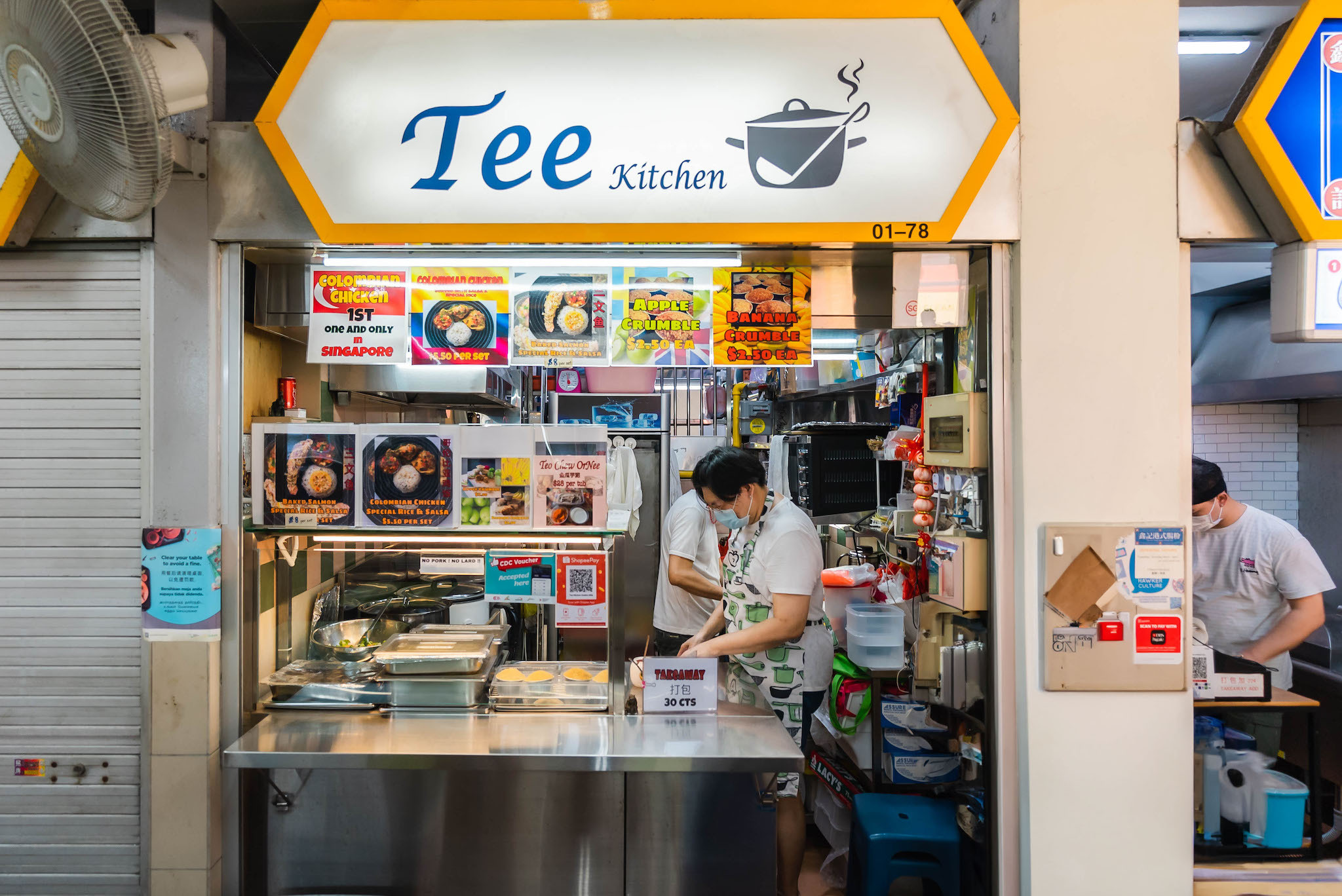 Introducing an exotic cuisine in a hawker setting seems like a tall order but it didn't stop the couple from putting one foot forward. "I felt that there is no better way to introduce such an interesting dish that was close to our hearts in a uniquely Singaporean setting like the hawker centre. Also, the dish wasn't on the market at the time," says Lian, the wife. When Tee Kitchen officially began its operations back in 2019, it was met with hesitation and scepticism from regular hawker goers.
"Many thought our Colombian chicken was a curry and that it would be something spicy. And some thought it was Mexican food or something adventurous," shares Lian. And to make matters worse, they opened just a month shy before the pandemic. Some neighbouring vendors jokingly told them in passing that they were so "lucky" to have come in at the "right time." But Tee, the husband, stuck to the original recipe and soldiered on by simply taking the time to explain to curious passersby whenever they enquired.
Tee's persistence, along with government subsidies and the collective power of group buys, helped them to stay afloat during the choppy waves of the pandemic. And one after another, customers returned. Some even bought the food for their friends and neighbours so that they could try. They've also garnered love from native Colombian customers with some sharing that it reminds them of their grandmother's cooking.
"One of our Colombian regulars had to be posted to Japan and on his last day in Singapore, he made his way down to take away from us to surprise his wife, just because she mentioned that she'll miss it."
If that isn't high praise, nothing else is.
At $5.50, each plate of Colombian chicken is bang for value. It comes with a meaty thigh and drumstick, drenched in the signature yellow-hued gravy, olive rice, and some salsa.
Having tasted the dish ourselves, the stew-like gravy definitely stood out with its earthy yet floral bouquet of turmeric, coriander, cumin, and pepper. The sweetness from onions rounds off the hearty dish and pairs extremely well with the fluffy olive rice. Though if you're not big on spice, we suggest going easy on the punchy chilli paste on the side. The couple also doesn't use pork, lard or any MSG in their cooking.
Today, with the pandemic firmly positioned in the rearview mirror, the three-year-old stall maintains a positive outlook. "Now that Singapore has opened up, it feels like we're completely new and many patrons think we just opened. Of course, we still hope that more people will learn about us," shares Lian. Besides the prep-heavy Colombian chicken, Tee's small but mighty menu also features a garlic butter baked salmon ($8) and desserts of apple and banana crumble ($2.50).
When asked about expanding the menu with new recipes, the couple share that some of their Colombian regulars suggest doing arepas (white corn cakes) and some good ole plantains. While they've got other recipes in the works, nothing is set in stone just yet.
After all, good things come to those who wait.