Hawker spotlight: Yunos & Family
Heritage, hard work and Hastings Road is where a good bowl of mee rebus begins.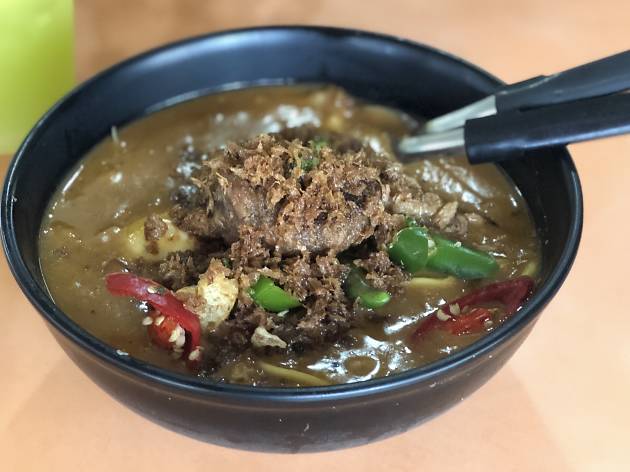 Out at 724 Ang Mo Kio Market & Food Centre, a humble stall bears the name 'Yunos & Family' and this holds a lot of meaning, and history to the people behind the business. The Yunos family are a well-oiled unit. Each morning begins with 28-year old Afiq Rezza prepping and cooking for the day, with help from his father, aunt, uncle and 81-year old grandmother. Later, his brother and two cousins report for duty before they start serving customers at 11am.
Yunos & Family is a legacy left by Afiq's late grandfather, Haji Yunos Ahmad who set up the business in 1960 at Hastings Road before they moved to Ang Mo Kio in 1979. The recipes have remained unchanged through the years and so have the crowd. "I love seeing my regular customers, even those from my grandfather's time are still returning to eat here," Afiq says.
There are four main dishes on the menu, mee rebus ($3), mee soto ($3), gado-gado ($3.50) and satay ($0.60/stick). There is also an extensive list of meats named on the menu and here is where the magic happens – it all can be added to your order of mee rebus. While stellar on its own, having a mee rebus with beef ribs ($6) and a begedil (potato patty) elevates the dish to new levels. We warn you, it's going to be a sloppy affair sloshing around the bowl of egg noodles in the thick savoury broth. The ribs were slow-cooked, leaving the meat to fall off the bone easily. If you're looking to really indulge, top up the experience with an order of mutton satay. The queues at the stall is testament to how good the food is, and the hustle and bustle continues all the way till the shop closes for the day at 9.30pm.

Away from the base in Ang Mo Kio, Afiq is also hustling his mee rebus to different sort of crowd: the gallery-hopping, culture-catching artsy types. Afiq himself was an art student from the Nanyang Academy of Fine Arts (NAFA) and continues to be active in the arts and music scene. The most recent collaboration was with with local contemporary artist, Ben Yap at The Working Capitol where mee rebus was sold in a pushcart at the exhibition.
Is the hawker life a career path that Afiq regrets taking? No, he says, "To be honest, it is a very exhausting career but running the stall and serving the customers food that has a history with it is very fulfilling. The best part of it is, it is never a routine for me."
#01-01, 724 Ang Mo Kio Food Centre, 724 Ang Mo Kio Ave. 6
3 questions with Afiq Rezza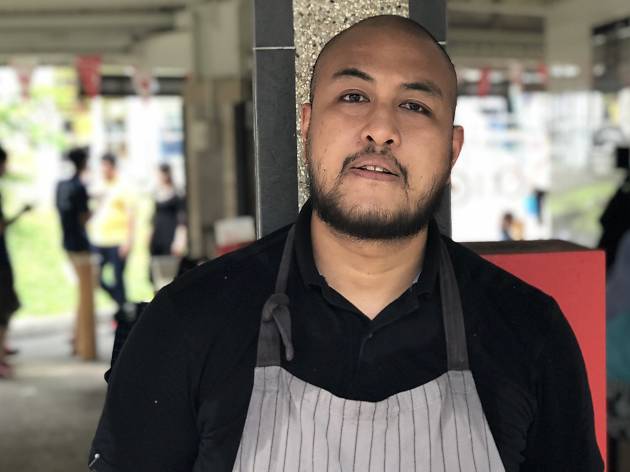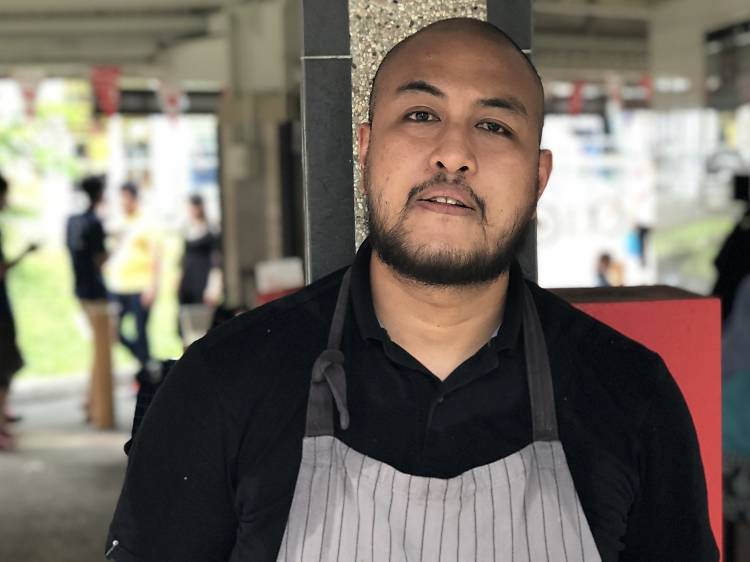 1. What were some of the things you had to learn?
I have always been inclined to the family business. I started helping out at the stall since I was young and it's only natural that I give back to the family and uphold the family's legacy. I picked up the family recipe watching my father cook every morning, he did not spoon feed or 'manja' me so I had to learn on my own. I also had to learn the traits of being a hawker such as dealing with suppliers, accounting, human resource and public relations. It is not just about cooking.
2. What's your favourite dish on the menu?
Mee Soto! I'm a soup kinda guy.
3. How did some of the collaborations in the pop-up scene come about?
Besides being a hawker, I have always been inclined to art and streetwear culture. The collaborations are usually with friends of mine or customers of Yunos & Family. The first collaboration was a pop-up at FIN Crafted Goods. Subsequently, we have collaborated with Goodluck Bunch, Sole Superior, Death Threads and we have also collaborated with Pras The Bandit for our first merchandise (an embroidered work shirt) which was sold out on the day of its release.
Go there now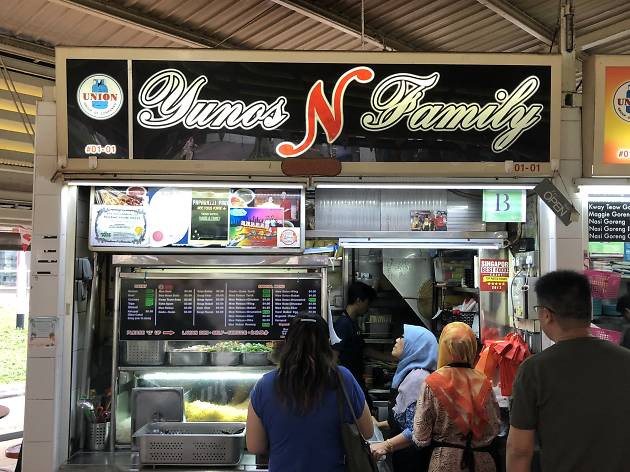 This humble but very popular stall in Ang Mo Kio Food Centre may keep the menu small but the food speaks for itself. The queue never really dies down at any time of the day for their signature dishes: mee rebus ($3), mee soto ($3), gado-gado ($3.50) and satay ($0.60/stick).