How to maximise your cai png order
We put these cai png ordering tricks to the test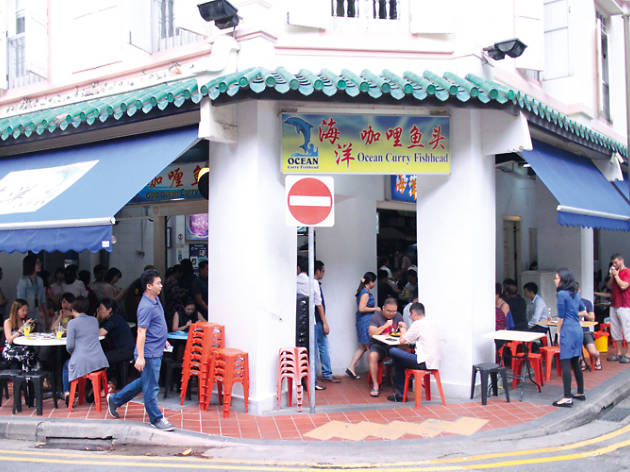 Economic rice stall aunties, we're coming for you. Inspired by a viral blog post about getting the most bang for your cai png buck, we headed to the bustling Ocean Curry Fish Head (181 Telok Ayer St) for lunch to (unscientifically) test these sneaky psychological hacks to get an extra nub of chicken and an additional heaping of rice.
How we did it
We staggered ourselves in Ocean's long line, each armed with a set of instructions to try out, and a standard combination of meat, tofu and vegetables to order. Back at the office, we weighed each portion and drew simple comparisons across the methods.
1
Order the meat first and the auntie will think you're a baller
The key is to give your server a good impression of your spending power, as you're gunning for the top-shelf ingredients from the get-go.

Result ($5, 470g)
Besides a larger-than-most portion of rice, we received less fish, tofu and kai lan across the board. Looks like ballers need to eat in moderation, too.
2
Keep pointing. Even after she's done heaping your packet, point again
The trick to pulling this one off, says the blog post, is to look distracted and point to the dish you want even after auntie has served you. She might instinctively reach out and give you more without charging you.

Result ($5.50, 590g)
This one backfired and we left with the most expensive takeaway from the experiment, and too much food to finish in one sitting. Weighed out, though, the extra charge yielded one and a half portions of meat and tofu. But, the incredulous retort of 'What? Some more?!' we got from the auntie was priceless.
3
Ask for 'a bit more rice' and order slowly
It's all about phrasing. Instead of requesting for 'extra rice' in Chinese ('jia fan'), asking for a 'little bit more' ('duo yi dian fan') is the way to avoid a price top-up. And ordering slowly gives auntie time to dish out your food at her leisure, instead of rushing her to the eggs before she's done with the pork.

Result ($3.50, 470g)
Average servings of ingredients, but less rice than what others in the team received. Boo.
4
Bring your own lunchbox
If she asks why, tell her you're 'saving the environment' and she might fill up your tub to its brim. But really, what you're aiming to do is to trip up her visual references with a big lunchbox and get auntie to pile on the servings.

Result ($3.50, 400g)
Fail. Doing this gave us the tiniest portion of rice, and much less vegetables. We did get an extra piece of chicken to make up for it, though – thanks, auntie! Maybe she thinks along with being eco-friendly, we're lean yoga types, too. (We're not.)
5
Just order like, y'know, normally
For our control, we threw all advice out of the styrofoam box and ordered our vegetables first, and did it quick, all with a beaming smile.

Result ($3.50, 530g)
More rice, and vegetables, and more meat and tofu than our other team members who played games when ordering. So just order as you will, people, those aunties must be on to these shenanigans by now.
6
Or, you could just be a man
Yep, this one's slightly controversial. A male colleague ordered as he typically would, with incredible results. (All the other tips were tested by female staff members.)

Result ($4, 700g)
Way more than enough rice (half a kilo), and average servings of meat and veggies. Looks like asking a dude co-worker to tapow for you is your best bet.