There are no cake stands or fancy display cases at this Japanese-inspired patisserie. Images of its desserts are also deliberately left out on its menu. To choose, diners have to rely solely on the description – and their imagination.
This is the latest iteration of Kki Sweets, a homegrown cake shop that began its journey in 2009 at Ann Siang Hill before moving to the School of the Arts. But the lack of footfall brought in little business. "We had no choice but to cut our losses," says co-owner Delphine Liau. "And hope to return someday."

That comeback has finally happened, and Kki now has a brand new space along Seah Street to call home. It marks a new beginning for Delphine and her husband, Kenneth Seah. For one, Kki functions less like a regular bakery and more like a dessert restaurant. It works on a reservation-only basis, and diners have to choose what they want to order beforehand. It helps the husband-wife duo better manage the crowd (the space can only seat some 15 diners with safe distancing), and prevent wastage by preparing only what is required.
On the conspicuous lack of visuals – in the omission of both display cases and photographs – the menu explains: "It's our way of inviting you to take a pause from the world of visual clutter ... So dive right in and let your imagination guide your taste buds." A total of six cakes and two plated desserts are available as part of Kki's new offerings. Delphine recommends getting three to four desserts as a way to sample the variety that the patisserie has to offer. No matter the choice, all desserts come elegantly plated and offer a dainty treat for both the camera and your tastebuds.
To help feed your imagination, here's a peek at three of Kki's stunning creations: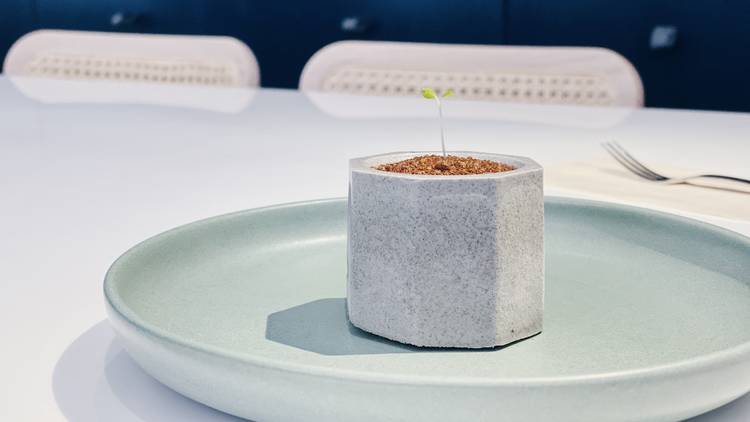 J ($13.50)
Everything about this adorable planter is edible. It features a black sesame 'concrete' pot that holds yuzu cream and crunchy chocolate matcha puff.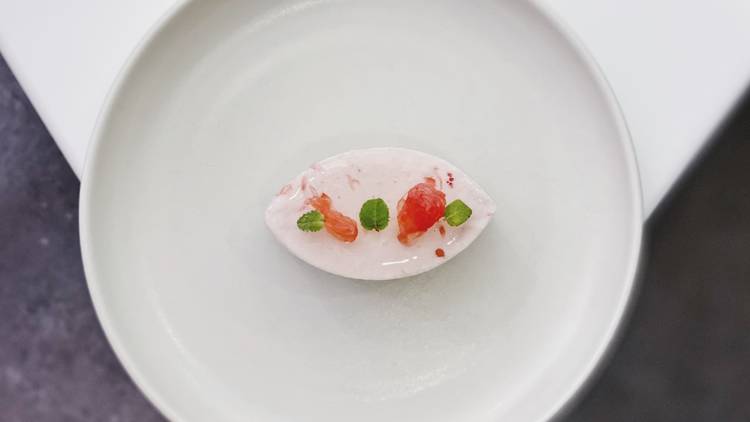 Koide ($10.50)
From the top, the cake invokes zen imagery of fishes swimming in a pond and its flavours reflect the same light, airy vibe. This elegant treat comes with refreshing layers of mint sponge, lychee and grapefruit mousse, and crowned with grapefruit jelly.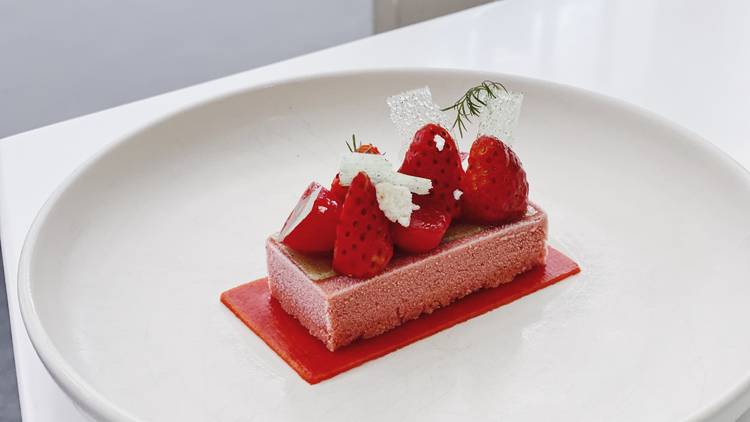 Japanese tomato, strawberry and red pepper ($24)
One of Kki's two plated desserts, this bountiful treat comes with a sweet tomato sorbet base. Red pepper and blood orange coulis, along with fresh strawberries and tomatoes, lend a bright summery touch to this icy treat.