It's surprising to walk up to a place called KM Bagel & Waffle and be greeted by a swanky restaurant – befitting of its tagline to "expect the unexpected". This space nestled on the second floor of Tanjong Pagar Plaza houses a 15-seater round bar (shaped like a bagel, the founder is proud to point out) that's lit with low and dramatic mood lighting. The effect is luxurious, which immediately gets you curious about how bagels and waffles factor into the mix.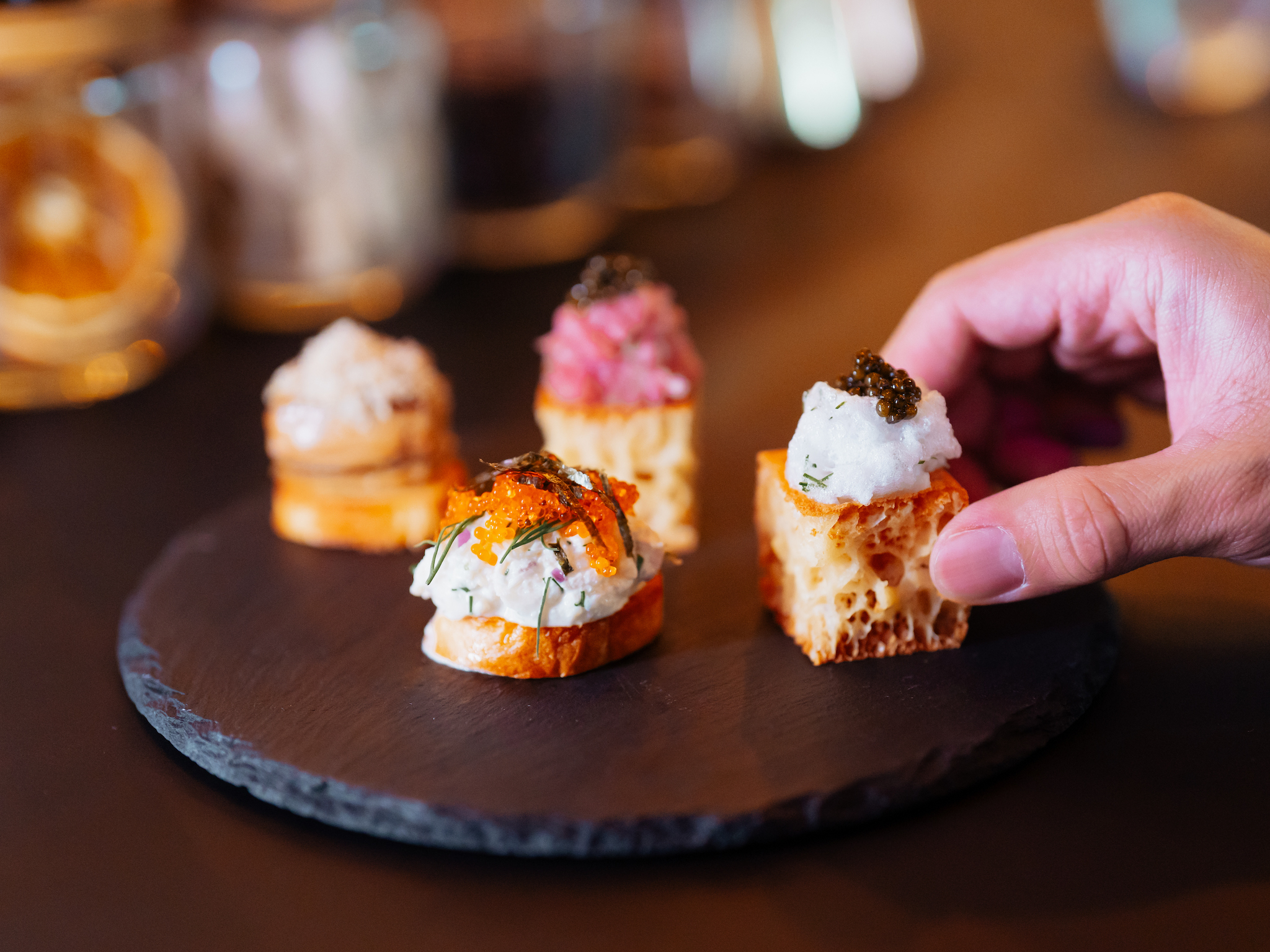 KM Bagel & Waffles was opened by Keith Poon, a sales VP for an investment company, and Mariusz Grzes, a relationship manager in real estate. Both bonded over a serious love of food and drink, and were inspired to start a joint that paid homage to their favourite childhood snacks – smoked salmon and bagel for the Polish Mariusz, and Prima Deli waffles for born-and-bred Singaporean Keith.
But it's no simple smoked salmon or kaya toppings you will find at KM Bagel & Waffle. Helmed by head chef Jeremy Low, previously from Hathaway at Dempsey Hill, here you'll find plates loaded with sous vide duck breast, Boston lobster and other premium toppings. Take the ala carte menu, which has Octopus and Waffle ($34) where torched octopus is dressed in an Asian spiced glaze, with a side of miso corn puree and plum infused tomatoes and nori. Other standouts are the succulent Braised Beef Cheek ($32) and Lobster Scramble ($28).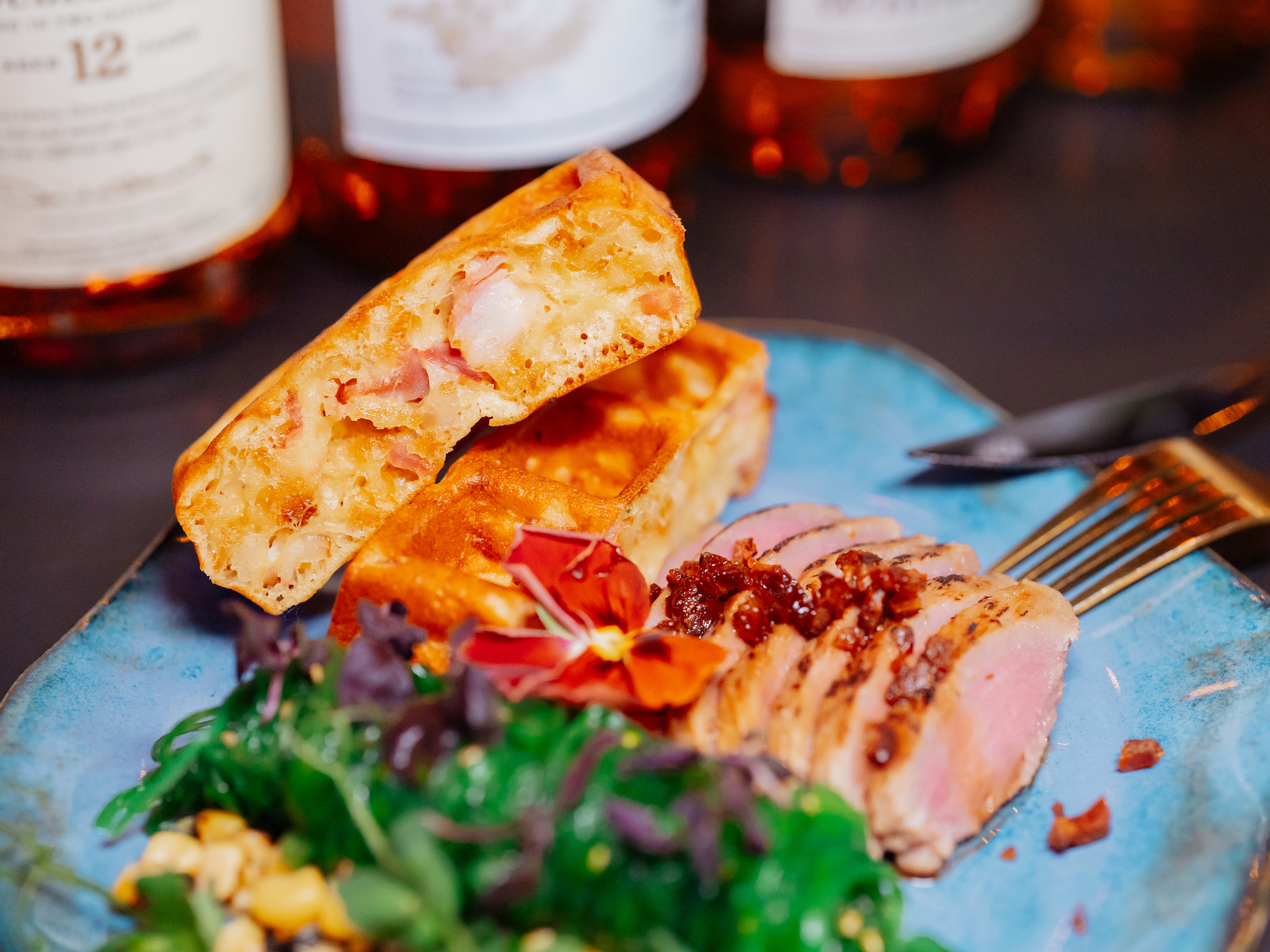 For a taste of the best, try out the Chef's Curation ($118). This five-course meal starts off with a quartet of canapes – cubes of bagels and waffles are topped with the likes of oscietra caviar and tuna tartare; and foie gras and king oyster mushroom. A bright and refreshing burrata salad cleanses the palate for two mains – a potato and bacon waffle with tender sous vide duck breast drizzled with Cointreau infused duck jus, topped with duck crackling, with a side of wakame and charred sweet corn; and the star, toasted bagel with Boston lobster and clams that you can drench in a miso and chrysanthemum broth. For a sweet ending, you get mochiko waffle with various sides that you can assemble yourself into the perfect dessert.
The design of the intimate round bar means that you can get up close and personal with the head mixologist Richard Li. Formerly of Tanglin Club and Smoke and Mirrors, he's mixed up some imaginative drinks. Try the Matcha Creme Brulee, a whisky-based drink that has an interesting whiff of parmesan, and a creamy mouthfeel thanks to the creme brulee foam. Meanwhile, the alluringly blue Bar Likes You cocktail gives a refreshing burst of botanicals from Hendrick's Gin, peach liqueur, cucumber cordials and is finished with a dry white wine.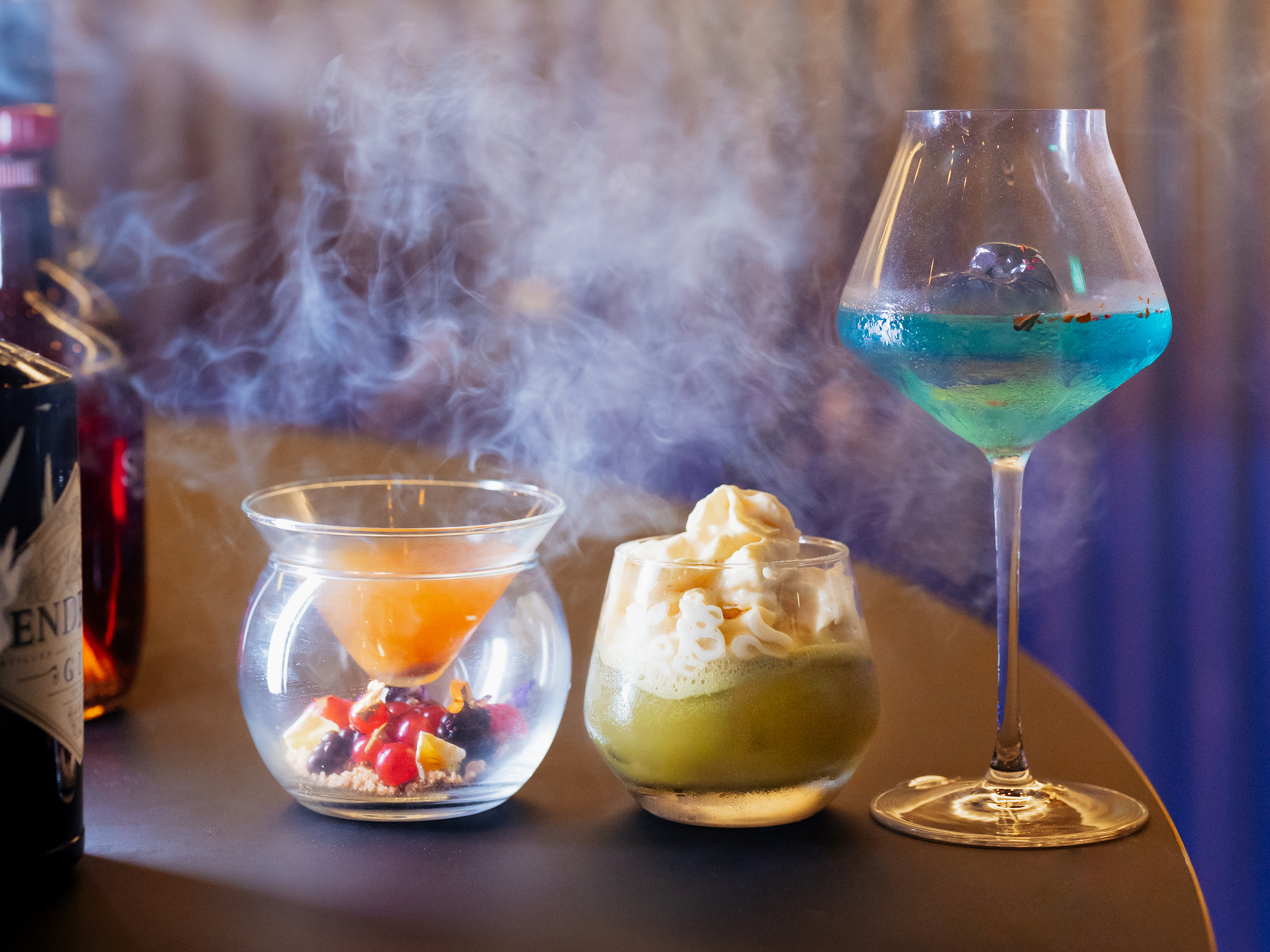 Head down this month to try out some special Christmas cocktails. Dishes on the chef's curation may change, but in the future, you can expect a menu curated by Mariusz Grzes himself too – after all, he's a former chef that once cooked for Team Great Britain at The 2012 Summer Olympics in London. Either way, KM Bagel & Waffle is totally committed to going the extra kilometre (KM – get it?) to give you a good time, so make your reservations via kmgroup.sg.