Our ramen came with a warning sign: "Don't scream."
It was followed quickly with more words of caution. "Keep your arms behind your back," noted another sign. "Bend yourself backwards". We braced for impact. Soon, the bowl in front of us was set ablaze in a towering pillar of fire.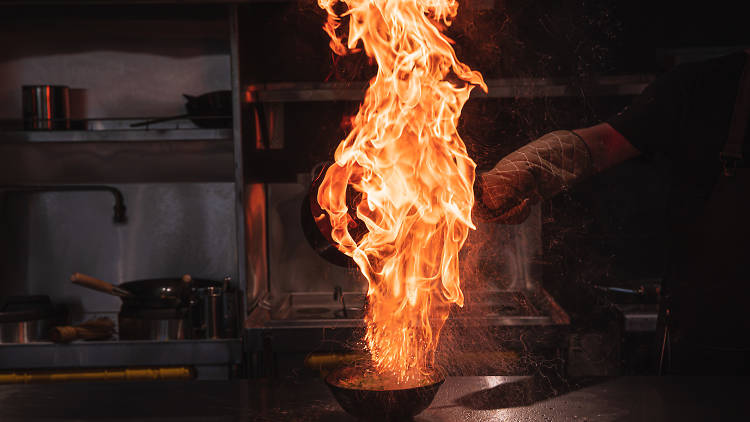 This is Menbaka Fire Ramen. By now, it should be clear by now that Menbaka doesn't just serve up ordinary ramen; the Kyoto-import is famously known for topping each bowl with a spectacular display of flames – performed just centimetres in front of every diner. To achieve this pyrotechnic performance, negi, or green onion oil, is first heated to scorching temperatures, then poured carefully atop each bowl.
If this all sounds too dangerous, know that Menbaka has a slew of safety measures in place to make sure no one gets hurt in the process. Besides plenty of warning signs, a specialised exhaust system is also installed to help pull the flames upwards and away from the face of customers.
Want to immortalise this lit dining experience for the 'gram? For safety reasons, you won't be able to hold on to your phones to capture the dramatic process. Instead, you'll need to surrender your phone to the staff; they will mount it on strategically placed selfie sticks that can then capture your reactions of shock and fear.
But more than just theatrics, the dramatic usage of fire helps lend a kiss of smoke to the ramen. Try it in the signature Shoyu Fire Ramen ($17.90), made from a broth of chicken, mackerel, and bonito brewed for over five hours. Shoyu, which comes specially imported from a 220-year-old factory in the Hyogo prefecture, is also added. A crowning of crunchy green onions completes this famous dish.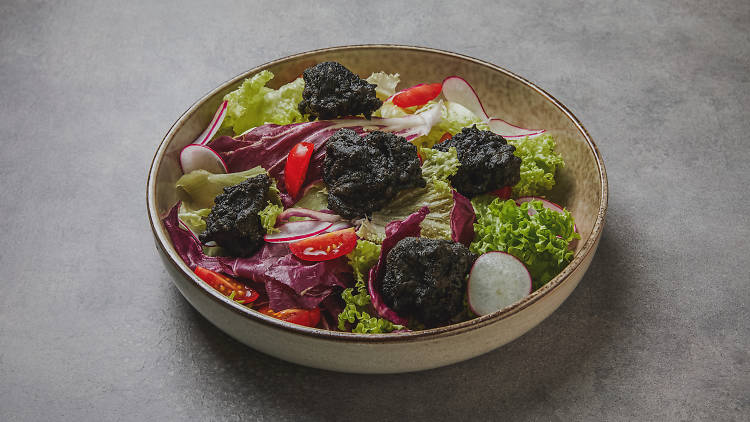 Exclusive to Singapore is the Tonkotsu Fire Ramen ($18.90) that comes with a creamier, thicker base; and the charcoal karaage salad ($14.90) that comes with crispy, black chicken chucks and bright yuzu dressing on the side.
Other highlights on the menu include a vegetarian version ($16.90) of the famous Fire Ramen; the Kyoto Menbaka fried rice ($9.90) made using a special, time-tested recipe; and matcha beer ($13), where Sapporo comes mixed with Uji matcha to lend an almost bittersweet fragrance to the usual cold pint.