Chef Louis Han grew up in Korea, worked in Abu Dhabi, and met his wife in Singapore. Over the course of his travels, each location helped mark a distinctive chapter in life – and the 31-year-old seeks to keep these fond memories and past experiences alive, through food, at his inaugural restaurant.
Naeum, thus, is an ode to remembrance. The wood-washed 28-seater emits the warmth of home, with an open kitchen to satisfy curious eyes; while the episodic menu offers a glimpse into the personal journey and psyche of the chef. Korean flavours might take centre stage, but the food is not beholden to tradition; global influences are worked into the debut dishes cooked up using some of Louis' favourite ingredients.
A five-course dinner ($148) starts with a strong showing of snacks: beef tartare, dressed in sesame oil and house-pickled garlic shoots, sits atop nurungji or scorched brown rice puff; and bugak sees vegetables deep-fried in a coating of glutinous rice paste. And duck meat comes hand-chopped for over an hour to create the lip-smacking galbi tart, slick with gochujang, and stuffed with a surprise rice cake middle.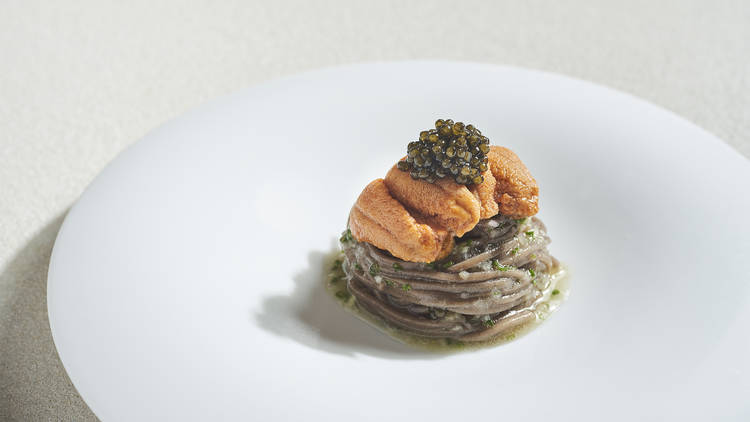 Mulhwae is a celebration of summer-time flavours, where aged fish (either kampachi or seabass) is rolled with daikon, then finished with shavings of raw cuttlefish and brightened with yuzu chilli sauce. Uni somyeon bears the coating of a refreshing sauce, with white kimchi bits and creamy uni trapped within tangles of slippery, savoury noodles.
Along the way, the menu makes a detour, away from Korea, to serve up fish with beurre blanc sauce, accompanied by zucchini roulade stuffed with charred cabbage and crab meat; and gochujang-glazed Irish duck. Order the wagyu striploin ($48), and it arrives in tender pink slices, with sides of pickled shiitake, shiitake puree, kohlrabi salad, and grilled leeks for a deconstructed take on traditional barbecue.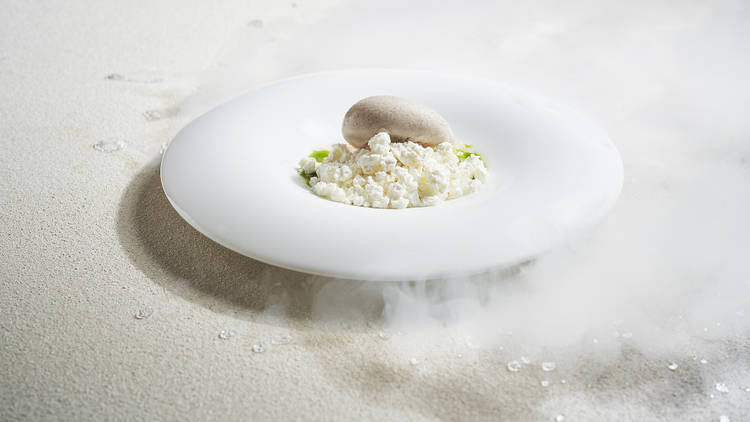 Desserts bring the meal back to more familiar grounds, with a delightful summer bingsu where fermented fruits, grape granita, mascarpone snow, and makgeolli sorbet come together in a spiked frozen treat. Charcoal jujube ($12) is also worth the extra order; the fruit is churned and turned into ice cream, served with puffed grains and charcoal tuile for an alluring smoky-sweet paring. Petit fours leave quite an impression, too, with fermented rice cake providing plenty of fun bite and yakgwa or fried honey cookie to end the night on a sweet – and memorable – note.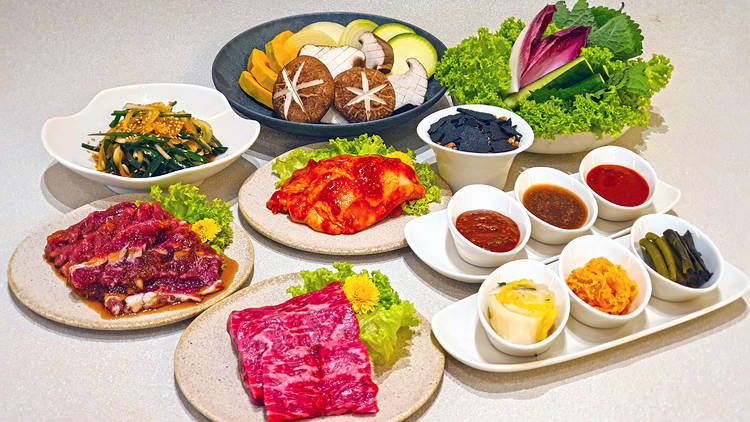 Delivery/ takeaway
In this stay-home period, Naeum will deliver a taste of Korea in take-out boxes instead. A bansung menu ($78) will change weekly, with options that might include grilled meat, pancake, and duck galbi patties. Otherwise, put on your chef's hat and attempt to cook up the chef's uni somyeon ($98 for two) with a curated kit comprising of noodles, seasons, 50g of sea urchin, and abalone mulhwae; or indulge in a decadent barbecue feast ($298 for three) with ready-to-cook cuts of nuruk dry-aged wagyu striploin, galbi-marinated Iberico pluma, gochujang-laced chicken thigh, and accompaniments of sauces and vegetables.