Chef Louis Han grew up in Korea, worked in Abu Dhabi, and met his wife in Singapore. Over the course of his travels, each location helped mark a distinctive chapter in life – and the 33-year-old seeks to keep these fond memories and past experiences alive through food at his inaugural restaurant.
Naeum, thus, is an ode to remembrance. The wood-washed 28-seater emits the warmth of home, with an open kitchen to satisfy curious eyes; while the episodic menu offers a glimpse into the personal journey and psyche of the chef. Korean flavours might take centre stage, but the food is not beholden to tradition; global influences are worked into the debut dishes cooked up using some of Louis' favourite ingredients.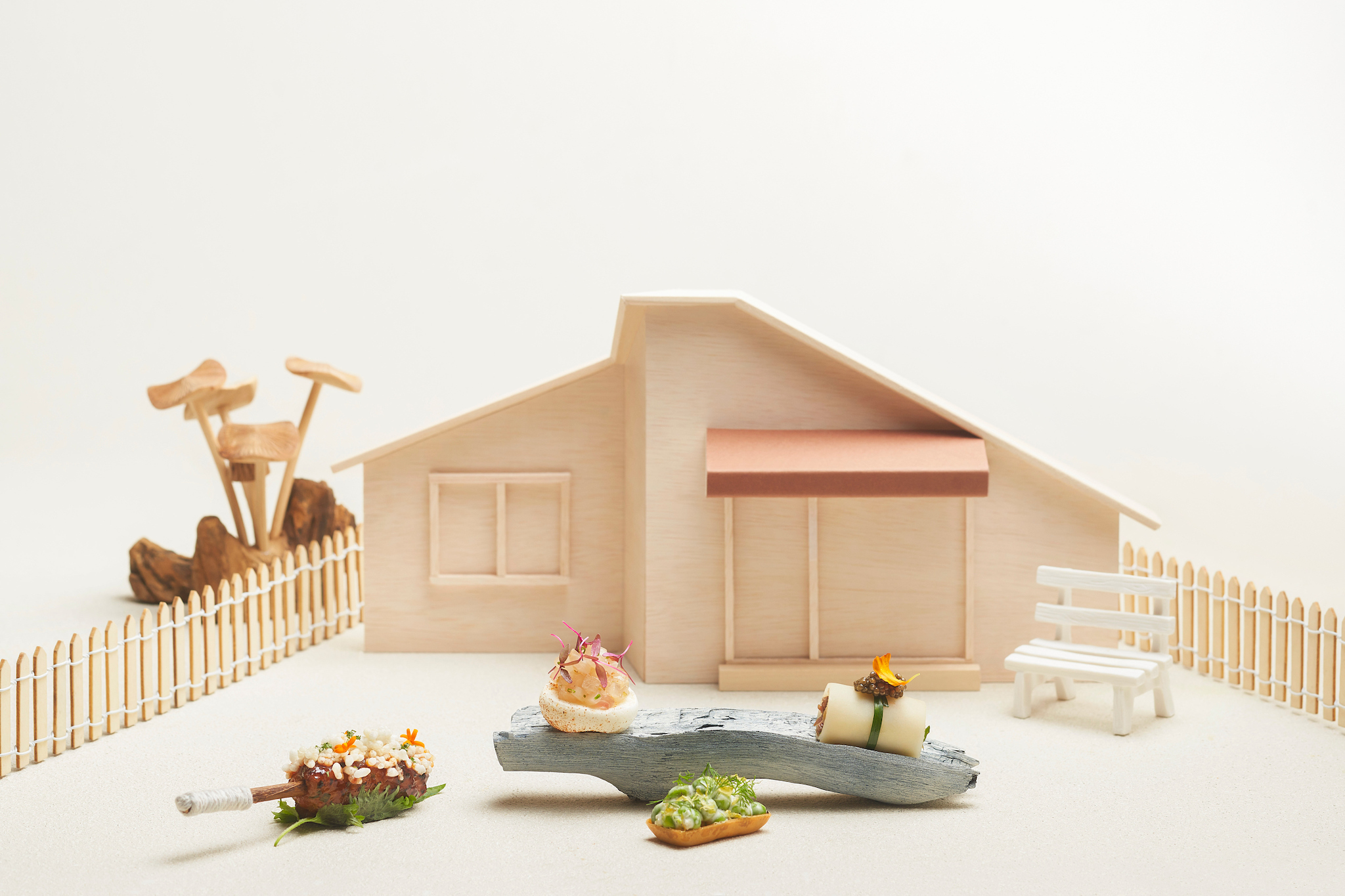 Now, the one Michelin-starred restaurant stages its fifth episodic menu – the Front Yard Barbeque – presenting as a six-course dinner ($198) or an eight-course experience ($258). It all starts with a strong showing of snacks (pictured above): striped jack tartare, dressed in pickled chilli and fermented daikon, sits atop a kimchi-tomato meringue; milssam sees a layered wrap of bulgogi Wagyu beef, bell peppers, caviar and shiso leaf; and green peas perfumed by applewood with charred pickled shallots and citrus jelly.
Appetisers arrive as a series of exquisitely plated dishes. There is a lip-smacking duck galbi skewer slick with gochujang and stuffed with a surprise rice cake middle. This is followed by pickled burnt leeks wrapped by hay-smoked tuna slices, left swimming in a light moat of bonito-burnt leek laced stock and pickled wintermelon. Dongchimi, an ode to Han's grandmother's cooking, sees traditional house-fermented cold water kimchi juxtaposed with luxe ingredients of obsiblue prawns, sea urchin and a porcelain-like veil made from Hokkaido scallop. Beneath lies a textural mix of cured eggplant, fermented kimchi, chimichurri and grated mung bean jelly.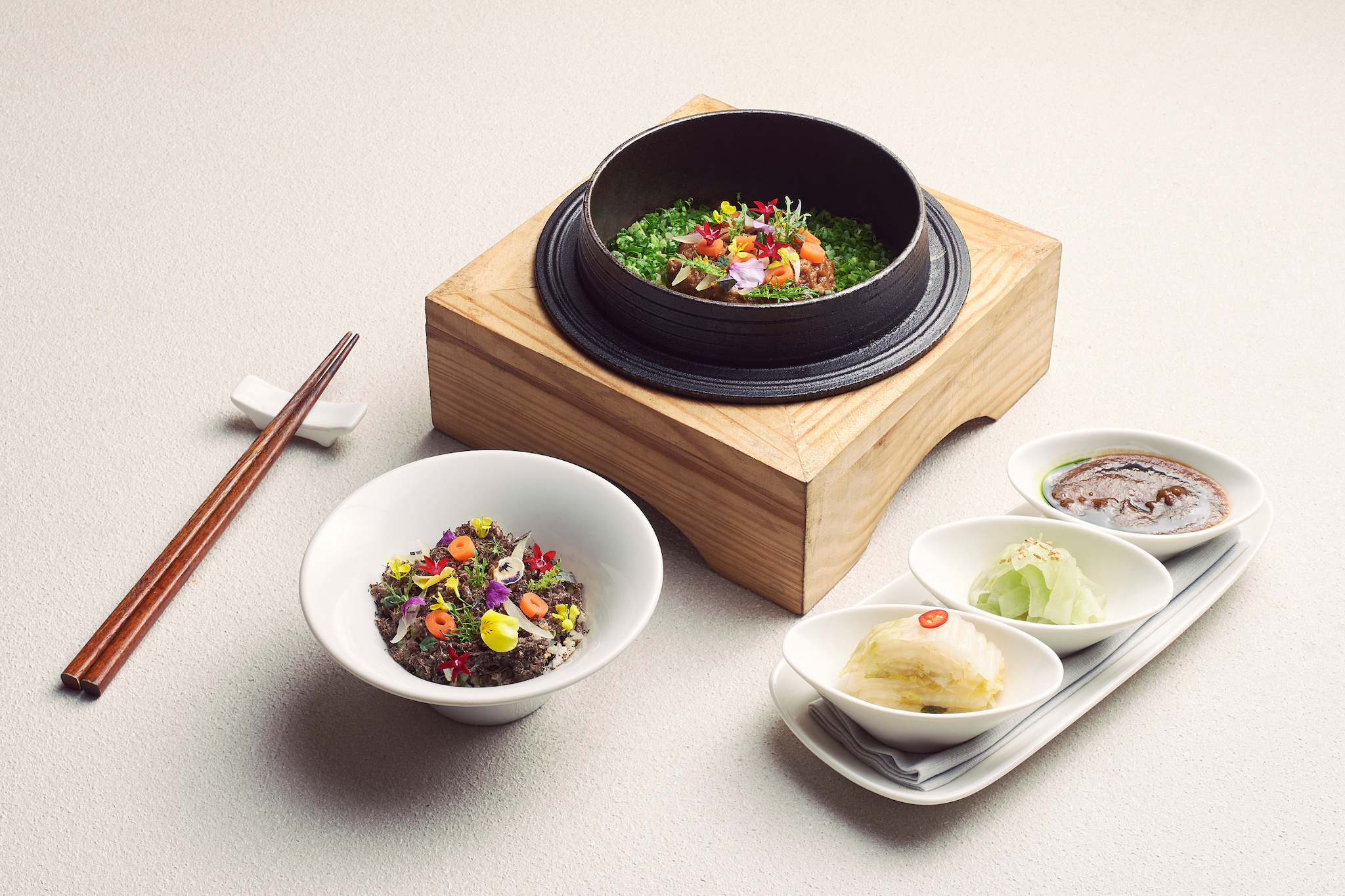 The hissing of the binchotan grill signals the opening of the mains. A lean cut of gochujang rubbed red mullet is paired with rich dashi butter russet potatoes and fermented bean foam accompaniments. Galbi-glazed MS7 Wagyu is married with traditional Korean barbeque elements: pickled sweet potato leaf, grilled king oyster mushroom, shishito peppers, herb bouquet and 'saengchae' daikon salad. Duroc pork ribs (pictured above) are patiently braised overnight and pulled apart to be added to sweet and savoury rice blended with barley and corn.
Desserts draw inspiration from Han's fondest memories of barbeque at home. A dainty melon lime punch is where lime mint sorbet, lemon soju granita, melon fruit and vanilla yoghurt mousse come together in a spiked frozen treat. Meanwhile, the well-loved charcoal jujube is rejigged into the kkul hotteok where a warm glutinous rice pancake is crowned with a quenelle of jujube-flavoured ice cream and a charcoal tuille branch. Petit fours leave quite an impression, too, with makgeolli-fermented rice cake providing plenty of fun; gwapyeon, or pineapple fruit jelly; and finally a refreshing tart shot of goji berry kombucha to end the night on a high.