There are six different types of sambal at Nusantara Singapore, starting with the common belachan, mixed with fermented shrimp paste for funk and fragrance. There is also a less spicy version, sambal hijau, brightened with green chilli instead.
Then, there is the tempoyak, a traditional sweet-spicy condiment that is rarely offered in restaurants. The secret ingredient: fermented D24 durian.
In Indonesia, the word 'nusantara' refers to the archipelago, an area that extends to the many surrounding islands that is famed for its history – and spices. Nusantara cuisine, as a result, is bold, flavourful, and delightfully spice-forward.
Which seems only apt that at Nusantara Singapore – which serves up traditional recipes from the region – there are six varieties of sambal to go with a meal. Each is a labour of love; fresh ingredients are painstakingly pounded by hand to yield a chunkier texture in the condiments ($2). Sambal bajak has a spiciness that is tempered by the sweetness of peppers, and sambal tumis fiery and pungent.
The recipes might be rooted in tradition, but the presentation here is modern. Nusantara Singapore adopts a build-your-own bowl concept, allowing hungry diners to put together a hearty meal with a rotating selection of dishes. To assemble, beef, lamb, chicken, fish, or vegetables is first laid over a bed of blue pea-suffused rice; then crowned with crisp keropok and, of course, a dollop of sambal.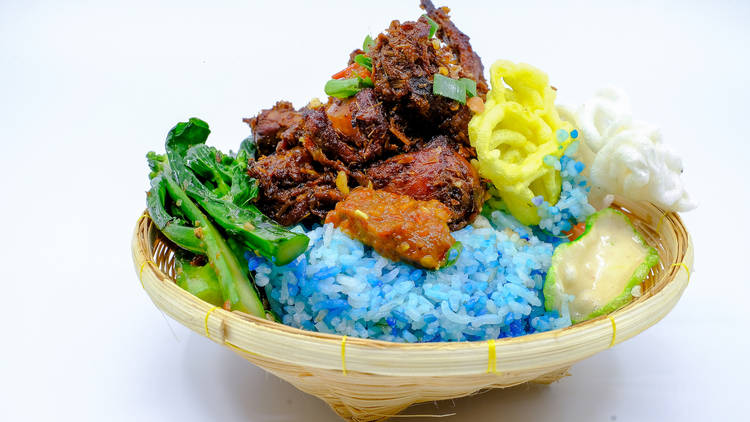 Signatures include the ayam masak merah ($7.90), where cubes of chicken come simmered in a tangy tomato gravy; belimbing lamb ($15.90), where the meat is first charcoal-grilled to lend a kiss of smoke; and beef rendang ($10.90) stewed with coconut milk and butter for a rich, hearty bite. Throw in an order of its fried chicken ($12), which comes marinated overnight in rempah, or spice paste. Vegetables aren't overlooked, either. The sayur lodeh ($7.90) sees vegetables swimming in an aromatic pool of coconut milk, topped with serundeng, or sautéed grated coconut.
Between meals, the store also offers traditional treats of roti boyan ($2.50), encased within a buttery crust; sweet mashed banana fritters ($2.50); and a selection of homemade kueh.
Through Nusantara Singapore, chef Firdauz Nasir hopes to shine the spotlight on the various comfort food that he grew up eating. He taps into recipes from his grandmother and mother, and adapts them (lesser oil and sugar, no MSG) for the healthy crowd in mind.