From peppery pork ribs soup to char-grilled slabs, the young second-gen owner of local chain Old Street Bak Kut Teh continues his love for meat (and cooking) at NY Verden, a modern smokehouse.
Owner Lim Kuan Yiou, also a finalist in Masterchef Singapore 2018, has created a menu that celebrates the harmonious union of char and meat. Choose from five different firewoods that promise to impart varying flavours; on the menu are options of jarrah chips that pack an intense punch, hickory chips (mild bacon-like quality), oak chips for well-rounded smokiness, cherry chips (lingering hints of fruit), and applewood chips that lend a gentle kiss of fire.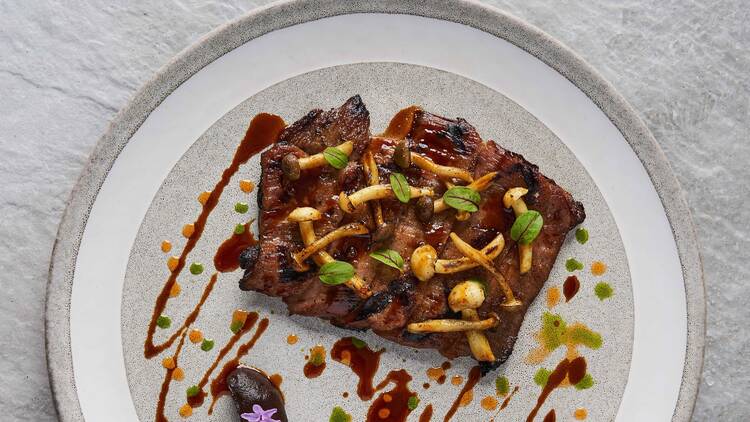 It is unfortunate, then, that the plates come layered with overpowering elements that otherwise mask the characteristics of the hardwood. Full-blood wagyu ($60) might be cooked over jarrah for an intense infusion of smoke and char, but these subtleties that the wood chips lend to the dish are lost – to the deep marsala wine sauce. Same for slices of Iberico pork jowl ($32), which comes paired with heavy, heady notes of black garlic paste. Otherwise, the meaty mouthfuls are delightfully tender.
Beyond just the usual cuts of meat, catch from the sea and fresh produce gets a smoky treatment as well. Cherrywood-smoked ikura tops a bowl of crab tagliolini ($28), slick with brine and umami. And apple-wood beetroot tartare forms a sweet base for creamy burrata ($28).