It is difficult to imagine that keto-compliant dishes, cooked without carbohydrates or sugars, can be made to taste good. The restrictive diet eschews the basic staples of rice and noodles for fats – making ketogenic cooking that much more difficult. Despite the limitations, Persea hopes to prove that keto-friendly food can actually be delicious, by reconfiguring the usual recipes and dishes.
Dressed in soft pastel hues and warm lighting, the modern restaurant feels cosy and inviting. Choose to dine close to the action on the first floor, with counter seats overlooking the kitchen; or head upstairs where intimate dining nooks are perfect for date nights and gatherings.
The menu (designed to switch up every few months) debuts with bright Mediterranean flavours. Pork rind ($6), dusted with chilli like salt, makes for great finger food, and a better complement to the Cauli-hummus ($10) dip dressed with tahini and za'atar. Eggs Muhammara ($14), a take on shakshuka, comes with a base of burnt capsicum, chives, and walnuts that melds into a chunky sauce flaunting nutty, creamy richness.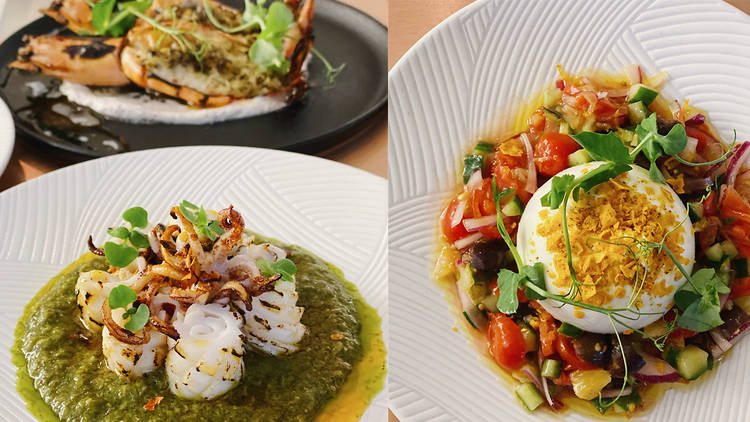 Naturally, meat dishes dominate the menu. Seafood dishes are the clear standout: Fat loops of calamari ($24) sit atop a pool of bracing zhug, drizzled with chorizo fat for extra oomph; grilled prawns ($20) come jazzed up with sumac creme fraiche; while flaky barramundi ($28) with saffron-scented beurre blanc comes with a briny smack from the addition of flower clams.
Skip the lamb ($28), which trades tender parts of the animal for a sinewy rump cut. Opt instead for skewers of chicken ($24), marinated with garlic yoghurt and grilled; or pork belly slices ($24) served with Moroccan curry and black cardamon. The smokey aroma gets carried through in the greens, too. Brussels sprouts ($16) come packed with so much hearty flavours – from chorizo renderings and sausage crumbs – that you might forget this is a vegetable dish.
In fact, most items on the menu taste bold and strong, including desserts of a blue cheese-hinted rosemary Basque burnt cheesecake ($16). Luckily, the drinks programme, formulated without sugars and candied syrups, is the perfect accompaniment to a meal at Persea. There are no saccharine cocktails; instead, concoctions are easy to sip, and according to bartender Noah Lim, designed to play on the sense of smell to create an illusion of sweetness. Chrysantonic ($16) is an almost bittersweet take on the chrysanthemum-spiked gin and tonic, while the Pa'low'ma ($16) is a skinny yet refreshing drink to imbibe. Persea even distills its own 'coke' – a secret, skinny variant – to create a version of rum and coke ($18). Also worth a try are the housemade brews: flavours of hard kombucha ($12) is switched up regularly, and glasses of mead ($16), spiked with longan blossom honey, is best enjoyed between mouthfuls of food. Both are keto-friendly, of course – a fact that needs frequent reminding given how Persea constantly presents diet-compliant dishes in unexpected ways.