There will be no leftovers at Salted and Hung. More than just a reflection of the food (they are delicious), remaining ingredients get a second – even third – lease of life under chef-owner Drew Nocente, who adopts a sustainable approach to cooking. Trimmings get rendered into sauces, bones are boiled down into stocks, and abalone shells are transformed into decorative hilts.
It is an idea that began when the 'nose-to-tail' restaurant first opened; who knew that offals and off-cuts could steal the spotlight when presented on dinner tables? But Drew had bigger ambitions – and much like the meats he salt and cure, his ideals would only get better with time.
That time is now, five years later, where he serves up zero-waste tasting menus ($148 for seven courses, $198 for ten courses) that celebrate his evolved ethos of fully maximising each and every item – from skin to bone. For diners, that means embarking on a complex journey where ingredients are tinkered into unexpected forms and make a surprising reprise in later dishes.
A bite of seaweed muffin, topped with cubed prawns, packs sweetness from the sea. Its umami flavours then get carried through in wakame butter, served alongside the bread course of IPA-leavened sourdough.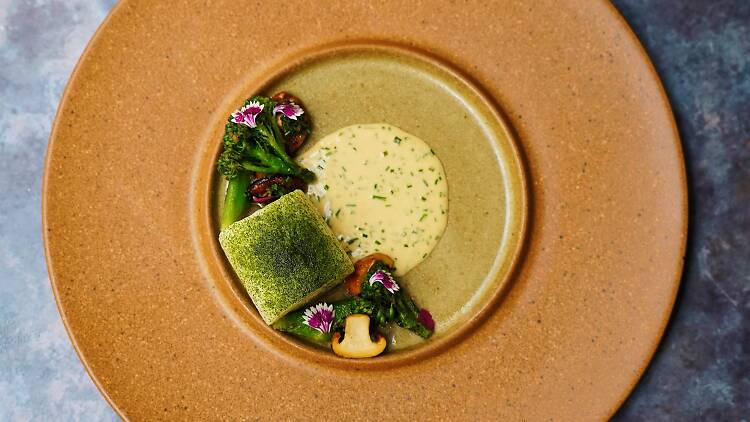 Aged turbot is undoubtedly the main highlight; the fillet is first aged for over five days to present a heartier, meatier bite. Its liver gets blended and worked into a yellow wine sauce, while skin and trimmings are fermented into garum (like fish sauce without the funk) to season accompanying vegetables. The bones aren't forgotten either; the carcass is left to hang over the stove for 14 days, collecting traces of smoke, then turned into a delightfully soothing dashi tea broth perfumed with ingenuity and local herbs.
This is a meat-leaning outfit, after all, and the menu continues to showcase impressive cuts from its curing room in the charcuterie platter: sakura pork, wagyu bresaola, and silky lardo tempered with honey and truffle oil. A dish of dry-aged vintage beef might be an expected find, but its preparation is exciting and uncommon. After an initial sear, the meat is then left to soak and rest in a pool of its own fat. The result: intense flavours sealed within each tender pink-hued slice.
Away from the plate, the chef has worked in environmentally conscious practices into other aspects of the operations. Paper coasters are replaced with ceramics ones. The shell from grilled green lip abalone, slick with vegemite from bread trimmings, gets worked into iridescent steak knives and decorative cutlery rests; coconut charcoals help cook the food; and a compost bin turns expanded waste into fertilisers for a local farm (which in turn supplies microgreens for the restaurant). They all help feed into the chef's impressive minimal-waste approach that still manages to deliver maximum enjoyment in every bite.