The storefront might read Standing Sushi Bar, but behind a small sliding door, just 10 paces from the main entrance, lies a hidden omakase experience. Shinsora is a tiny 10-seater diner wrapped around an L-shaped bar, opened by World Sushi Cup champions Sky Tai and Leon Yap.
The winners of the annual sushi-making competition have long been fascinated by the cuisine. With Shinsora, the pair of Singapore-based Malaysian chefs now have a space to showcase their winning creations, alongside a personal take on traditional Edomae-style sushi. Prices start from $180 for six courses, and $250 for seven courses.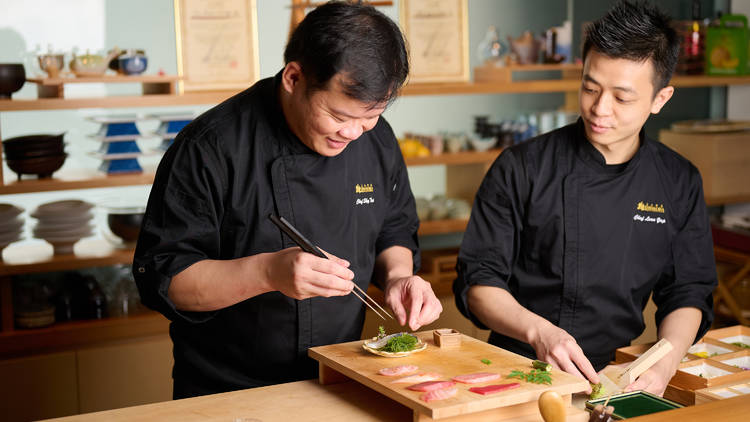 Japan first arrives on the table by way of Mount Fuji water, soft and crisp. It helps allude to the premium showing of ingredients to come; the menu, divided into three chapters, seeks to highlight the best of the season. The appetiser box in Chapter One is a snapshot of springtime flavours: sweet cherry tomatoes are paired with maitake mushrooms, crunchy sea snail or shiro baigai comes glazed with dashi, and sweet shiro ebi or baby white shrimp is crowned with bafun uni.
The freshest catch makes an appearance on a platter in a sashimi course. Fat discs of scallops are joined by slivers of sea bream, golden eye snapper, mackerel, and buttery ootoro. Spring water from Mount Fuji also makes a reappearance in a cup of chawanmushi, stained black with salty seaweed sauce and topped with plump firefly squid.
Both Sky and Leon took home the title of the World Sushi Cup winner – in 2018 and 2019 respectively. And their reverence toward sushi-making shows; rice is kept at a precise 38 degrees Celcius, then pinched to cradle flounder, topped with its liver; fatty tuna; and ark shell, slapped gently against the palm to lend a firmer bite.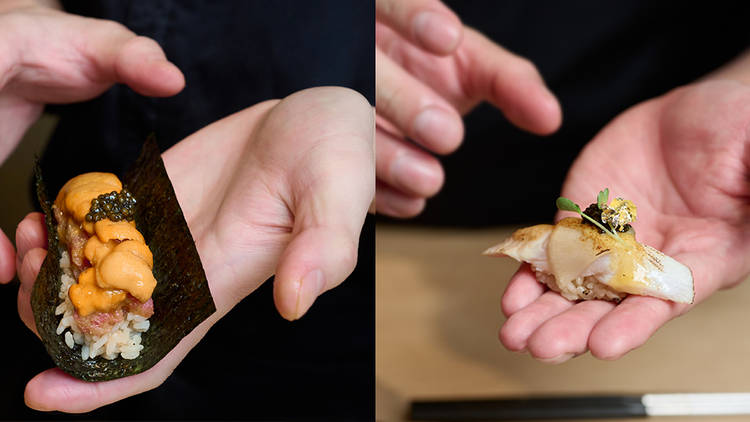 But the main highlight is the award-winning recipes, created as part of the global sushi-making competition. For Sky, his bright, visual treat features striped jack fish is first layered with cured daikon and yuzu miso, then flame-seared and finished with caviar and gold flakes. Leon, on the other hand, has created a luxurious hand roll where minced Nagasaki tuna belly is folded with pickled radish, then topped with a dusting of year-old fermented tuna, a spoonful of caviar, and uni.
A master broth, with flavours that build up and intensifies over time, is used to cook up slices of wagyu. Or swap the buttery meat with spoonfuls of sea urchin instead.
Desserts help close the chapter at Shinsora, which might see a wedge of muskmelon paired with homemade crystal candy. Should there still be space left for more, consider ordering a pot of gyokuro ($38), green tea that tastes unlike the usual variant. Savoury with seaweed-like qualities, the warm brew helps complement the sweet treats, and when finished, the leaves can even be drained and rolled into a final snack of tea maki.