Wagyu beef with a marbling grade of A5 – that's the highest there is – doesn't come cheap. It's a meat ranking that signals the best of the best – a prized cut that usually comes with a hefty price tag. But over at Syohachi Wagyu Hamburg, you'll find patties made from this premium beef at wallet-friendly prices.
At this Japanese eatery, located at One Raffles Place, a hamburg steak can start from just $9.50. It manages to keep costs low through economies of scale; the brand owns two cattle farms in Japan, and supplies a steady stream of A5 wagyu slices for its famed Hong Kong-based yakiniku chain, Syohachi Yakiniku. But offcuts and unused parts of the cow are typically wasted, and Syohachi Wagyu Hamburg turns them into quality, inch-thick beef patties instead.
The result: juicy, flavourful meat stacks. Here, the humble disc is served as is, alongside rice and salad, or stuffed between buttered thick toast topped with omelette or cheese.
The price of the petite hamburg steak, at just $9.50, might sound tempting, but it comes with just two bite-sized 60g patties. To fully savour these meaty, chunky stacks, opt for the lunch or dinner set ($16.50), where 150g of patty is prepped over the grill to impart plenty of smoke. Completing the meal is a side of fresh greens and steamed rice that comes swimming in a pool of deep-bodied beef gravy. All patties come served well-done, so there's no need to squirm at the sight of blood. Still, each serving remains juicy and tender enough to be sliced through with just a disposable fork.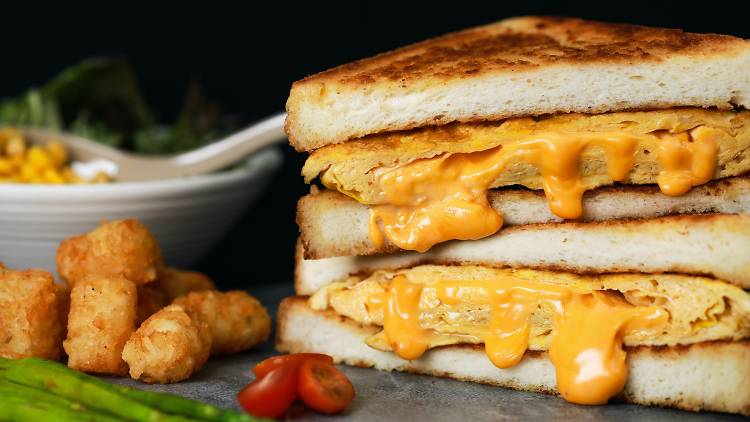 Those in the CBD looking for a convenient grab-and-go breakfast or dinner option can also consider the wagyu beef toastie ($7.70). The humble sandwich is made more indulgent with the addition of a 100g patty, layered between warm thick toast. Additional fix-ins of cheese ($1) and an omelette ($1) helps make it a gooey sando well-worth the calories. Other affordable options include an all-day egg and cheese toastie set ($9.50), with a gooey middle, complete with tater tots and pickles.