Taste test: chocolate hazelnut spread
We put five supermarket-bought chocolate hazelnut spreads to the test. By Gladys Tan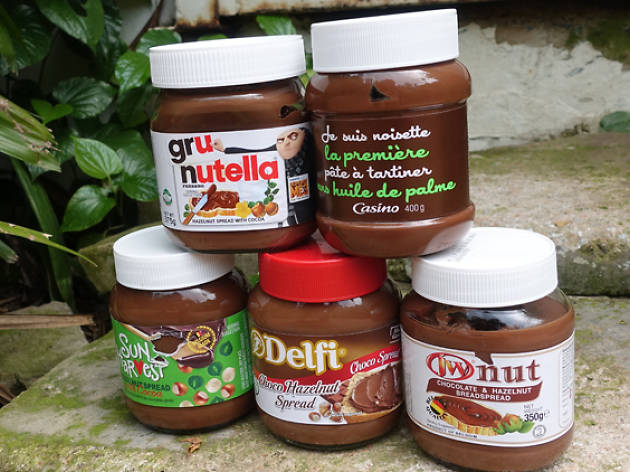 By

Time Out Singapore editors
|
1. Nutella ($5.20/375g)
Unlike in our other taste tests, we could easily identify the most iconic brand of the lot here. Nutella still triumphs with its balanced flavours of chocolate and hazelnut, and the shiny and smooth texture glides evenly over our toasts. We also concluded that Nutella 'always tastes of guilt' – otherwise we'd have finished the whole tub in one sitting.
2. Delfi Chocolate Hazelnut ($3.95/350g)
Remember those chocolate sticks we loved as kids? This tastes similar, with a strong hazelnut aftertaste. The downside: the 'cheap' chocolate flavour – we tasted more oil than chocolate – remained.
3. JW Chocolate Hazelnut ($2.95/350g)
The chocolate flavour is strong in this one, as is the oily residue that coats the tongue. And if you enjoy the crunch of sugar, go for this – it's speckled with sugar crystals.
4. Sunny Harvest Chocolate Hazelnut ($4.65/375g)
While it has a smooth consistency, the spread bears a plasticky taste that sticks to the back of your throat. Your bread deserves better.
5. Casino ($5.95/200g)
The black sheep of the five spreads, Casino's has an artificial sweetness and a slimy texture – a scoop of this won't melt in your mouth for sure.