Taste test: curry puffs
In the spirit of National Day, we taste test a national favourite: curry puffs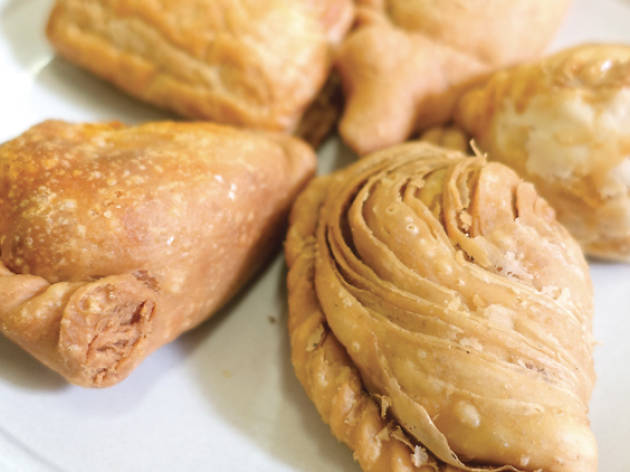 1. Rolina Singapore Traditional Hainanese Curry Puff ($1.40)
This curry puff had the right level of spice to warm up our tongues and bellies. We just wish it delivered more than a small cube of chicken within its thin but crusty exterior.
#02-16 Tanjong Pagar Plaza Market & Food Centre. Mon-Sat 10am-2pm.
2. J2 Famous Crispy Curry Puff ($1.20)
This Bib Gourmand-worthy puff might have won the honour due to its buttery and flaky pastry, but we were disappointed that the filling had more potato than chicken.
#01-21 Amoy Street Food Centre. Mon-Sat 8am-4pm.
3. Tanglin Crispy Curry Puff ($1.50)
The crunchy pastry reminded us of McDonald's apple pie crust. The mild curry, on the other hand, wasn't satisfying.
#02-36 Hong Lim Market and Food Centre. Mon-Sat 7am-5pm.
4. Tip Top Curry Puff ($1.50)
The spicy kick of Tip Top's curry as well as the hunks of chicken were what bumped it up the ranks. However, the pastry was dry and lacked bite.
Various outlets.
5. Old Chang Kee ($1.50)
This is your go-to if you need a midday snack. The biscuit-like pastry tasted strongly of flour and although the puff had a good amount of potato and chicken chunks, it didn't leave much of an impression.
Various outlets.
6. Tong Heng ($1.60)
The cute round curry puffs were unfortunately too sweet for our liking. The curry also had a strong taste of shrimp paste while the flaky pastry was too thin.
285 South Bridge Road. 9am-10pm.
7. Polar Puffs and Cakes ($1.90)
There were so many wrongs with this curry puff that you're better off sticking to Polar's chicken pie. From the strong taste of peas in the curry to the flaky but tough crust, we don't know why we bothered with this curry puff.
Various outlets.