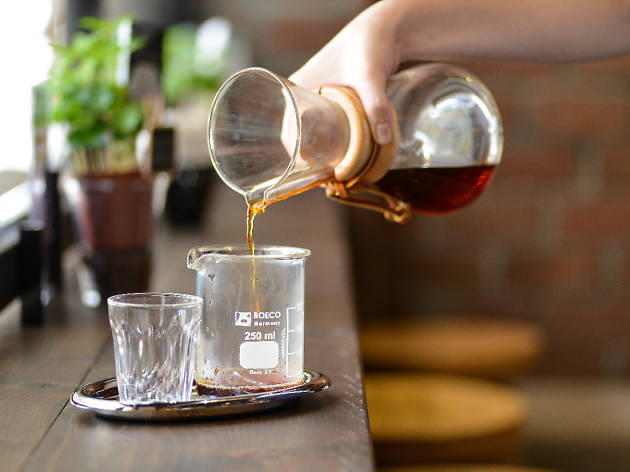 Above-average coffee, average food
Just when you thought there was no room left in Singapore for another coffee joint, The Coffee Academïcs pops up – with an umlaut, no less. Tucked away on the second floor of Scotts Square where it is almost lost in the dazzlingly expensive and colourful shoe shops of fellow Hong Konger, On Pedder, the café is an Instagram-ready offshoot of, the press release breathlessly tells us, Hong Kong's 'award-winning and most dynamic specialty coffee concept'.
That may be so, but you can't help but think there must be a tipping point where only that rare breed of supertasters can tell the difference between a 'balanced and complex' brew and one with 'a delightfully sweet finish', never mind one that is 'handcrafted' or made with heirloom beans.
The paraphernalia of a high-tech coffee laboratory are displayed in all their brewing glory. For an additional $5, you'll get to observe the barista prepare your coffee using one of four methods – Clever Cup, Chemex, Ice Drip, and AeroPress – the idea being that different methods unleash different depths of acidity and flavours for the same coffee. (At most other coffee-serious spots around town, these brew 'demonstrations' are usually done in the name of education and are included in the drink's price.)
Except, the server says sweetly on our visit, the café is understaffed, so the barista has no time for the show-and-tell. Which is a pity since the regular caffeine offerings are already so intriguing, not least a lively café latte ($6.50) twirled through with raw agave nectar and ground black pepper, and a Panama Barufee Estate ($8), whose beans are grown on a Panamanian estate owned by the café's Hong Kong owners.
For the moment, skip the food. Ridiculously styled as 'Globally Inspired Foods', the spread is, to be frank, middling. If this really were academia, the report card would say 'More effort needed'. A winningly juicy crab and avocado salad ($22) sets the bar with a juicy tian of sweet crabmeat topped with perfectly ripe emerald chunks of avocado. Too bad the kale and quinoa Waldorf salad ($20) is marked by barely dressed leaves, green beans and tiny nubs of walnuts. Crispy fish fillet tacos ($23) aren't, well, crispy – the damp corn shells are an unfortunate victim of humidity. The base of the jamon and arugula pizza ($26) meets a similar fate.
The kitchen is on safer ground with its desserts. The slightly gooey interiors of freshly fried churros ($16) – the corrugated tubes rolled in fine cinnamon sugar –perfectly pair with an ungenerous cup of chocolate fudge, and a very good coffee ice cream.
Will The Coffee Academïcs knock the Starbucks, 40 Hands and Kiths of this town off their perch? Maybe, but if our visit was any indication, it won't be any time soon.
BY: DAVEN WU
Venue name:
The Coffee Academics
Contact:
Address:
Level 2, Scotts Square
6 Scotts Rd
Singapore
228209

Opening hours:
Daily 9am-9pm
Do you own this business?
You may be interested in: