UPDATE – June 1 2022
If you needed a reason to visit (or revisit) The Dragon Chamber, here's one: it's got a brand new menu of delicious and innovative eats. You won't find uncommon ingredients like crocodile paws and reproductive organs here – as could be found on their original menu – but the treatment of familiar dishes like 'kou shui ji' (translating to saliva chicken) and crispy noodles in thick gravy makes the refreshed offerings a delight.
The Dragon Chamber's roasted 'kou shui' chicken features roasted chicken roulades topped with dark vinegar, chilli oil and its house special Szechuan sauce. The chicken in 'kou shui ji' is usually steamed to silky tenderness, but in The Dragon Chamber's rendition, the chicken skin has been roasted to thin, crispy perfection, offering a perfect complement to the piquant sauce.
Speaking of crispiness – another highlight is the milk cracker lemon chicken. The fairly traditional dish is given a subtle twist – deep-fried chicken slices are doused in sweet lemon sauce, and topped with crushed milk crackers and peanuts, a boon for those who just can't get enough of crunch.
We also loved the soft shell crab with scallop crispy noodles. This dish wows visually –chopsticks seem to hover in the air, holding a generous curtain of noodles off the plate. There's a generous portion of soft shell crab sitting on the side with juicy scallops and bok choy. But the star is the house special garlic and seafood stock gravy, which you pour over to soften the noodles and mix into the dish. We swear, it's good enough to drink on its own.
Cherry tomatoes marinated in a special plum mix, hamachi collar in curry, and golden pear with Bird Nest round out our sampling of the new menu. To try The Dragon Chamber's refreshed plates for yourself, head down to 2 Circular Road and walk through a set of fridge doors.
September 4 2020
Following the directions on Google Maps alone won't get you to The Dragon Chamber; you'll need to sleuth around to find this elusive restaurant. From the outside, you're first greeted by a clean-looking kopitiam serving wonton noodles and roast meats. But have a look around for a fridge door – for that's where the real entrance of The Dragon Chamber is. Step inside, and you'll be transported to a darker, more mysterious location – with old posters and chinoiserie that lend a grungy, underground vibe reminiscent of gang dens of old Hong Kong.
But the intrigue doesn't just end here. The menu, too, is full of surprises. Uncommon ingredients are celebrated, resulting in dishes like the Dragon Claw ($55), a crocodile paw braised in a herbal sauce; the theatrical Flaming Pineapple Beef ($30); and the D*** Soup ($30), where herbs are double-boiled with the reproductive organ of a male crocodile for over six hours.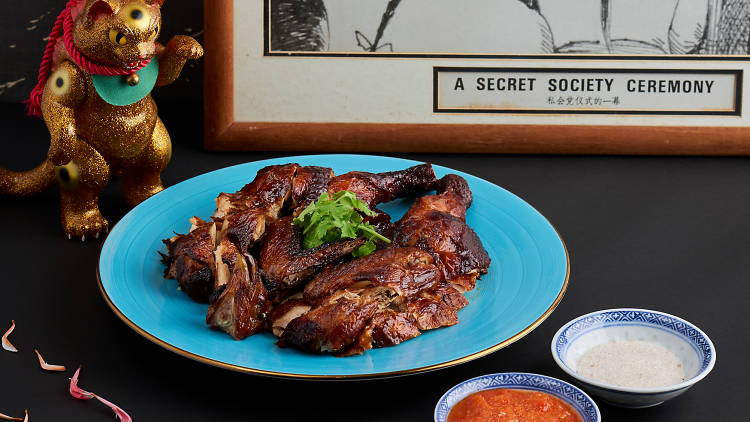 Not everything is made for dramatic purposes, though. The less adventurous can stick to signature plates of cheeseburger Firecracker chicken (from $16) and wagyu truffle beef hor fun (from $36). These playful adaptions of classic flavours still make for a meal unlike any served in conventional Chinese restaurants. Sample its latest creation, kueh pie tee ($25), where julienned carrots and cucumbers come crowned with a plump slice of lobster and dollop of premium Kairos caviar.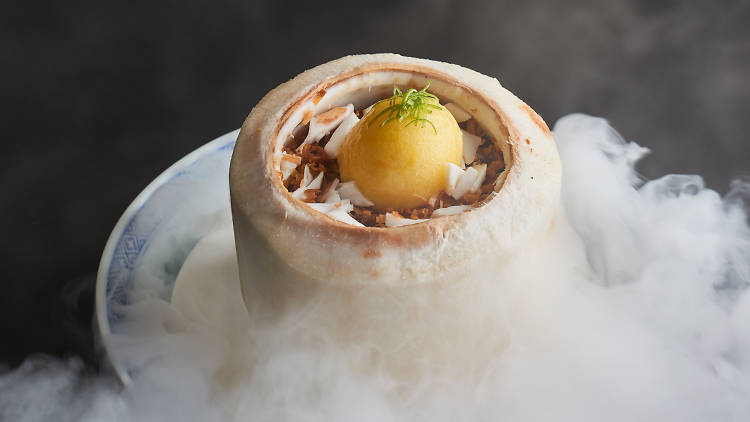 There's also the baked garlic prawns ($48), where jumbo Tiger prawns are topped with garlic butter and crispy garlic bits. The Chamber Roasted Chicken ($38) is also worth an order. Have it as is, or dip it with some piquant lemon chilli sauce. We also like the Coconugget ($12), where coconut pudding comes served in the husk of the fruit, topped with brown sugar hazelnut, lime zest, coconut flakes, and lime sorbet.
The dark, neon-clad interior makes The Dragon Chamber a romantic drinking spot as well. It has a series of cocktails including the Post of Aiden ($24), served with a cloud of smoke to match the deep notes of bourbon, amaro herbal liqueur, and Aperol; and Compassion ($24), a fruit-forward gin-based concoction made with lychee liqueur, fresh lemon, fresh strawberry, and prosecco. To uncover the inspiration behind this clandestine eating space, as well as other hidden restaurants in Singapore, read our story here.