There is more to an omakase experience than just seafood and sushi. At The Gyu Bar, the nine-course menu ($238) will bring to the table some seven wagyu breeds from Japan – served in ways both simple and striking.
The beef specialist, opened by the same people behind Michelin-starred Sushi Kimura, has set up a temple for all beef-lovers. Wagyu is sourced from prefectures around Japan, then air-flown to provide a premium selection of choice cuts.
After picking out a sake glass to sip on a welcome drink, the wagyu-filled omakase meal might start with a cone of Kumamoto Wa Oh beef tartare, packed with creaminess from the meat's intense marbling and a crowning of Hokkaido uni. And even a salad can come with lashings of beef; seasonal greens are dressed in white sesame sauce, then layered with slices of roasted Satsuma wagyu chuck rib.
A small seasonal platter could also feature Ohmi wagyu, a cattle with a long-standing history that dates back to the Edo period. Soft and well-marbled, the sirloin cut is first draped over a ball of rice, then torched to allow the grains to catch all its natural juices.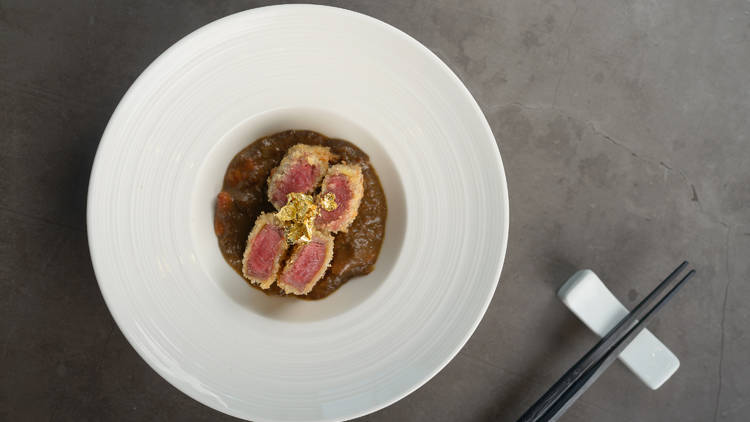 Away from the fatty cuts, the meal also presents a lean Iwate steak katsu, deep-fried with breadcrumbs till medium-rare. These meaty parcels provide a firm, hearty bite, and are accompanied by a spice-scented curry stew cooked with beef, coffee, red wine, and minced beef.
Prized Miyazakigyu wagyu, famed for its snow-like marbling, is prepped yakiniku-style using the restaurant's smokeless grill. Chuck rib and tenderloin can be enjoyed with garlic and leek sauce, but a simple dusting of pink sea salt is all the condiments needed to let the natural flavour shine. Sirloin, on the other hand, is paired with free-range egg that adds a silky texture to the yakiniku sauce.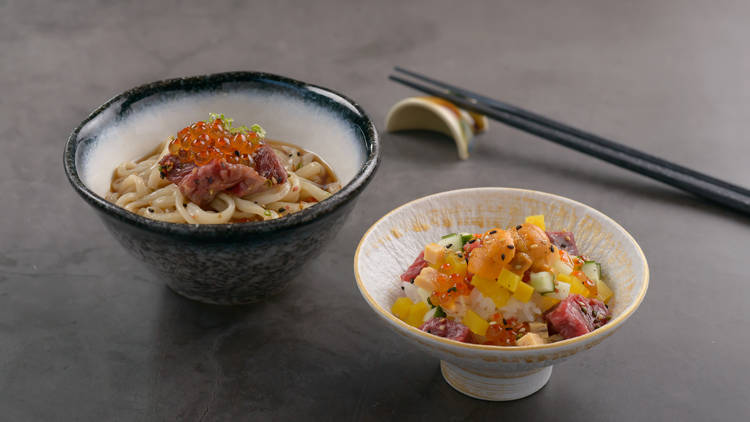 Equally premium, and enjoyable, is the rare Sanuki wagyu. Raised on a diet of olive peels, the meat from the fine cattle comes as part of the shabu shabu course, and yields a buttery bite that almost melts in the mouth. The next course of Furano wagyu comes marinated with sweet shoyu and torched for a kiss a smoke. Choose to have it either as chirashi don, mixed with ikura, uni, tamago, radish, and zucchini; or slurp it down in the form of chilled Inaniwa udon. Then, to round off the journey through various wagyu varieties, the meal ends with some clean, briny clam soup to cut through the richness, and a seasonal fruit platter with dainty sweet treats.
For the beef enthusiasts, this omakase menu (requires a day of advance notice) offers a delicious journey through the best wagyu options that Japan has to offer – all in a single sitting.