You can have your cake and eat it too. At The Whole Kitchen, the menu eschews gluten and refined sugar; founders Susan Soulard (a chef) and Anne Swain (a health coach) tap into their respective expertise to serve up a wholesome line-up of healthy bakes and nourishing dishes.
With another outlet in Katong, the all-inclusive café sets out to prove that healthy food doesn't necessarily mean bland and boring. Start the day right with its hearty breakfast treats: smoked salmon and avocado come laid atop keto-friendly bread ($14), a dense slice chocked full of nuts and seeds; and crusty sourdough slices are used to sandwich smears of peanut butter, hazelnut cacao butter, and banana ($14). The vibrant granola bowl ($12) adds brightness to the day, with creamy Greek yoghurt covered with crunchy topping and fresh seasonal fruits.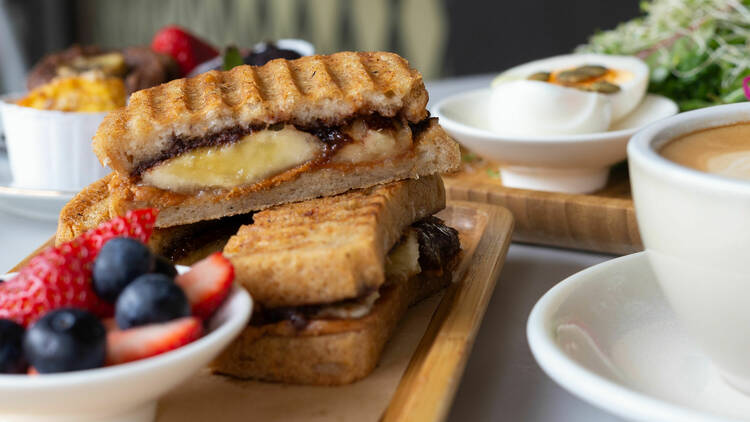 Need a quick and fuss-free option? Swing by the convenient grab-and-go corner, and pick up some muffins, low-carb quiches with fillings of pumpkin ($12) and tomato basil ($12), thick-cut raisin toast ($9); and more. For us, we'll be reaching out for the wildflower raisin scones ($12), served with a delightfully floral chia jam (available by the bottle) and a dollop of mascarpone.
Come lunchtime, the counter comes laid with bowls of salads (from $8), hearty enough to fill the tummy. Rainbow Raw tosses red cabbage and green papaya with ginger-scented coconut aminos, while Clean Green Goddess combines broccoli, cauliflower, and sweet potato in a tahini-herb dressing. Sandwiches are equally hearty, with popular options that include Saigon chicken ($16), layered with organic chicken, pumpkin pâté, pickles, and Thai basil; and the spice-forward Mumbai toasted sandwich ($15) stuffed with chaat masala, tomato kasundi, and coriander chutney.