If the hefty price tag has been preventing you from visit Waku Ghin, perhaps now is the time to do so.
Following months of extensive renovation, the modern Japanese restaurant by acclaimed chef Tetsuya Wakuda has finally reopened at a new location (adjacent to its former space) within Marina Bay Sands. Besides the intimate chef's table omakase experience that Waku Ghin is best known for, the expanded grounds also come teeming with fresh surprises. Step through a cherry wood door, and be greeted by the dramatic two-tonne stone sculpture sourced from Shikoku, Japan. Continue down the darkened corridor to reach The Bar, a recent addition to the revamped restaurant.
"The new Waku Ghin is more contemporary and accessible via the expanded offering at The Bar," says chef Tetsuya.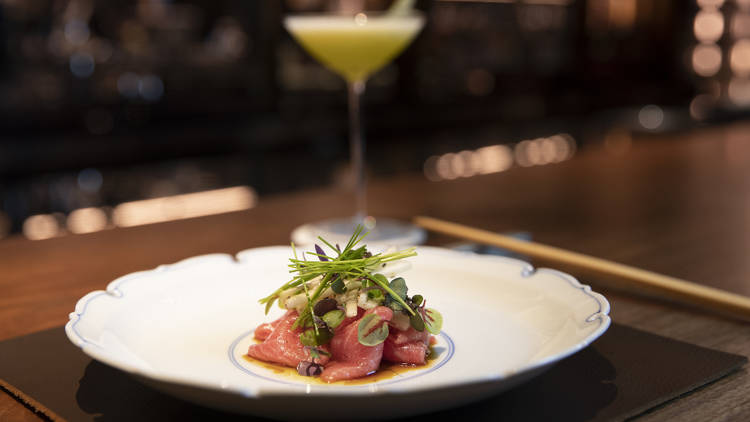 Settle down at the counter or grab a seat at the intimate dine-in area – either offer a relatively affordable introduction to what the famed kitchen has to offer. To start, try a cocktail ($30), made using the sweetest produce the season has to offer. Spring might see Roku gin mixed with honey lime from Shizuoka for a juicy burst in every sip. From the a la carte menu, assemble a full meal from choices of fresh catch, bar bites, and sweet treats. Wild-caught chutoro carpaccio ($58) comes paired with a bitter salad of endives and onions to lend sharp contrast; while fried beef tenderloin sandwich ($58), glazed with katsu sauce, offers a meaty bite. And while fish and chips ($28) might sound out of place, chef Tetsuya creates a version that is light and crisp and certainly one worth ordering. Accompanying the plate are a handful of chips – crunchy and fluffy all at once – made using a two-day process of brining, steaming, drying, then double-frying.
Between mouthfuls, sample an impressive range of spirits, sakes, and wines – some available exclusively at the restaurant. Don't leave without making a trip to the dessert vitrine. It showcases a delightful range of sweet treats that look as good as they taste. Ghin Cheesecake ($11) has a texture as light as feather; lemon-scented cream cheese mousse is whipped till cloud-like, and sits atop almond sponge cake. Frasier ($12) comes assembled with hand-picked strawberries, layered with pistachio vanilla chantilly and genoise.
And for the special blowout occasion, the assemblage of marinated botan shrimp with sea urchin and caviar ($150) is a must-order. Sweet chunks of meat and creamy uni get lifted with briny pops of Oscietra roe.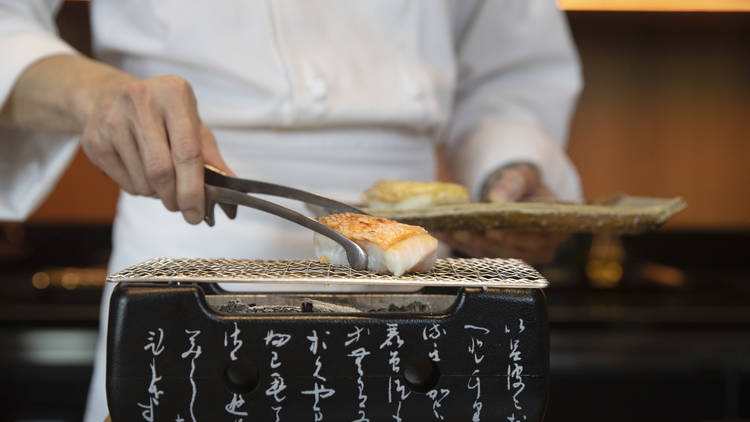 But gourmands looking for sheer indulgence know to grab a seat at the exclusive 10-seater Chef's Table ($550). Dishes to land on the imposing cherry wood counter table might include a delightful egg flan, or chawanmushi crowned with shreds of hairy crab; sayori or half-beak fish sweetened with fresh strawberries and pomegranate; and Korean abalone, gently steamed for over eight hours, and served with risoni for a soothing porridge-like texture. Cooked plates of charcoal-grilled sea perch and wagyu, prepped sukiyaki-style, also help showcase the best of seasonal finds that come in through the restaurant's doors four times a week.