Find me a date: Farhan and Stephanie
These city kids ditched Tinder and let us play matchmaker. Here's a blow-by-blow of their blind date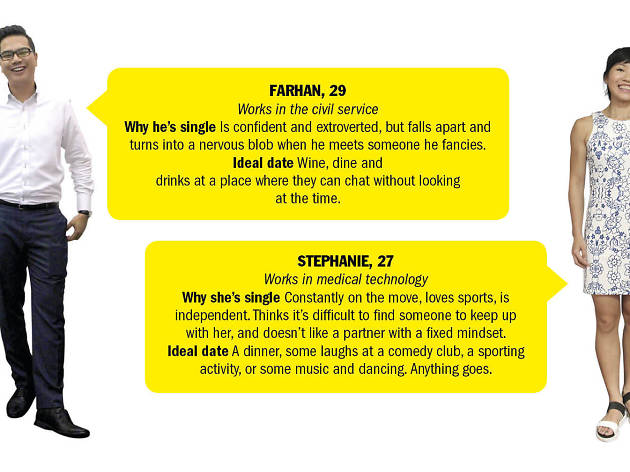 The date: dinner at Potato Head Folk.

First impression
Farhan: 'She was there earlier and when I got there, boom. She's cute, so I was like "Yes!" We shook hands, and after the initial awkwardness of two people suddenly meeting each other, she was really easy to talk to. Her biceps are more sculpted than mine!'
Stephanie: 'I got there more than half an hour early, and he showed up 15 minutes after. He was dressed smart, polished, neat and tidy – definitely a good first impression. But the problem arose when we started talking. What were you thinking pairing a Chinese girl with a Malay boy?! I'd rate the date 10/10 – nine for the food, one for the date... Haha! I'm totally kidding! It was great! We really got along!'
Chemistry
Farhan: 'It went very well! We're on the same wavelength on a lot of things. She's very outdoorsy, quite fun and open to trying new things, which I like. We also talked about our experiences with dating apps but they never worked for us – we found them lame.'
Stephanie: 'We have the same sense of humour, so there was lots of laughter. We talked about a wide range of topics. We have differing opinions on a few things we talked about, but it was nice exploring his point of view, and that we're both quite open to considering each others' viewpoints. There was a bit of attraction, and I think there's potential. But let's be friends first, and we'll see how things go.'
Awkward Moment
Farhan: 'None at all. When people say, "Farhan, meet this girl", I always feel it never works, but this one did.
Stephanie: 'None beyond the few pauses in conversation, but those were comfortable. Time flew by really quickly.'
Afterward
Farhan: 'We went to another bar. We had more conversation, and I got her number and Facebook. We went home after that and texted about sports and she asked me what I wanted to try. We both happened to take leave from work on the same day next week and we might be going to try stand-up paddling on our next date.'

Stephanie: 'We finished our dinner at Potato Head Folk, then went to The Library for a drink after. We walked to the MRT station after and raced each other home – since I live a lot closer to the city, I won. We exchanged numbers and continued the conversation on WhatsApp.'
Verdict
Farhan: ♥♥♥♥ 'Five is perfect, and nothing's perfect. Still, I'm glad I went for it. I'm glad I took up this dare, and to have met her. She seems pretty cool. We'll hang out and see what happens from there.'
Stephanie: ♥♥♥♥♥ 'It went beyond both our expectations! We didn't have to worry about anything. We're definitely meeting again!'
The atmosphere
'It didn't really matter. It was quiet enough, the decor was interesting, and I liked the little bits of decoration they had up the staircase. But what really made the date stand out was the partner.' – Stephanie
The food
'Our Da Cheese Master burger was good, as were the Naughty Fries. Our Vanilla Guerilla ice cream sandwiches didn't look impressive, but they were great.' – Farhan
The drinks
'I like the range of drinks they had. I had the Funky Cold Medina – it was good and it wasn't watered down.' – Stephanie
Read more