Find me a date: Hardi and Wyntrice
These city kids ditched Tinder and let us play matchmaker. Here's a blow-by-blow account of their blind date...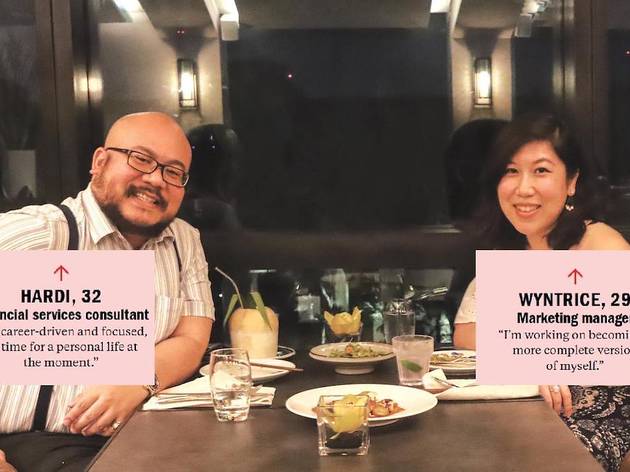 The date
Our daters had a meal at 1-VU.
First impression
Hardi: "She had a good energy and I liked how she made me feel comfortable."
Wyntrice: "He looks like a kingpin, or someone in the mob."
Chemistry
Hardi: "There was a constant flow of communication and she was funny."
Wyntrice: "It was really friendly. We bonded over our favourite movies, TV shows and Phoebe Waller-Bridge."
Awkward Moment
Hardi: "When the lights dimmed suddenly and we both felt sleepy and the conversation dipped a little."
Wyntrice: "Probably right at the start – as always on any first date – but the conversation flowed soon after."
Afterwards
Hardi: "I said it was nice meeting her and we parted ways. I had to head to the hospital to check in on a client."
Wyntrice: "Called it a night! I had an early morning, he had work to attend to. #Adulting."
Verdict
Hardi: ♥♥♥ "I had fun and the conversation was great – it went into interesting tangents at times."
Wyntrice: ♥♥♥ "Blind dates or first dates might seem scary at first but don't overthink it."
Restaurants, Contemporary Asian
The atmosphere
"It was by the beach, and there were fireworks from the Wings of Time show – it was a perfect combination." – Wyntrice
The food
"The octopus was really tasty! But the dark horse dish was the Thai-style natto long bean hot salad." – Wyntrice
The drinks
"I had a whiskey sour and a Sunset on V:U cocktail, which were really good." – Hardi
In the mood for love?