Find me a date: Steven and Neha
These city kids ditched Tinder and let us play matchmaker. Here's a blow-by-blow of their blind date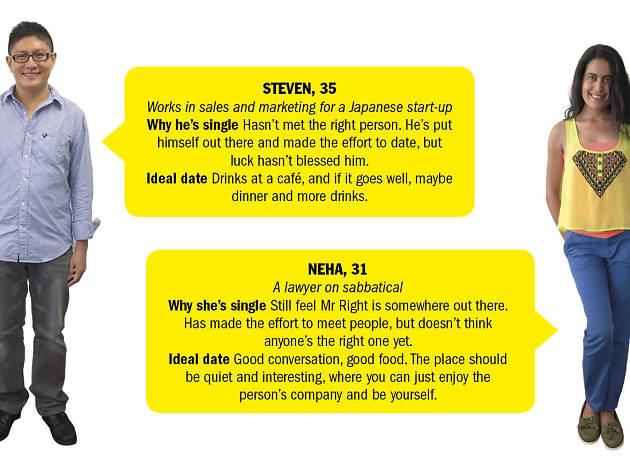 The date: dinner at House.

First impression
Steven: 'When you guys first told me the name, I half suspected that you'd pair me up with my friend, as her name's quite unique. It turns out she was. It was definitely a nice opportunity to catch up as we've both been really busy.'
Neha: 'I was pleasantly surprised when I walked in to see him! As a girl, I had a jittery feeling about meeting a stranger, so this was comfortable.'
Chemistry
Steven: 'We're good friends, but I don't think things will progress any further than that. We have different ideas of what we like in our other half and we don't have chemistry. But we share a lot of common interests: we're both in start-ups, we like to travel a lot, and we both enjoy thinking deeply and talking about issues.'
Neha: 'It was definitely good, as I've known him before and because we share a lot of common interests. He's chatty but also a good listener. He has stories to share but he was also keen to listen to what I had to say. This date gave me a chance to ask him why he's single – I get the impression he's laid-back and not looking for someone.'
Awkward Moment
Steven: 'None for me. Maybe a little for her because she didn't anticipate seeing me at all.'
Neha: 'Not at all. He's a gentleman.'
Afterward
Steven: 'We just went our separate ways home.'
Neha: 'I didn't have his number before that, so I got it and texted him to thank him for the good evening. We've not really texted since then though.'
Verdict
Steven: ♥♥♥♥ 'It was good to meet a friend, but I don't think it's fate. It's a really fun experience – on the one hand it's a bit "wasted" that I didn't get to meet someone new, but on the other hand, I got to catch up with a really busy friend.'
Neha: ♥♥♥♥♥ 'I really enjoyed the fact that it was set up by you guys at a great place with good company. I'd like to go again! I like that he's intelligent and witty – it's one of the things that draws me to someone.
The atmosphere
'It was very good. The customer service is excellent and attentive. There wasn't any loud music, so it was a good way to focus on the person I was with.' – Neha
'The restaurant is really nice. It's secluded and a little hard to get to, but the staff are really nice, friendly and attentive.' – Steven
The food
'My pumpkin salad was very filling. I didn't really have space for the mushroom risotto main course, but it was so appealing that I couldn't say no. The dessert menu is awesome.' – Neha
'The portions were generous – my asparagus soup and steak fillet were the standouts. The temperature of the meat was spot-on, and the steak was very flavourful. My modern ondeh-ondeh dessert was really interesting too – like a cake version of the original.' – Steven
Read more