Find me a date: Veralyne and Zi Han
These city kids ditched Tinder and let us play matchmaker. Here's a blow-by-blow of their blind date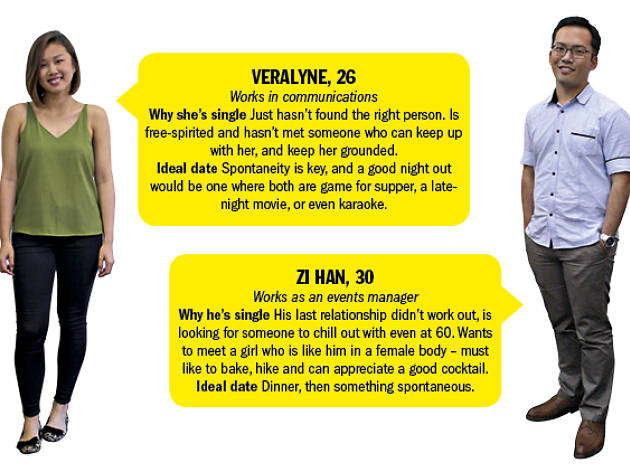 The date: dinner at Kite.
First impression
Veralyne: 'He looked decent and like he's a nice person. He's definitely not my type, though, looks-wise, but I definitely kept an open mind. I prefer someone who's a little taller and sportier.'
Zi Han: 'I had trouble opening the door to the restaurant so I definitely made an entrance. She looks cool and laid-back – not like a "squeaky" girl. Her short hair suits her and she seemed pretty sporty.'
Chemistry
Veralyne: 'I don't think there was any romantic chemistry. On paper, it sounded like we had a lot in common, but as we talked, I realised we're actually on different wavelengths: he's definitely a science-y kinda guy, and I'm quite artsy.'
Zi Han: 'It was kind of weird that we had so much to talk about, but I didn't really feel a strong attraction – it's not like an "I will travel from Jurong West to Pasir Ris for her" kind of appeal. We have quite a lot in common: if you put us in a room with Netflix, we'll have many shows we'd like to watch. Maybe it was the absence of alcohol, or I might just need to hang out a little more with her to see where this goes.'
Awkward moments
Veralyne: 'There wasn't any, but then again, it's because I kept talking when there was a lull so there were no prolonged awkward moments.'
Zi Han: 'The conversation flowed, so there were only very few moments of silence.'
Afterwards
Veralyne: 'We just decided it was time to go. He asked for my number, but I don't usually think it's a big deal to give it out so I gave it to him. As we said goodbye, I told him it was nice meeting him and that it was an interesting experience. He texted me after, but we haven't spoken since.'
Zi Han: 'We left the restaurant at around 10.30pm – I felt tired and I think she was getting lethargic, too. I asked for her number during dinner, but only because it's SOP.'
Verdict
Veralyne: ♥♥ 'He's really not my type, and even though I kept an open mind and tried talking to him, it didn't get any better. I prefer guys who know how to lead a conversation – I felt like I was doing a lot of the talking and rambling quite a bit.'
Zi Han: ♥♥♥♥ 'That we could have dinner for that long as total strangers is good. I think there's potential – even if we don't become a couple – to be very good friends. I plan on asking her out again when I'm more free.'
The atmosphere
'It's relatively quiet and the lighting was nice and comfortable, though not good for Instagram.' – Zi Han
The food
'It's tapas-style, which is a good way to share a meal with someone you're getting to know – we ordered six dishes and were only just full. The uni roll was our favourite, and a dessert that the manager joked was "dried paint" (it's a meringue) was interesting and sweet.' – Veralyne
Read more
Want to be set up on a free blind date and have your story told on these pages? Just fill up this form.