Chong Beng Cheng of Bynd Artisan
Benita Lee chats with Chong Beng Cheng of Bynd Artisan
For 40 years, Chong has been part of the Grandluxe family, moving from administrative assistant to sales and production manager then to craftsman and finally to educator at Bynd Artisan. And yet, the 71-year-old shows no sign of fatigue. Quite the opposite, in fact – Chong is a good-natured spirit who still finds fulfilment in making customers' stationery dreams come true. From leather gifts for royal families to an enormous account book that took him two days to make, he's done it all.

When did you discover your interest in stationery?
When I was young, we had to salvage old toys due to the difficult living conditions during the Japanese Occupation. This childhood hands-on experience made me realise that handicraft was something I had an interest in – you could transform bits and bobs into so many different things. Even today, I'm constantly thinking of how to create new types of stationery items and improve upon existing products.

What are your earliest memories of the craft?
When I first started working at Grandluxe, there were no machines to aid in the insertion of rivets and buttons – I had to hammer those in by hand. It was quite frustrating as I was unable to control the amount of strength to achieve the ideal effect, and it took me some time to get the hang of it. However, I now realise I owe much of my skill to that training.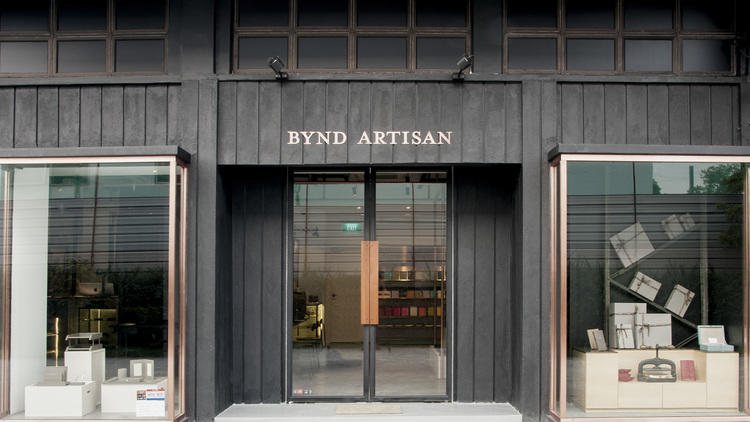 Tell us about some of the toughest challenges you've faced in your long career.
The main challenge was (and still is) hiring skilled craftsmen to meet the ever-growing sales requests. It's hard to find young people willing to learn the skills needed to create stationery products by hand – sometimes they take years to perfect.

How have things changed since you first started out?
Through the decades, the industry has evolved from hand tools to semi-auto to high-tech, multi-tasking and fully automatic production. Now, handmade is back in vogue. Looking at how fashion houses are introducing customised shoes and bags, I feel we have indeed come full circle.

Any advice for amateurs?
If making things by hand is your passion, you have to keep at it. Hand-sewing a notebook or hot-stamping leather might look simple, but each of these trades and skills requires careful thought and a sharp and meticulous eye.

Check out Bynd Artisan at 2 Chin Bee Ave.