Learn how to make your own fragrances
Three places to attend perfumery workshops
Sifr Aromatics – no relation to the local fashion brand – has been in business in Singapore's 'fragrance quarter', Arab Street, since 2009. At its helm is Johari Kazura, a third-generation nose who has inherited a keen sense of smell helping out with the family business and spending some time soaking up modern techniques in Grasse, France, the world's perfume capital.
The customisation process here is conducted by appointment only and done one-on-one – and Kazura makes it clear that he doesn't do birthday gifts. 'Smell is such a personal thing, and creating your own scent is about finding one that makes you happy,' he elaborates. A session here starts with a conversation, during which Kazura or his understudies quiz you on your perfume tastes and habits.
With all that in mind, he'll begin pulling out vials of oils and aroma compounds out of his chest of hundreds. His stuff ranges from super-rare ambergris, oud and Turkish rose extracts to more wallet-friendly synthetic formulations; perfume elements that correspond with your initial preferences are pulled out for you to nose and pass judgment.
A session starts at $150 and peaks at $600, depending on the ingredients, and your final formulation comes in a 50ml vial of eau de parfum, with the option to upgrade to the intricate glass bottles Kazura collects from all over the world. The team can even create lighter eau de toilette and shower gels of the finished scent if you really love it. And for well-meaning friends who really want to gift a scent, Kazura offers vouchers that include an empty bottle and velvet bag their pal can bring back for this experience.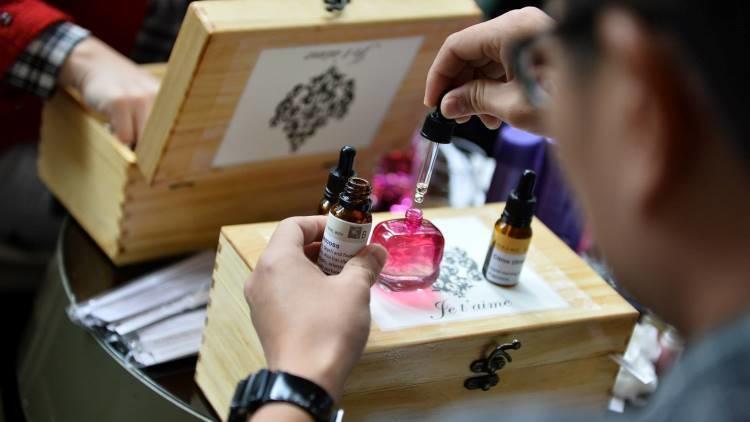 For Prachi Saini of Je t'aime, perfume is all about one's personality. Whether you attend her public workshops held around town, a corporate class or sign up for a more personal one-on-one session in her home studio for serious perfume building, the session will start with a personality test to suss out your perfume identity. Your answers about your ideal night out won't necessarily lead Saini to your perfect spritz or perfume category – floral, oriental, woody, citrus and fresh – but Prachi's 12 years learning the language of smell has shown her it gets pretty close.
'In their 20s and 30s, a woman prefers floral notes because they usually don't know what they want,' she explains, 'Women in their 30s up 'til 45 years old are more drawn towards woody scents, and much older ladies take to oriental perfumes because their senses aren't as strong.'
The next step is smelling the different perfume elements Saini packs in a cute wooden box. Unlike a more technical session, her base ingredients here are 'accords' – a pre-balanced blend of perfume oils and extracts – that you nose to find the ones that resonate with your senses.
Je t'aime Perfumery's process is also a hands-on one. With your favourite accords in hand, you're asked to dropper in top, middle and base notes into your final perfume bottle, partially filled with perfumer's alcohol, which will finish the total fragrance at 33 percent concentration. You're also asked to record the number of drops of accord you dispense into your final product, which creates a final recipe that you can order with Saini when your initial 30ml bottle has run dry. A private session with Je t'aime starts at $125, and also includes three 30ml samples you'll create in your trial-and-error process of falling in love with a scent.
Sandy Blandin, a former fragrance development manager at Swiss company Firmenich, holds classes that focus on smell literacy. These sessions, conducted in English and French, are done in collaboration with Parisian perfumery school Cinquième Sens – there's even a course in which kids can expand their scent vocabulary through games ($70).
For adults, these workshops ($160) are a little more intensive, helping attendees understand the basic structure of a perfume – the top, middle and base notes – the olfactive families and the ingredients they're associated with, and some basic rules that go into the making of a perfume. In the hands-on portion of the workshop, each participant receives a Fragrance Creation Olfactorium kit by Cinquième Sens to create three vials of a scent that's uniquely you.