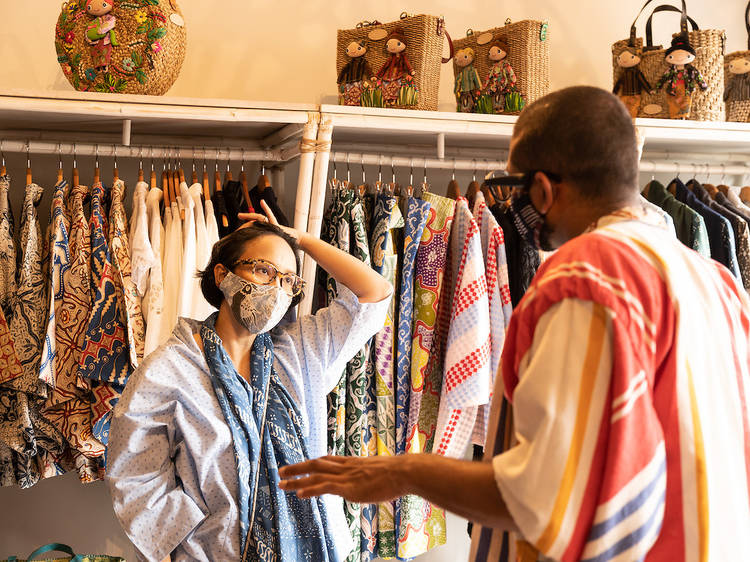 Photograph: Baju by Oniatta
Batik might not be the first thing you might think of when it comes to local fashion. Besides the fabric used for the uniforms of those working in the national airline, not much is known about this fabled cloth. But all that changes with how the local label Baju by Oniatta honours this ancient artform.
Baju by Oniatta is a clothing line founded by Oniatta Effendi. After three years of purely functioning as a pop-up, she finally found a physical home for her beautiful pieces. In her picturesque shophouse in Kampong Gelam, you will find one-of-a-kind batik pieces, tailored kebayas, shirt dresses and her signature Utama pants. It's all about balance with her collection – the batik cloth is prepared using the traditional method of wax-printing but you also find modern elements in her line like hidden pockets on the batik kain or a bold sash (obi) to be worn around the waist with a classic kebaya top.

The batik in the store is handmade by a small community of artisans in Indonesia who work directly with Oniatta. For her, the label was about building a strong relationship with our neighbours. Oniatta also believes in strong narratives and is committed to supporting batik as a thriving ecosystem alongside educating consumers on the work behind each piece of fabric.

"One of the challenges was making sure we stayed true to the brand value – of championing batik as a traditional textile. There are many brands that use batik without realising what batik really is – in that the technique of batik-making is hardly acknowledged nor recognised," she says. This is also exactly why batik is not cheap. Handcrafted pieces need to receive far more appreciation and Baju by Oniatta have always been strong advocates in sharing knowledge and information about the work their craftsmen do.

And this storytelling element carries on the buyers themselves. Oniatta explains, "To have clients share with others about the batik pieces they have taken home from the store. They have acquired vocabulary about batik and speak about this with flair, and love for batik."

WHAT TO BUY The signature Utama pants ($199) was the item that kicked off the label. It can work in both formal settings and casually, the extra flap in the front gives the pants an elegant look to it. The unisex Merdeka jacket ($409) may come in traditional batik motifs which symbolises wisdom, strength and power but the kimono sleeves and reversible function gives it a modern twist.