Wet Tee Shirt: slogan tees for Singlish lovers
Slogan tees for Singlish lovers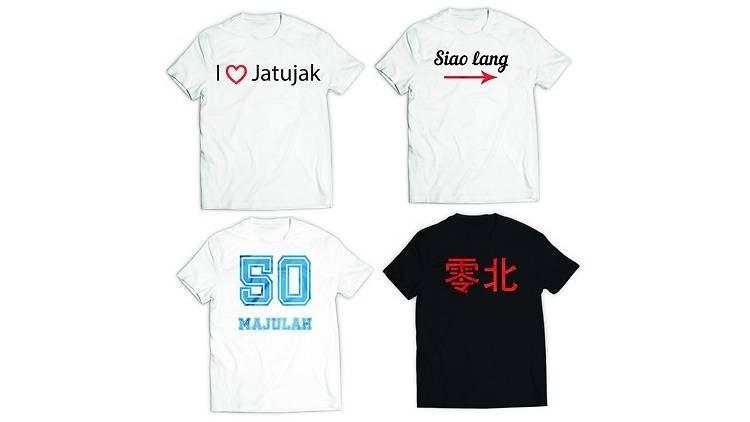 We know what you're thinking. But get your mind out of the gutter. With nary a bimbotic wet tee contest in sight, this new local label goes for punchy, tongue-in-cheek phrases printed on plain tops for maximum effect.
What started as a mere hobby for founder Brandon Lee grew into something bigger when his group of designer friends jumped on board. 'Our designs are inspired by Singaporean culture, and we try not to take ourselves too seriously,' he shrugs. 'Therefore, our tees are all kinda funny.'
And amusing they are, merrily taking the piss by playing on statements in dialect like 'siao lang' and 'limpeh'. There's even one with the slogan 'ahnia bay' – a riff on a certain French fashion house. If Bangkok is your second home, maybe you'd prefer an 'I love MBK' or 'I love Jatujak' tee. Or perhaps you could brazenly strut your stuff with Wet Tee Shirt's collab with local brand Narcissism, featuring 'Super Chiobu' and 'Super Yandaokia' taglines. As locals would say, buay paiseh.
'Local culture is unpretentious. Our tees are designed for Singaporeans by Singaporeans – something not too vulgar, but at the same time witty,' Lee explains. 'We speak a common language despite being from different races, dialect groups and religions. And the local slang we have is unique. If you're a true blue Singaporean and proud to be one, wear our tees!' Patriotic peeps can do just that with the 'Majulah' shirt – because, well, SG50.
www.wetteeshirt.co. Prices range from $25.90 to $29.90.