Bubble Bump
Here's a game of football that even non-players might enjoy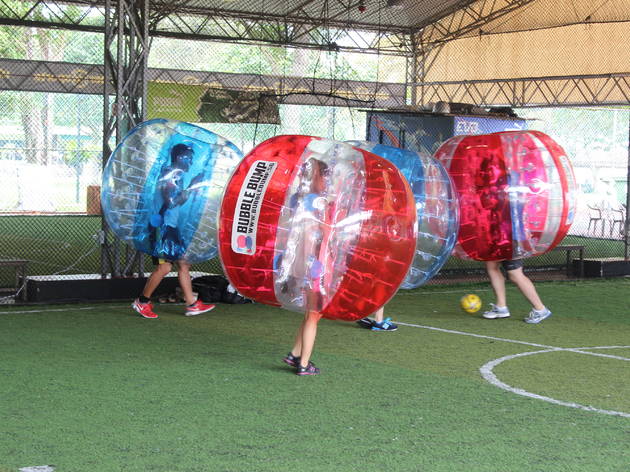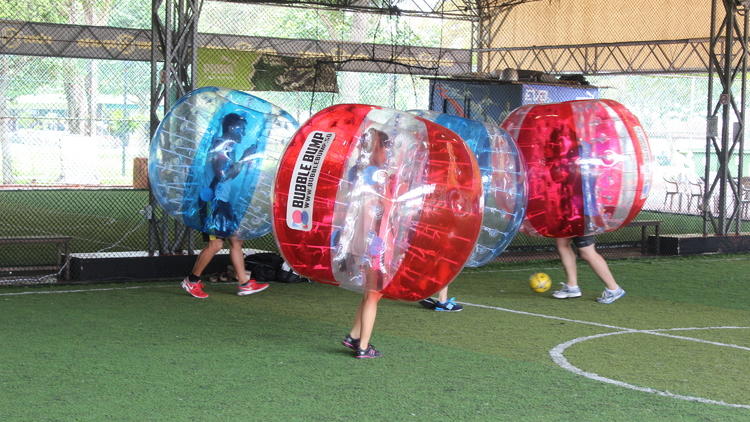 This is a game of football that non-players might like better than your average Ronaldo-wannabe. Bubble Bump Singapore, the newest company to join what is becoming an effervescent fray in town, offers Bubble (or Bobble) football games that have kids, groups of friends and even corporate teams getting physical with one another.

Non-jocks and the football-savvy alike strap themselves into the centre of an inflated ball that offers protection from the thigh to above the head – it looks similar to the hill-tumbling ZOVB balls. The session that ensues is usually a comical game of football or 'bubble invasion', complete with air-padded spills and full-on bouncing action as players compete to score goals or to gain ground in opposition territory. Falling down in the suit is relatively painless, unless you forget to tuck your legs in when going down, which can result in back strains or – touch wood – a bad landing on the ankles.

Bubble Bump offers packages from $290 an hour for ten bubble suits, and there's the additional option of booking netted futsal pitches in Kovan, Kallang and Zion Sports ($65-$98/hr) on which to play safely. Serious weekend 11-a-side warriors may find that the unwieldy bubble blurs their vision and slows their game, but for the white-collared worker with two left feet, there's probably no better way to jostle out your frustrations with your co-workers and call it sport.

See www.bubblebump.sg for more info.