Grit - Training For Warriors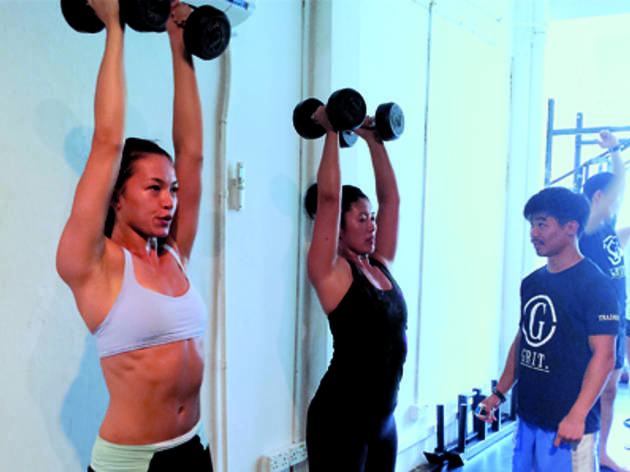 Grit on North Canal Road is Singapore's first and only official affiliate of American physical instructor Martin Rooney's Training For Warriors (TFW) programme. Devised in 1998 by the ex-bobsled Olympian and sports performance coach for MMA fighters, TFW has since been used by NFL, Olympic and NBA athletes, who count the comprehensive regime of speed, strength and endurance training, supplemented by flexibility work and good nutrition as the reason for their success.
All this stuff about pro performance athletes may sound intimidating, but local trainers and owners of Grit gym Gene Leong and Allan Ng believe the method can be applied both to competitive goals and the sedentary office worker looking to get fit. They've tried and tested by them in their own MMA training and in their initially private training sessions with clients (including recovering or out-of-commission athletes) to good results – there's an initial evaluation of one's form and flexibility from a few basic exercises that helps the pair tailor a manageable regimen centred around certain goals, such as gaining strength, metabolic- conditioning, boosting joint-health, or developing flexibility and mobility.
Each group session has no more than four students, and the 60-minute class starts with an initial briefing before you dive into the no-frills training in Grit's simple, roomy space kitted out with functional training gear like kettle bells and weights. Many of the exercises in the session require only body weight for resistance – extra weights can be added in for easier actions such as side lunges, dead lifts, weighted squats and moves like the Farmer's Walk, which involves lugging kettle bells across the room while maintaining an upright posture to work the back.
Is this the stuff of Sparta? Not at all. At the end of the session, we felt more refreshed than withered, ready to face the rest of our day. But if you're still in doubt, the gym offers free trial lessons for first timers. Richard Neo
| | |
| --- | --- |
| Venue name: | Grit - Training For Warriors |
| Contact: | |
| Address: | Singapore |
| Opening hours: | Mon-Fri 12-2pm, 6-8pm, Sat 10-11am |
| Do you own this business? | |