Why Singapore is the new hotspot for MMA
With back-to-back mixed martial arts events happening this month, Andre Frois charts the explosion of the fight sport in Singapore: how the hell did it get so big?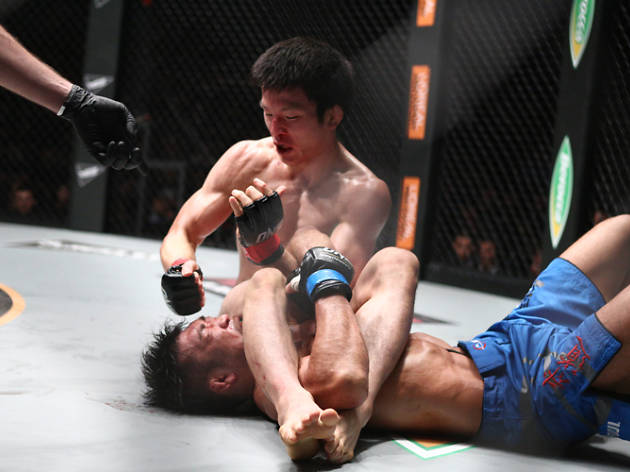 Cheers from the crowd drown out the cracks of bone striking bone. Budi Kalbar, the Indonesian fighter, is curled up in a foetal position, his opponent Will Chope still landing heavy blows to his skull. The referee has seen enough. He calls an end to the gruesome match after a single round, declaring the American-born martial artist the winner. This is a scene at a Singapore Fighting Championship (SFC) event – and it's one that's becoming increasingly popular here.
It's a strange quirk for a city whose crime levels – in particular violent ones – stand in drastic contrast to its affluence. Other world-class fighters come from far more dangerous or less privileged countries, such as Brazil, Thailand and Mexico. For some of them, fists lead the way out of poverty. But for the many locals who have picked up the sport or count themselves fans of it, it's not so much a matter of life and death.
In January 2014, Singapore saw its first MMA exponent, Royston Wee, fight in the top flight of the sport: the Ultimate Fighting Championship (UFC). Wee, who's also a coach at Impact Mixed Martial Arts, feels that MMA is blooming not just here, but all around Asia: 'People everywhere are now interested in combat sports. It's growing internationally due to the heavy promotions by all the MMA organisations. People just want to be a part of it.'
'My winnings pulled my family and I out of poverty'
There are now three MMA promotions based here, two of which are among the top five in the world, that hold regular events to sold-out crowds. One Championship was founded in 2011 and operates out of Singapore, as does SFC, whose president Arvind Lalwani claims caters to 'more hardcore fight fans'. And then there's UFC, the grandaddy of the sport – it's set up its regional headquarters here and held its first bout in the city-state only two years ago.
The promotions are backed up by gyms devoted to the sport. Where only a clutch used to speckle the island about a decade ago, today there are more than 20 MMA-dedicated gyms. One Championship is now synonymous with Evolve MMA, a seven-year-old gym with several well-equipped branches, while Lalwani runs the Juggernaut Fight Club that overlooks the glitzy financial district. It's a far cry from the blood-and-guts origins of MMA.

Photo: Dux Carvajal. Eduard Folayang (right)
Fit and furious
In martial arts hotbeds such as Thailand, fight sports are seen as escape routes from poverty. 'As I advanced in my career, eventually becoming a world champion, my winnings pulled my family and I out of poverty,' shares Thai kickboxer Dejdamrong Sor Amnuaysirichoke, who is now an instructor at Evolve MMA. 'Even today, I can support my family in Thailand. None of this would be possible without muay Thai.'
Clearly, that isn't the case with Singapore. Wee recalls, 'I personally got interested in MMA by watching The Ultimate Fighter [a US reality TV show that features fighters living, training and competing together]. And also to keep fit.' An all-Asian season of the programme was also touted to be filmed in Singapore – talks had broken down in mid-2015 – reflecting the potential and sheer number of budding martial arts stars in the city: six local gladiators currently compete in One Championship, and about 50 have fought in SFC.
Decorated boxer Darren 'Senz' de Silva, who has been training fighters well before the MMA and muay Thai trends grappled the city, agrees on the fitness front. 'MMA training is a complete body workout,' the founder and owner of Fight G MMA Academy explains. 'It endows one with the ballistic power of a sprinter, the stamina of a marathoner, the fast-twitch muscle ability that comes with striking, and the holding strength that comes with wrestling.'

Arvind Lalwani (right)
How the East was won
Raised in the US, Major Overall, a trainer at Juggernaut Fight Club and an accomplished fighter himself, believes there's a more prosaic reason for the explosion of MMA in Singapore: 'It's an easy place to be based in if you're going to live in Asia. Crime is low and wages are good compared to other places in the region.' That the Republic has been anointed the most business-friendly city on the planet by the World Bank in 2014 and 2015 only cements Overall's impressions.
'We should have local heroes that we can identify with'
That sets up the ideal stage for MMA to flourish in Singapore. When UFC announced its sale to talent agency WME-IMG in July this year, sung to the tune of US$4 billion, its fighters immediately set up a union. It might prove to be a hindrance for the sport in North America, as pull factors from the Lion City make the move over to the region more enticing. Already this year, the Singapore Tourism Board have been promoting Evolve MMA's events to visitors, and a subsidiary of Temasek Holdings is leading a consortium to invest in One Championship.
Victor Cui, CEO and owner of One Championship, likens the shift to a homecoming of sorts. 'Asia is the birthplace of martial arts,' the Filipino-Canadian tells us. 'And we should have local heroes that we can identify with instead of importing them from the West.'
For the first time, Singapore will play host to back-to-back events: One Championship's fight night happens on November 11, and SFC's takes place the day after. The former typically hosts thousands of fans and is broadcasted in more than 100 countries, while the latter is smaller yet still attracts hundreds.
The One Championship night sees grappling god Shinya Aoki go toe-to-toe with Eduard Folayang in the headlining match at the Singapore Indoor Stadium. Tickets can skyrocket up to $2,140 for cage-side box seats (versus SFC's flat fee of $45), putting it at the echelons of celebrity.
So could foreigner-welcoming, business-friendly, union-unfriendly Singapore be the new stronghold of the sport? The answer might be found well before MMA became the beast it now is, when its Brazilian pioneers were supporters of another, more brutal form of fighting: Vale Tudo. Or, 'anything goes'.