Back with a boeing
A sky-high affair returns for its fourth staging – we got a Casanova and his three girlfriends to tide us through the turbulence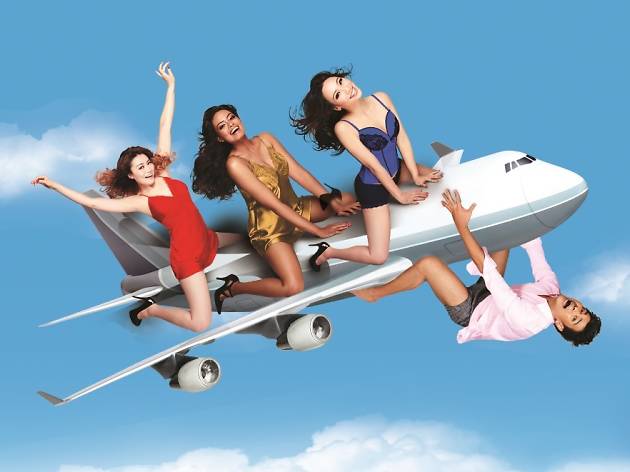 One man, three air stewardesses. What's a Casanova to do?
Enter the suave bachelor, Bernard (Rodney Oliveiro), who's juggling three relationships at once, each girlfriend blissfully unaware of the others. But things go off-kilter when his friend Robert visits and upends his world.
This is W!LD RICE's restaging of Boeing Boeing, directed by Pam Oei – and in celebration of the play's fourth staging on our shores, we quiz three very clueless stewardesses (and the smooth operator himself) on the secrets to, uh, a lasting relationship.
THE SWINGIN' BACHELOR
Hello, Bernard! How long have you been leading the three stewardesses on? Long enough to make the game work. And I resent that you're implying that I'm somehow toying with them. Come on. Women love to be toyed with!
Where'd you get the idea to tinker with the emotions of the beautiful stewardesses? There you go again. Let's look at it this way. It's not like I'm one man cheating on three women? I like to think of it as one man who's sort of split in three, but each part's, like, still whole.
Just between us, who's your favourite to date? There are no favourites here. Favourites are an impossibility. It's like when you go for a buffet: am I in the mood for something spicy, or do I just skip to dessert? Altogether, the girls complete me… just not at the same time.
Have you ever dated just one person exclusively, or is that unthinkable to you? There was a bit of a 'lost' period in the late '90s where I dated a string of – shall we say – monogamous people. That was before I discovered that I had a gift for numbers. Everyone has a magic number, you know? Mine just happens to be three.
'Altogether, the girls complete me… just not at the same time.'
THE OBLIVIOUS LADIES
So, how'd you meet Bernard?
Jeanette (Oon Shu An): In the sky. It was love at first flight. He didn't want coffee or tea. I was the obvious choice.
Jin Jin (Judee Tan): Sree months. [English is evidently not her strongest suit.]
Jayanthi (Sangeetha Dorai): We met through a mutual friend. Almost like an arranged marriage, except my parents weren't involved – thank God.
How long have you been seeing him?
Jeanette: This kind of thing, don't need to count lah. Around 753 days.
How does he treat you?
Jeanette: He always lets me have my way. But I also sayang him a lot, okay.
Jin Jin: Oh, he make me special all ways, always. Left, right, up, down, definitely centre…
Jayanthi: He's so sweet, yar. He always takes time to pick me from the airport, gives me little gifts and leaves me a message whenever he thinks of me. But most importantly, he doesn't bother me at work. I love a man who lavishes me but is also secure without me. When he respects my independence as a woman – it makes me feel ultra-special and oh-so-sexy. Such a darling, no?
What's the most romantic thing he's done for you?
Jeanette: Once, we had a fight right before I had to fly off. Every time I walked down the aisle, I had to go to the toilet to cry. But when I landed, he'd sent roses to my room. And a new handbag. He really knows the way to my heart.
Jin Jin: He cook me my favourite dish… mala hotpot, extra spicy!
Jayanthi: He took me for what he thought would be a romantic horse-drawn carriage ride. He rode up all handsome like Shah Jahan, it was so perfect. Only thing we didn't expect was for the horse to die in the middle of it. The poor thing! Bernard felt so bad, he held my hand and consoled me through it all and didn't leave me 'til I settled. Such a darling, no?
What do you think of his friend, Robert?
Jeanette: He like a bit toot toot like that. So cute. But like...not very smart, hor?
Jin Jin: Who? My eyes only for Bernard.
Jayanthi: He is sweet but a little bit odd. Like prata with bananas inside of it. How could that possibly be nice? But when you do finally try it, it's strange at first but then it grows on you and you can't help but want more of it. Robert is kind of like that. And now I'm hungry.
Boeing Boeing is at Victoria Theatre from Jun 23-Jul 22. $45-$80.