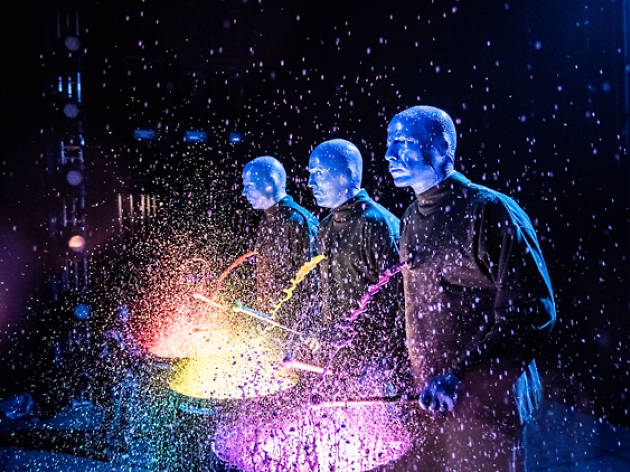 1/6
Photo: Lindsey Best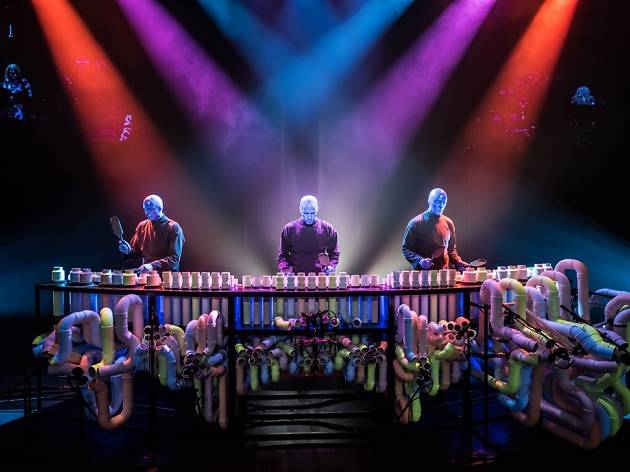 2/6
Photo: Lindsey Best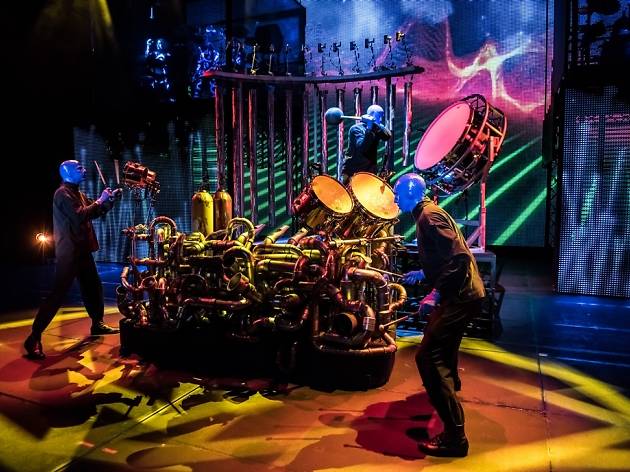 3/6
Photo: Lindsey Best
4/6
Photo: Paul Kolnik
5/6
Photo: Paul Kolnik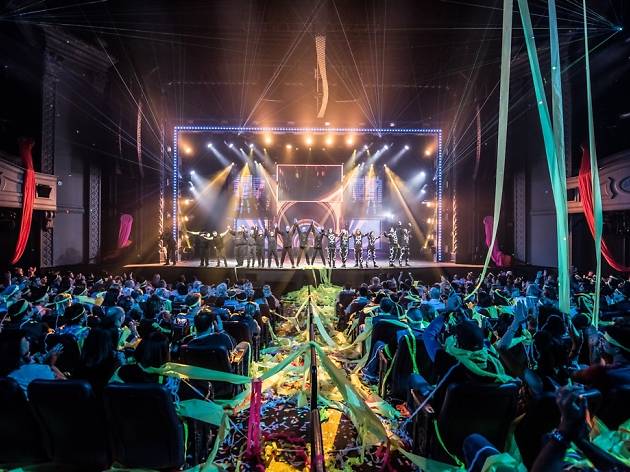 6/6
Photo: Lindsey Best
The famous Blue Man Group is here to get the party started
Blue Man Group are many things: they're actors, rock stars, comedians, artists, science teachers and ravers – and they roll all of that into 90 brilliant minutes. It took the trio 25 years since its inception on the streets of New York to land in Singapore, but the wait was well worth it: it's probably the most fun you can ever have at the theatre.
It starts even before the house lights are dimmed. An LED message board broadcasted a string of helpful advice – including 'Please do not be electronically annoying during the show. Drone piloting is right out. As is posting photos of the meal you just ate' – and spurred the crowd to say 'hello' and wish 'happy birthday' to several audience members. And then, as thumping beats filled the theatre, there they were: their larger-than-life shadows were projected onto a screen, which is soon lifted to reveal the trio of Blue Men.
Covered from head to fingertips in electric blue paint, these cheeky, mute, bald aliens experience the world through child-like eyes and hands. Which means you'll hardly be sitting still. 'Audience participation' isn't just a cute thing to say about the show – it's the cherry on top of the Twinkie. The Twinkie that, when we caught the performance, an admittedly sheepish lady in the crowd shared onstage with the Blue Men themselves.
The rest of us were hardly idle spectators – the ponchos given out to those in the first few rows before the famous 'paint-drumming' routine should provide enough of a hint. And when the trio ended an incredible segment that saw them catch gumballs with their mouths, before regurgitating them into a 'sculpture' that may or may not end up in your bag, we crossed our fingers that we'd be the lucky ones.
The Group are also famous for their innovative use of technology. Take the 'GiPad' sequence, for instance. A huge screen was loaded with a series of 'apps', such as a game that allows the Blue Men to physically enter the virtual world, resulting in a series of hilarious costume changes. Another giant screen took us on a digital journey inside the human eyeball. And yet another screen depicted a stickman teaching us how to party in style. Not that we needed the help. Because by the time gigantic, colourful balls and sheets of tissue paper were flung into the audience at the show's climax, we were already up on our feet dancing.