Interview: Joanna See Too, Chinese Theatre Circle
Is Chinese opera a dying art form? We meet with Joanna See Too Hoi Siang, the leading artist behind one of Singapore's last Cantonese opera troupes to find out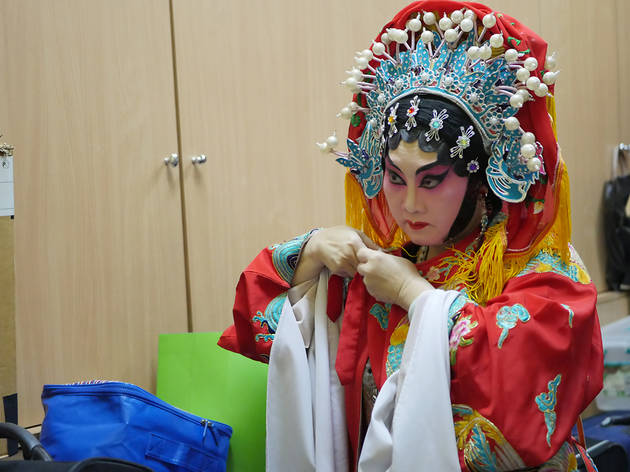 On the second floor of a Chinese opera teahouse on Smith Street, messy with scores of cardboard boxes and thick envelopes, I follow a carved path to the next stairwell. A plain-faced lady in a blouse and shorts breezes down the stairs, hair cap plastered on head. 'Shoes off, please,' she instructs, gesturing to a heap of footwear at the staircase landing. Without protest, I retreat and do as I'm told.

Looking at Joanna See Too, you wouldn't guess the 54-year-old to be the leading artist and vice-chairman of the Chinese Theatre Circle (CTC), one of 15 remaining Chinese opera troupes in Singapore. Even its umbrella body – Pat Wo Wui Kun– currently has 80 members, down from several hundreds back in the art form's halcyon days in the '50s. Yet there are people like See Too keeping the tradition alive, one performance at a time. It's neither an easy nor appreciated charge.
'How can you keep up with times when you're talking about a traditional art form?'
'I picked up the art when I was 15,' See Too tells me when I reach the attic, sans shoes. 'My mum and grandparents would listen to Chinese opera music, and it grew on me. It was my aunt's friend who introduced me [to the CTC], and I'd come here after school to practice. After less than a year training, I was already allowed to perform.'
She joined the troupe full-time in 1996 – after quitting her job as a payroll supervisor – and has starred in roughly 2,000 performances to date. And, perhaps to fuel or at least maintain interest in the art form, she conducts weekly makeup and stage-fighting classes at Kim Seng Community Centre. Tonight, though, she isn't coaching anyone. A vanity mirror, workman's toolbox and compact cases of makeup sit before See Too. She's playing a princess in Sights and Sounds of Chinese Opera, and she needs to look the part.
'It's a total theatre, and to master its art, you've got to learn so many skills'
The artist proceeds briskly into her routine, swiping a foundation stick across the creases of her face as she recounts anecdotes about her 40 years of experience in the CTC. It's standard practice for Cantonese opera performers to apply their own makeup, she says. In fact, she's also in charge of the props, wardrobe and fixing surtitles for all her shows, and sometimes only returns home from work at two in the morning.
Red rouge is next, blended around the eyes and brow bones in a circular motion, then onto See Too's cheeks in a gradient to achieve the 'white and red face'. It's a characteristic of Cantonese opera that distinguishes it from other Chinese opera styles. And within Cantonese opera, there are two main formats: man (civilian) and mou (military). Civilian roles incorporate poetry with dancing and emoting through song, while military roles require a good measure of martial arts training to brandish swords and sabres. See Too, under the guidance of her teacher and CTC artistic director Joanna Wong, picked up her wushu from the Academy School of Opera.
But now she's wielding a puff brush, not a weapon. And with a flourish, she begins dusting white powder across her face. To play the princess tonight, she'll don a costume with flowing 'water sleeves' that aren't just for looks – they emphasise gestures and emotions, and can be found in many man plays. This evening's show is small, and See Too is under no illusions as to the size of the crowd (it's usually her students and a few tourists, she says). Once, she even performed to an audience of one.
'This is my job. If I don't do it, who will?'
'It's not easy to appreciate,' she admits. 'The challenge is to keep up with the times, but how can that be done when you're talking about a traditional art form?' She's hoping that the upcoming Singapore International Cantonese Opera Festival, during which See Too will be taking the lead in a large-scale production of the mou play Madam Green Snake, will help.
White powder is flying left, right and centre, but See Too doesn't pause until she's satisfied. 'With Cantonese opera, you learn about Chinese culture and history, poetry and literature, the use of percussion for gestures and movement, how to project your voice and be more agile and skilful. It's a total theatre, and to master its art, you've got to learn so many skills.'
The princess' face is fully painted now. Observing her reflection, See Too adjusts a long cotton band and – in one fluid, expert motion – criss-crosses it along her forehead, then sharply tugs it back. Her brows are immediately transformed: they're higher up and aligned at a striking 45º angle, giving her a foreboding appearance.
I ask about her greatest accomplishment, and she beams with pride as she recalls travelling to Barcelona in 2001 to receive the Junior Chamber International award for Outstanding Young Persons of the World (Cultural Achievements). And when does she plan to retire? She pauses mid-motion, hairpieces in hand, and deflates slightly.

'This is my job. If I don't do it, who will?'