Interview: Koh Hui Ling
We speak to the artistic director of the Scenes Festival and associate artistic director of Drama Box, Koh Hui Ling, about forum theatre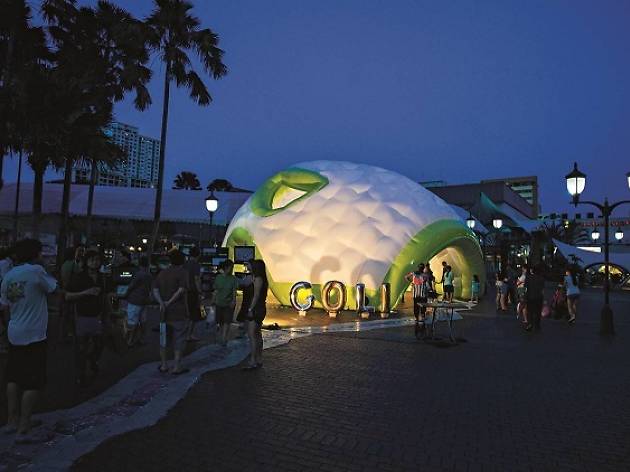 Ever had the urge, during a play, to yell out to the characters what you think they should do? You'll get your chance in Scenes Festival, put together by Drama Box in celebration of its 25th anniversary this year.
It's called 'forum theatre', and the local troupe is something of a specialist in the form, having staged such productions – even in the heartlands – since its inception. Forum theatre usually involves a cast of oppressed characters who cause a series of conflicts. Audience members are encouraged to stop the play at a point at which they think a character could've handled a situation differently, and are given the chance to change it.
For this second edition of Scenes, Drama Box is also rolling out GoLi, a two-domed mobile inflatable theatre. It will stage four productions from Singapore, Taiwan, India and the UK, as well as an amateur show, workshops and more – oh, and everything's free. We speak to Koh Hui Ling, the artistic director of the festival and associate artistic director of Drama Box, to find out more.
'We bring theatre to the people, right into their lives.'
How exactly does forum theatre work?

The play asks the audience a question or puts them in a situation where the marginalised characters have to navigate through obstacles. The audience is invited to share ways to address these based on their experiences.

How different is it to stage performances inside the inflatable mobile theatre?

The main difference is that we bring theatre to the people, right into their lives. As a socially engaged theatre company, we seek ways in which we can reach out to our audiences. But we also had to consider GoLi's presence with the external environment, so it's never just about the performance we are bringing into GoLi, but how GoLi interacts with its surroundings.

Tell us about the highlight performances.

Sonar Meye (Golden Girl) by India's Jana Sanskriti is highly magnetic and infectious. It has travelled for 20 years, and the team behind it is very influential within the forum theatre circle. Mind The Gap from the UK, who will be staging Real Voices Real Lives, is one of the most empowered teams I've seen, where people with learning disabilities are fully employed to create and do theatre.

Because of its participatory and unpredictable nature, forum theatre hasn't been well received by the authorities – has that attitude changed in recent years?

Yes, the form did have a difficult start in Singapore. It didn't take flight and there was a gap of almost ten years before it appeared again. [Kok] Heng Leun, our artistic director, decided to use it for its ability to provide a space for dialogue in our community theatre projects.

We did a piece about SARS in 2003, and were invited to perform at various government-linked community events. Since then, we've been working with different government-related organisations. We usually spend time talking to them about how we see forum theatre (as theatre of the oppressed) and our inability to mouthpiece messages, but our ability to create dialogue spaces.